Washington, 13 mar (EFE).- El presidente, Donald Trump, ordenó hoy suspender "inmediatamente" los vuelos de los aviones Boeing 737 MAX 8 y 9 tras el accidente del vuelo de Ethiopian Airlines en el que el pasado domingo murieron 157 personas.
"Todos esos aviones serán inmovilizados de manera efectiva inmediatamente", dijo Trump a los periodistas en la Casa Blanca.
Ya el martes, el presidente del país norteamericano se había lanzado a las redes sociales para criticar que los aviones se estaban convirtiendo en "algo muy complejo de manejar". Ya no se necesitan pilotos, sino científicos de computación del MIT", lamentó desde su cuenta privada.
"Lo veo todo el tiempo en muchos productos: se busca siempre dar un innecesario paso hacia adelante cuando a menudo lo más viejo y sencillo es mucho mejor. Se exigen decisiones rápidas y la complejidad genera peligro".
La decisión de EEUU llega después de que una larga lista de países, entre los que figuran China y la Unión Europea, hayan vetado esta semana el uso de estos dos modelos tras el accidente de Ethiopian Airlines del domingo mientras prosigue la investigación sobre lo que sucedió. Y es que este accidente ocurre apenas cinco meses después de que otro Boeing 737 MAX, entonces de Lion Air, también se estrellase nada más despegar, en un patrón muy parecido de los acontecimientos.
Trump orders grounding of Boeing 737 Max planes
Washington, Mar 13 (EFE).- President Donald Trump said Wednesday that he was ordering the immediate grounding of all Boeing 737 Max 8 and Max 9 aircraft in the United States days after 157 people died in the crash of a Max 8 operated by Ethiopian Airlines.

"We're gonna be issuing an emergency order of prohibition to ground all flights of the 737 Max 8 and the 737 Max 9 and planes associated with that line," he told journalists at the White House.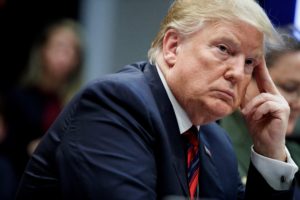 The president said that he had discussed the issue with Boeing's CEO, Transportation Secretary Elaine Chao and the acting director of the Federal Aviation Administration prior to making the decision.

"They are all in agreement with the action. Any plane currently in the air will go to its destination and thereafter be grounded until further notice," Trump said.

"The safety of the American people, of all people, is our paramount concern," he said hours after Canada announced it was banning the jets from its airspace.

Eight US nationals and 18 Canadians were among the 157 people killed Sunday in Ethiopia.

Boeing is based in the US and Washington had appeared reluctant to join the dozens of other countries that imposed a ban on the 737 Max planes in the wake of the Ethiopian Airlines disaster.

Media outlets say that US airline fleets include more than 100 aircraft in the 737 Max series.

Last weekend's crash followed an October 2018 accident in Indonesia involving a 737 Max 8, which resulted in 189 deaths.

"It's a terrible, terrible thing," Trump said Wednesday about the problems with the planes. "Boeing is an incredible company. They are working very hard right now."

Prominent US lawmakers, including some of Trump's fellow Republicans, had urged the FAA to suspend the use of the Max 8 and 9 jets pending completion of the investigation into the Ethiopian Airlines crash.

As recently as Tuesday, Canada's government said it had no plans to bar the planes.

Ottawa's reversal came after the receipt of fresh data indicating parallels between the Ethiopian accident and the deadly crash of a Lion Air 737 Max 8 last October in the waters off the coast of Indonesia, Canadian Transport Minister Marc Garneau said.

"There are – and I hasten to say not conclusive – but there are similarities," the minister told reporters Wednesday. "My departmental officials continue to monitor the situation and I will not hesitate to take swift action should we discover any additional safety issues."

A final judgment must await analysis of the data from the black box flight recorders of the Ethiopian Airlines plane, Garneau said.