Caracas, Mar 26 (EFE).- The Venezuelan government announced Tuesday that it had canceled classes and suspended the workday because of the blackout that occurred Monday night, and which continues across the entire country this Tuesday.
"The national government has decided to suspend for 24 hours all labor and educational activities in the country," Communications Minister Jorge Rodriguez said.
"From the very moment of the attacks," the government has made every effort "to restore as soon as possible electric service throughout our national territory," Rodriguez said.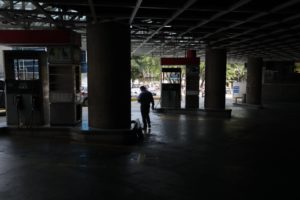 Venezuela remains without electricity following Monday's two power outages, which the Maduro government has blamed on separate attacks against the power grid.
The last blackout came at 9:50 p.m. and continues everywhere in the country, though no official report as to its reach has been issued.
Rodriguez said Monday night that this electricity cut was caused by "a large-scale attack on autotransformers at the Guri hydroelectric plant," which "caused the transmission failure of some of the main power lines" that distribute electricity from the country's main power plant.
National Assembly speaker Juan Guaido, acknowledged as acting president of Venezuela by more than 50 countries, blamed Maduro's "regime" for Venezuela's power woes.
"They lie to avoid taking responsibility for this murderous crisis. They are also risking the little that's left of the national electrical infrastructure," Guaido said in a Twitter post.
The latest power outage comes almost three weeks after the massive blackout that Venezuela experienced on March 7 that kept virtually the whole country in the dark for five days until the government managed to regain control of the situation and restore electric service.
The government said at the time that sabotage at the Guri hydroelectric complex – Venezuela's largest power plant, supplying electricity to about 70 percent of the national territory – was to blame for the blackout.
Maduro directly blamed the United States and the opposition for the alleged sabotage, claiming that "electromagnetic" attacks had been staged on the electric grid.
The opposition, however, blamed the Maduro regime for failures in the system, saying that the government's poor management of the grid was the real cause of the outage.
The earlier blackout caused about 15 deaths due to the lack of electricity at Venezuelan hospitals, the opposition claims, while officials contend that just two people died.