Washington, Mar 25 (EFE).- The United States president signed a proclamation Monday officially recognizing Israel's annexation of the Golan Heights, a part of Syria that has been under Israeli military occupation since the Six-Day War of 1967.
The White House released a statement Monday confirming the move that President Donald Trump had expressed a willingness to make a few days earlier, making the US the first country to recognize Israeli sovereignty over the disputed territory.
"NOW, THEREFORE, I, DONALD J. TRUMP, President of the United States of America, by virtue of the authority vested in me by the Constitution and the laws of the United States, do hereby proclaim that, the United States recognizes that the Golan Heights are part of the State of Israel," the presidential proclamation said.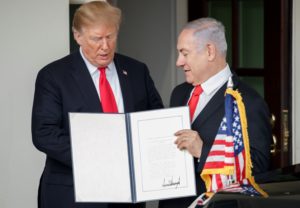 Syria's state-run SANA news agency quoted an anonymous source at the Foreign Ministry as saying that the US move was "a flagrant aggression on the sovereignty and territorial integrity of the Syrian Arab Republic."
The White House said it was a necessary step for "any possible future peace agreement in the region," which "must account for Israel's need to protect itself from Syria and other regional threats."
The note also said that "aggressive acts by Iran and terrorist groups, including Hizballah, in southern Syria continue to make the Golan Heights a potential launching ground for attacks on Israel."
For his part, Israeli Prime Minister Benjamin Netanyahu said that "Israel has never had a better friend than you," referring to Trump.
International media reports, meanwhile, quoted United Nations spokesman Stephane Dujarric as saying that "it is clear that the status of Golan has not changed."
"The UN's policy on Golan is reflected in the relevant resolutions of the Security Council and that policy has not changed," Dujarric said.
On Dec. 17, 1981, the UN Security Council adopted, unanimously, Resolution No. 497, which rejected the Israeli annexation of the Golan Heights and considered it as "null and void and without international legal effect."
In its latest annual report on human rights around the world, the US State Department departed from its previous practice by referring to the Golan Heights as "Israeli-controlled" rather than "Israeli-occupied."
Trump's talk of recognizing Israeli sovereignty over the Golan is seen as a further signal of support for Netanyahu as the White House is putting the finishing touches on its Middle East peace plan.
Most of the 26,000 members of the Druze religious community in the Golan Heights have refused assimilation into the Israeli state and nearly all of them boycotted Israel's first-ever attempt to hold municipal elections in the territory last October.
International media outlets reported that around 20,000 Israeli settlers currently live in the Golan Heights.
UN peacekeepers have been stationed in the Golan for decades.