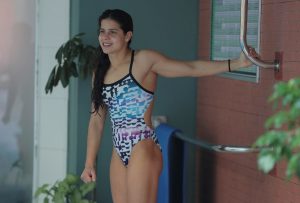 By Yolanda Salazar
La Paz, Jul 17 (EFE).- Swimmer Karen Torrez, one of Bolivia's most outstanding athletes, is hoping she'll win a medal at the 2019 Pan American Games in Lima along with breaking her previous records with an eye toward competing in the Tokyo Olympics next year.
"I hope to bring home a medal for Bolivia. The truth is that there's not much difference between me and the other swimmers. It'll be difficult, tough, but not impossible to get on the podium," said Torrez in an interview with EFE.
Bolivia's "mermaid," as she is known in the country, trains every day in La Paz getting into the best physical and psychological shape possible so that "no detail is left unattended in the competition," she said.
Among her main objectives at the Pan Am Games in Lima, besides winning medals for Bolivia, is to break her records in the 50 and 100 meter freestyle events and in the 100 meter butterfly.
Torrez won the gold at the 18th Bolivarian Games in 2017 in Colombia with a record-setting time of 25 seconds in the 50 meter freestyle, although now she wants to better that time.
"My best time is 25 seconds in the 50 meter freestyle, but the minimum time for the Tokyo Olympic Games … is 24.70 seconds, and so by improving by 30 hundredths of a second I can qualify," she said.
In like manner, she hopes to beat her time in the 100 meter butterfly of less than a minute to become the Bolivian holder of another record.
The 26-year-old swimmer from Cochabamba has set at least 70 national records in different categories so far during her career.
"Today, we're gaining more self-esteem, more strength of spirit. There are athletes who are taking the name of Bolivia to great heights and that fills the entire country with pride," she said.
She cited tennis player Hugo Dellien, who with his international achievements is raising the self-esteem, confidence and faith of Bolivian athletes that they can achieve "great things" for their homeland.
Torrez said that the good results she achieved in the 2017 Bolivarian Games and in last year's South American Games, where she won three silver medals, are putting her under "a little more pressure" to do well in Lima.
"It not only puts me under internal pressure, but also people have greater expectations of what I can do. But the important thing is not to let the stress get to you and to seek to give a good performance," she said.
Before competing in the 50 and 100 meter freestyle and 100 meter butterfly qualifiers on Aug. 7-9, Torrez will travel to the World competition in South Korea on July 25-27.
"It's very important to be present in South Korea, because it's a little test for the Tokyo Games and I hope to set my best time there," she said.
Bolivia will send 45 athletes to the Pan American Games in Lima, its largest delegation in history, exceeding the 36 it sent to the previous Pan Am competition in Toronto.