Un modelo deportivo con las tres B
En tiempos de coronavirus
Angelica Willard
(Information in English below)
El FORD Mustang de dos puertas (coupé), con el motor EcoBoost de FORD lo encuentra desde $26.670. Efectivamente, con un precio muy conveniente, lujo en terminaciones, que lo hace muy elegante y para adicionar una calidad que le hará lucirse en un carro con las tres B, de bueno, bonito y barato.
El Mustang 2020 Ecoboost Coupe, 2.3L High Performance, para cuatro pasajeros, tiene una línea aerodinámica en su carrocería que la define desde su máscara con sus tomas de aire centrales y laterales, con luces LED y por supuesto con el caballo mustang corriendo, que identifica a uno de los modelos deportivos más vendidos en sus más de 55 años.
Lo puede comprar de techo duro o convertible y las opciones parten en los modelos EcoBoost Fastback desde $26.670, EcoBoost Premium Fastback desde $31.685, EcoBoost Convertible desde $32.170, GT Fastback desde $35.630, EcoBoost Premium Convertible desde $37.185, GT Premium Convertible desde $45.130, GT Premium Fastback desde $39.630, Bullit desde $47.705, Shelby GT350 desde $60.440, Shelby GT350R desde $73.435 y Shelby GT500 desde $72.900.
Colores para optar tiene el: Grabber Lime, Iconic Silver, Rapid Red Metallic Tinted Clarcoat y Twister Orange Tri-Coat.
El modelo que nos visitó en estos tiempos de coronavirus es el de 2.3L High Perfomance EcoBoost Engine, nuevo para este 2020, lo mismo que las ruedas de 19 pulgadas de Aluminio, con ahora seis posiciones en el asiento del pasajero (el 2019 era de cuatro),
El nuevo color California Special tiene ahora el Velocity Blue (el Kona Blue fue removido).
Y ahora, a sentir el galope de este caballo cincuentón de cuatro ruedas con uno de los modelos del FORD Mustang.∆
(English Information)
FORD MUSTANG 2020
New High Performance Package for 2020 Mustang Delivers 330-Horsepower and GT Hardware
The 2.3L High Performance Package provides entry-level Mustang buyers the first EcoBoost engine powered by Ford Performance to deliver a projected 330 horsepower and 350 lb.-ft. of torque – the most powerful fourcylinder sports car offered by an American automaker.
Poised to attack at autocross, 2.3L High Performance Package adds Mustang GT brakes and Mustang GT Performance Package aerodynamics and suspension components to make it the highest-performing production four-cylinder Mustang ever.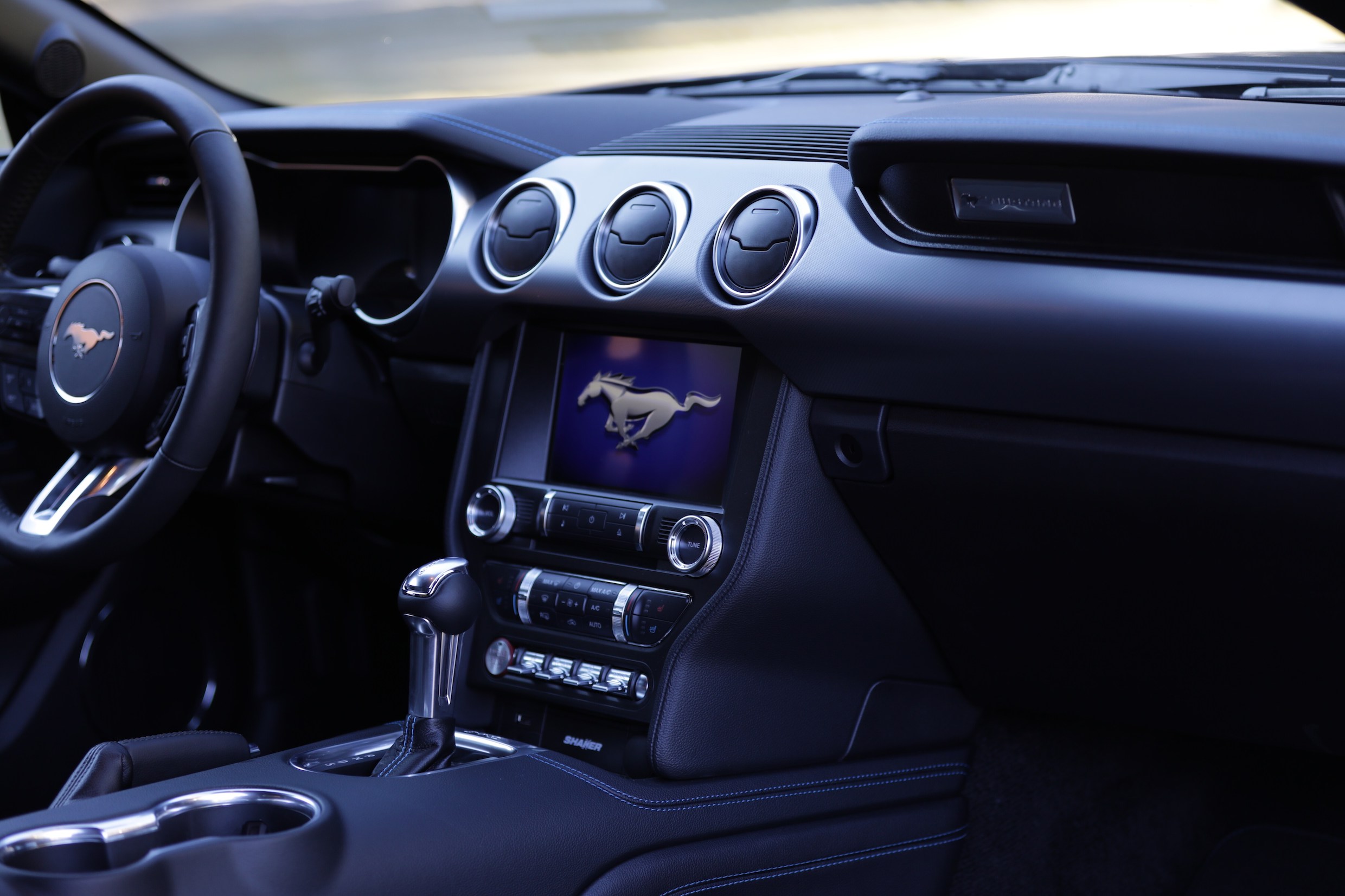 Reminiscent of development of the original Mustang in 1964, the car began as a five-person skunkworks project in the Ford Performance garage. Following an experiment with a Focus RS engine swap, the Mustang team leveraged Ford's quickening product development times to accelerate and complete the design-to-approval process for the 2.3L High Performance Package in under 10 months. Available on the entry-level Mustang EcoBoost fastback coupe or convertible models this fall, the Mustang EcoBoost package was developed to feel at home both on thrilling mountain and coastal roads and even on the most precise autocross courses thanks to its Mustang GT brakes, performance tires, and chassis and aerodynamics hardware from the Mustang GT Performance Package. Most powerful EcoBoost engine yet in a Mustang To make their project a reality, members of the Mustang team traveled to Valencia, Spain, home of the Ford Performance tuned 2.3-liter engine, to convince plant management to build a new variant of the turbocharged four-cylinder specifically for Mustang. Then, with the Ford Performance-designed engine as a starting point, they tuned the EcoBoost to more broadly and responsively deliver a projected 330 horsepower and 350 lb.-ft. of torque achieved with premium fuel (per the SAE J1349 standard). Having secured production of the die-cast alloy block and high-performance cylinder head, the engineering team specified a 5 percent larger 63-millimeter twin-scroll turbo compressor and a larger radiator, then calibrated the engine to run both Ford's 10-speed SelectShift® automatic and 6-speed Getrag manual transmission. The 2020 Mustang 2.3L High Performance Package is designed to run 0-60 in the mid-four-second range on premium fuel, with top speed increasing to 155 mph, a 10 mph gain over the 2019 EcoBoost Performance Package and 34 mph faster than the base EcoBoost Mustang.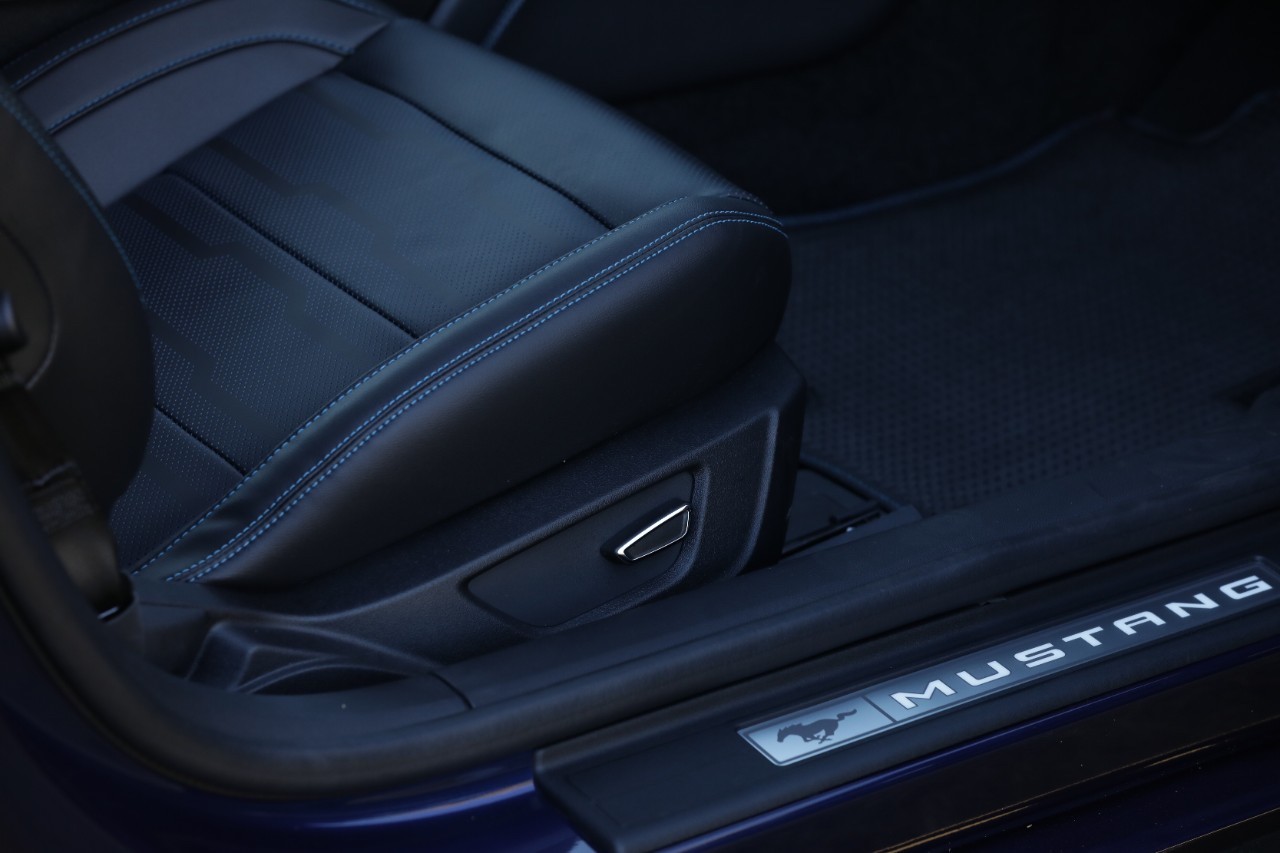 The 2020 FORD MUSTANG 2.3L
The new 2020 2.3L High Performance Package feels sharp and nimble, with an aggressive road-holding stance, nearbalanced 53/47 weight distribution and fully independent suspension, plus chassis and aerodynamic upgrades from the Mustang GT and its Performance Package.
The new EcoBoost Handling Package is available exclusively on the 2020 Mustang EcoBoost fastback coupe with the 2.3L High Performance Package with either 6-speed manual or 10-speed automatic transmission. New smart technology, colors and more for 2020 FordPass Connect, now standard on Mustang for 2020, allows owners to interact with their vehicles via a smartphone. Using FordPass Connect's phone application, owners can locate their parked car, lock and unlock it, and check vehicle status, such as fuel, oil levels and maintenance alerts.
Four new Mustang colors for 2020 include Grabber Lime, Iconic Silver,Rapid Red Metallic Tinted Clearcoat and Twister Orange. New 17-inch sparkle silver-painted aluminum wheels now come standard on the base 2020 Mustang EcoBoost.∆
Angelica Willard – Automotive Writer – Journalist Member de SAMA – TAWA – NWAPA – NAHP – IAPA (SIP) – willardpost.com