Juana Chávez, tuvo cinco hijos, el más conocido de ellos fue César, quien comenzó en su juventud a trabajar para mejorar las condiciones de trabajo y del pago de salario de las personas que laboran en el campo. Uno de los métodos para conseguir su propósito fue a través de las marchas y huelgas de los trabajadores, en las cuales Doña Juana participó, a pesar de entonces tener alrededor de setenta años de edad.
Juana se casó con Librado Chávez cuando tenía 32 años. Librado llegó a vivir hasta los 101 años, dejando de llevar una vida activa al caerse de una escalera cuando estaba recogiendo frutas, pasados los 80 años de edad.
Juana se sentía muy orgullosa de los cambios que César había conseguido al mejorar las condiciones sociales de los trabajadores del campo, al igual que la de sus demás hijos. Varios miembros de su familia trabajaron con los residentes del Este de San José, entre ellos la hermana de César, Rita, en la organización del Centro Comunitario en San José.
Sentada en la sala de su casa, rodeada de reconocimientos dados a su familia por las contribuciones hechas a la comunidad, la Sra. Chávez pasaba su tiempo, en los últimos años de su vida, envuelta en muchas actividades creativas, las más prominentes haciendo labores de tejido y cosiendo cubrecamas con retazos.
<English version>
Juana Chávez had five children, most notable of them was Cesar Chavez, who started in his early years working on improving conditions and pay for field workers. One of his methods to achieve this was by marching strikes of farm workers which his mother joined in, even though she was in her '70s.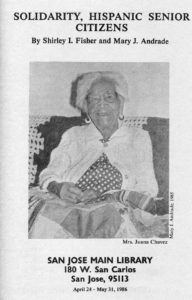 Juana married at 32 to Librado Chavez, who lived to be 101 years of age, only ceasing to stay active when he felt of a ladder in his '80s picking fruit.
Juana was quite proud of the changes Cesar brought about to improve social conditions of farm workers and East side residents, an awareness growing out of his work along with sister Rita, in the Community Service Organization in San Jose.
Mrs. Chavez had many creative activities, the most prominent one were doing needlework and making quilts. She worked every day, sitting in her living room by the Resolutions Awards given to her family for their community contributions.