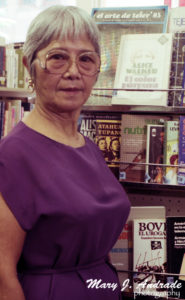 Sarita Cordiglia fue una de las fundadoras de la Biblioteca Latinoamericana. Nativa de Perú, ella vino a San José en 1970. Inmediatamente pasó a ser un elemento muy activo en la parroquia del Sagrado Corazón, donde surgió la idea de una biblioteca que sirviera a la comunidad latina. Ella, junto con otras personas, puso muchas horas sirviendo en el Comité de Planificación, con el objeto de que esta idea se convirtiera en una realidad. Sus esfuerzos fueron reconocidos públicamente, por la entonces Alcaldesa Janet Gray Hayes, el 16 de febrero de 1979, en la siguiente carta dirigida a la Sra. Cordiglia.
"Por favor acepte esta nota de agradecimiento personal por sus esfuerzos en ayudar a que la Biblioteca Latinoamericana se convierta en una realidad. Según tengo entendido, en la actualidad es usted la única persona que queda del grupo, como miembro del Comité original.
"San José está en deuda con usted por las muchas horas de trabajo que dedicó a este proyecto tan importante".
En 1980, la Sra. Cordiglia comenzó "La Hermandad del Señor de los Milagros", una organización religiosa, la cual une a la comunidad peruana que reside en el Condado de Santa Clara. En el mes de octubre de cada año, desde 1980, ella organizaba celebraciones especiales, presentando platillos típicos y artesanía de su país durante esta celebración, que coincide con una procesión especial que realiza la iglesia católica. © La Oferta Newspaper.
<English version>

Sarita Cordiglia was one of the founders of the Biblioteca Latinoamericana. She came to San Jose from her native country of Peru in 1970. She immediately became an active part of the Sacred Heart parish, where the idea to form a Latin American library first emerged. She, along with others, put in many hours serving on the Advisory Board, in order to make the library become a reality. Mayor Janet Gray Hayes acknowledged her efforts on February 16, 1979, in the following letter to Ms. Cordiglia:
"Please accept this personal note of thanks to you for your efforts to help the Biblioteca Latinoamericana become a reality. I understand that you are the only current Advisory Board Member from the original group.
"San Jose is indebted to you for your many hours of work for this great project."
In 1980 Ms. Cordiglia started Hermandad del Señor de los Milagros, a religious organization which brings the Peruvian community together who live in Santa Clara County. Each October of every year, since 1980 she was one of the organizers of special celebration, featuring food and folk articles which coincides with a religious procession to the church. © La Oferta Newspaper.