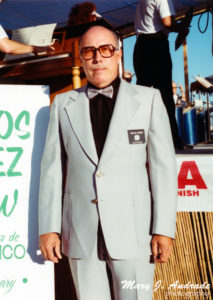 Carlos Gómez, fundador de "La Hora de México", en Radio KNTA, transmitió un programa especial el 7 de agosto de 1987, desde los terrenos de la Feria del Condado de Santa Clara, celebrando el 27 aniversario de servicio a la comunidad del Norte de California. Este programa de radio comenzó en 1960, con el objetivo de mejorar la imagen de los latinos frente a las autoridades y el Departamento de Policía de la Ciudad de San José. Este programa se convirtió en una tradición en la Feria del Condado, por su contenido cien por ciento cultural.
Cada año durante el mes de agosto, Gómez organizaba un baile especial para celebrar el aniversario de su programa. Desarrolló y mantuvo buenas relaciones con el Departamento de Policía de San José, que anualmente acompañaba a los invitados más distinguidos a la celebración de gala. En 1987 el baile se celebró en el restaurant "Zorba, the Greek", con Jim González, Supervisor de la Ciudad de San Francisco, como invitado especial.
Gómez nació en Guadalajara, México, el 5 de noviembre de 1923. Durante su infancia vivió en San José, para más tarde mudarse a la Ciudad de México, donde asistió a la escuela secundaria. Trabajó para el Gobierno Mexicano, en la compañía de petróleo y para la Secretaría de Turismo, como guía para los personajes que visitaban el país.
Amó la naturaleza, durante su juventud se envolvió en el montañismo y en exploraciones de cuevas y escribió artículos sobre estos temas que se publicaron en varios periódicos de Guadalajara y la Ciudad de México.
Aprendió Comunicaciones bajo la instrucción de Álvaro Gálvez Cifuentes, un maestro muy conocido. También fue maestro de ceremonias de XEW, una estación de radio mexicana muy popular.
Al regresar a los Estados Unidos, esta experiencia le ayudó, pues trabajó por 13 años como maestro de ceremonias en el salón de baile Rainbow, ubicado en San José.
En 1954 recibió una invitación para trabajar en la compañía Ford en Richmond, e inmediatamente aceptó. Más tarde trabajó para la Ford en Milpitas, jubilándose de allí en 1983, después de 31 años de servicio.
En 1967 fue reconocido como "El Hombre del Año Ford", elogio establecido por la compañía en reconocimiento a su mejor empleado.
Entre 1960 y 1970 fue presidente del comité de celebraciones para las Fiestas Patrias de San José, "organizando los mejores desfiles, los cuales la gente nunca olvidará", dijo con mucho orgullo al hablar de su trabajo comunitario durante esos años.
Era miembro de la Escuela Filosófica de Masonería y recibió los más altos honores no solamente en logias latinas, sino también en logias americanas. Además, fue miembro de Scottish Rite of Freemasonry, que como parte de su servicio a la comunidad ayuda a sostener un hospital para personas inhabilitadas físicamente.
Como resultado de su interés, esfuerzo y el apoyo por parte del Cónsul Mexicano en San Francisco, Edmundo G. Gonzales, y más tarde el apoyo de otro cónsul, Adolfo G. Domínguez, se logró establecer un consulado mexicano en San José. El primer consul fue Ernesto Cota.
"Insatisfecho por la falta de participación política y liderazgo en la comunidad hispana", Gómez asistió a la Universidad de San Diego en La Joya, para estudiar política social. Más tarde tomó parte en diferentes campañas políticas para varios candidatos en San José.
Fue uno de los fundadores de Los Amigos Club de Leones y, durante su envolvimiento en la organización, tuvo la oportunidad de entrevistar por radio al presidente mundial de Los Leones, durante una convención en Hawaii, en 1976. Esa entrevista se transmitió desde Hawaii hasta una estación de radio en Los Gatos, California, haciendo historia en la radiodifusión hispana de los Estados Unidos.
En 1982 el Presidente Reagan y su esposa, Nancy, le enviaron una carta reconociento "el banquete anual celebrando la fundación de La Hora de México", deseándole a Carlos Gómez "muchos triunfos en los años venideros".
Con su energía y esfuerzos, Carlos Gómez llenó muchos vacíos en la comunidad hispana de San José. © La Oferta Newspaper.
<English version>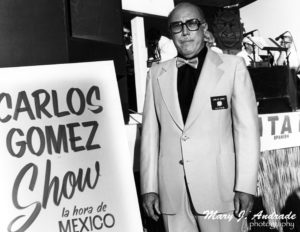 Carlos Gómez founder of Radio KNTA program "La Hora de México" (The Hour of Mexico) transmitted under his direction, a special program on August 7, 1987 from the Santa Clara's County Fairgrounds celebrating the 27th anniversary of service to the community of Northern California. He started this radio program in 1960. "It's objective was to improve the image of the Latin people in front of the authorities and the Police Department of San Jose," said Carlos Gomez. This program became a tradition at the County Fair, with a one hundred percent cultural content.
Every year during the month of August, Gómez used to organize a special dance to celebrate the anniversary of his program. He was able to develop and keep a very good relationship with the San Jose Police Department, which annually escorted the most distinguished guests who came from different parts of US, and who used to attend the gala celebrations. In 1987, with the assistance of special guest Jim Gonzales, Supervisor of the City of San Francisco, the dance was celebrated at "Zorba, the Greek" restaurant.
Gómez was born in Guadalajara, Mexico, November 5th, 1923. He spent his childhood in San Jose and later moved to México City where he went to high school. Later, he worked with the Mexican Government, in the Petroleum Company, and in the Tourism Department as a guide for the most distinguished people visiting Mexico.
Because he was a nature lover, during his youth he involved himself in mountain climbing and in the exploration of caves, writing special articles on those subjects, which were published by several newspapers in Guadalajara and Mexico City. He learned communication under the direction of Alvaro Gálvez Cifuentes, a recognized teacher, and was a Master of Ceremony on XEW, a very well known Mexican radio station. This experience helped him when he returned to the U.S. where he worked for 13 years as a Master of Ceremonies at the Rainbow Ballroom in San José.
In 1954 he received an invitation to work for the Ford Company in Richmond, which he immediately accepted, and later worked for Ford in Milpitas, retiring from there in 1983, after a total of 31 years of service.
In 1967 he was honored as the "Best Ford Man of the Year," an honor established by Ford for its best employee.
Between 1960 to 1970 he was the President of the Celebration Committee of Fiesta Patrias de San José, "organizing the best parades that people have memories of," he said with a lot of pride about his work during those years.
He was a member of the Philosophical School of Masonry, and holds the highest degrees, not only in the Latin Logias, but also in the American Logias. He was a member of the Scottish Rite of Freemasonry, which as part of their community work help sustain a hospital for people with physical disabilities.
Due to his interest and efforts, and with the support of the Mexican Consul of San Francisco, Edmundo G. González, and later with the support of another Consul, Adolfo Domínguez, the community in San Jose gained the opening of a Mexican Consulate in San José. The first consul was Ernesto Cota.
Unhappy about the lack of political participation and leadership in the Hispanic community, Gómez went to the University of San Diego in La Joya to study Social Politics. Later he became part of different political campaigns for several candidates in San José.
He was one of the founders of the Los Amigos Lion Club and during his participation as a Lion member he had the opportunities to obtain radio interviews with the President of all the Lions of the World during a convention celebrated in Hawaii in 19767. That interview was transmitted from Hawaii to a radio station in Los Gatos, California, making history for Hispanic broadcasting in the U.S. © La Oferta Newspaper.