Sister Inés Hernández, PBVM era, al momento de nuestra entrevista, la única monja nacida en México en entrar a la Congregación de las Hermanas de la Presentación de la Bendita Virgen María de San Francisco.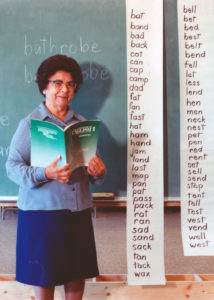 Su familia procedente de Tepic, Nayarit viajó en 1922 a radicarse en North Beach, San Francisco, cuando ella tenía 10 años de edad. En esa ciudad asistió sus primeros años a la escuela, para más adelante tomar clases at USF y graduarse del Colegio Inmaculado Corazón en Los Ángeles. Ella fue profesora de inglés y español por muchos años, al mismo tiempo que cumplía con sus servicios religiosos.
Durante esos años ella enseñó en la escuela Nuestra Señora del Lourdes en Los Ángeles, en la Escuela Secundaria Presentación en Berkeley por cinco años y también en la Escuela Secundaria Presentación de San José, por 15 años.
Recibió tres becas de parte del Acta Nacional de Defensa de la Educación, lo que le permitió viajar a Guadalajara y Oaxaca, México. Cuando llegó a sus Bodas de Oro, por cincuenta años de servicio en su congregación, viajó en peregrinación a Europa y Tierra Santa.
Aunque ella amaba enseñar a los niños de primer grado, Sister Inés Hernández fue profesora de diferentes niveles, desde jardín de infantes hasta la universidad. Además, Sister Inés realizó trabajo voluntario en el Centro de Personas Mayores Eastside, dando clases de Inglés como Segundo Idioma a personas cuyas edades iban de 18 a 70 años, trabajando también en la oficina del Centro Pastoral Diocesano Hispano.
Ella comentaba: "He amado cada año de mi experiencia como maestra". © La Oferta Newspaper.
<English version>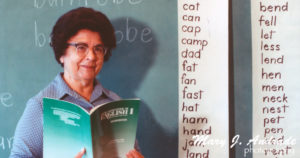 Sister Inés Hernández, PBVM was, at the time of our meeting, the only Mexican born member to enter into the Congregation of the Sisters of the Presentation of the Blessed Virgin Mary of San Francisco. Her family moved from Mexico to North Beach, San Francisco, when she was 10 years old, living in the Latin Quarter while she attended school, later taking some classes at U.S.F. and then graduating from Immaculate Heart College in Los Angeles. She was a nun and a teacher of Spanish and English for long time.
During those years she taught at Our Lady of Lourdes School in Los Angeles, Presentation High School in Berkeley for five years and also Presentation High School in San Jose for 15 years. She was the recipient of three grants from the National Defense Education Act and one from the Educators Professional Development Act, which took her to Guadalajara and Oaxaca, Mexico. When she reached her Golden Jubilee for 50 years of service in her congregation she traveled to Europe and Holy Land on a pilgrimage.
Even tough she loved to teach first graders, she had taught from Kindergarten to University level, and she also did volunteer work at the Eastside Senior Center, teaching English as a second language to people 18 to 70 years old, and also worked at the Centro Pastoral Diocesan Office for Hispanic Ministry. © La Oferta Newspaper.