Alfredo Barrientos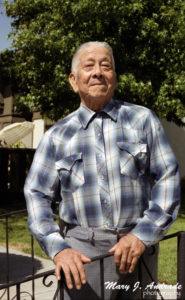 Alfredo Barrientos nació en Glendale, Arizona el 29 de febrero de 1901. Al momento de nuestra  entrevista él había enviudado, aunque estaba cerca de sus hijos, cinco mujeres y seis varones quienes vivían en San José. Por muchos años trabajó en la industria de las fábricas enlatadoras de frutas y vegetales en San José, jubilándose cuando cumplió los 65 años de edad. Durante muchos años fue miembro de los Guadalupanos, organizado por el Padre Peña, fue miembro del Club Libertad por 20 años, de la Logia Progresista y a la vez miembro de CSO.
<English version>
Was born in Glendale, Arizona, February 29, 1901. He was a widower, but his five girls and 6 boys all live in San José. For many years he worked in San Jose's cannery industry, retiring when he was 65. During many years he was a member of Los Guadalupanos, organized by Father Francisco Otazua Peña, a member of Club Libertad for 20 years, Logia Progresista and member of CSO. © La Oferta Newspaper.
Alicia Mesa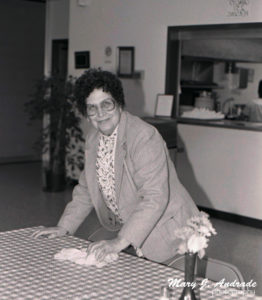 Alicia Mesa nació en Paras, estado de Nuevo León, México. Trabajó muchos años en una fábrica enlatadora de frutas y vegetales. Dedicaba su tiempo como voluntaria en el programa de nutrición del Centro Eastside. El participar de esa forma "me hace sentir que pertenezco a una familia muy grande, lo cual me llena de mucha satisfacción".
<English version>
Alicia Mesa was born en Paras, estate of Nuevo Leon in Mexico. She worked for many years in a cannery. She used to dedicate her time as a volunteer of the nutrition program at the Eastside Center. To participate that way, she use to comment that she felt as part of a large family, which gave her a lot of satisfaction. © La Oferta Newspaper.
Cástulo y Paulina Loredo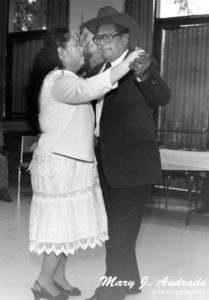 Cástulo y Paulina Loredo fueron miembros del Club Esperanza, donde dedicaban su tiempo como voluntarios en las actividades que se realizaban en el Club.
Cástulo se jubiló de una fundición de acero en 1975, a la edad de 63 años. Paulina y Cástulo procrearon 11 hijos. Ella se ocupaba de su casa y de su familia; sin embargo, se daba el tiempo en la preparación de la comida para aquellos que asistían dos veces por semana al club. Con su esposo arreglaba las sillas para que los miembros de esta organización pudiesen disfrutar de la comida y de los juegos de bingo.
<English version>
Castulo y Paulina Loredo were members of Club Esperanza, where they devoted a lot of their time as volunteers in activities within the Club.
Castulo retired from working in a steel mill in 1975, at age 63. Paulina and Castulo had 11 children. She was always occupied with raising the family.
She gave a lot of time in the preparation of food for those who used to go to the Club, and with Castulo she also used to arrange chairs for the members to enjoy food and bingo. © La Oferta Newspaper.
Francisco Giménez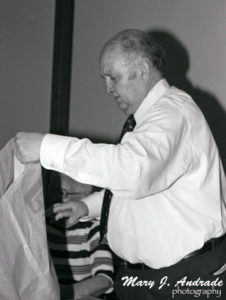 El Dr. Francisco Giménez trabajó para el Servicio Diplomático en calidad de representante comercial en Asunción. Durante esa época de su vida viajó a casi todos los países de América Latina representando a su país, Paraguay.
Después de jubilarse vino a vivir cerca de su hijo, aquí en San José y comenzó a prestar sus servicios voluntarios, en el programa de la "Funda Café", en el entonces recientemente construído Centro Eastside. Aunque el Dr. Giménez solamente recibía una suma nominal por las muchas horas de trabajo en este lugar, sentía la satisfacción de mantenerse relacionado con los ancianos, quienes compartían varios aspectos de sus vidas con él y otras personas.
<English version>
Worked for the Diplomatic Service as a commercial delegate in Asunción. During that time of his life, he traveled to almost all the countries in Latin America, representing his country Paraguay.
After retiring from the diplomatic service, he came to live close to his son, here in San José, where working with the voluntaries under the program "Brown Bag", in the recently built Eastside Senior Center. Even that Dr. Giménez was receiving only a nominal pay for the many hours of work on this place, he felt a great satisfaction to serve the elders, with who among them shared their lives experiences. © La Oferta Newspaper.
Eleuterio Navarro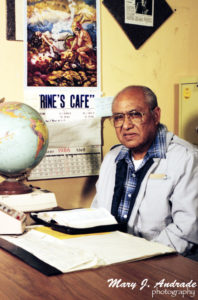 Eleuterio Navarro García fue miembro de la Organización de Servicio Comunitario (CSO) por 29 años, sirviendo en una ocasión como tesorero, contestando llamadas telefónicas, además de estar a cargo de los fondos de seguro para los miembros sobrevivientes de CSO.
Durante su juventud, en México, trabajó como comerciante y más tarde en Texas. En 1963 entró a trabajar en uns fábrica enlatadora de frutas y vegetales, en Sunnyvale, y luego en la Universidad de Santa Clara, de donde se jubiló.
<English version>
Eleuterio Navarro García was a member of the Community Service Organization (CSO) for 29 years, serving one time as Treasurer, answering the phone, and was also in charge of a special survivors insurance fund for CSO members.
As a young man in Mexico, he worked as a merchant and also later in Texas. In 1963 he worked in a Sunnyvale cannery, and finally at University of Santa Clara before he retired."I've tried all my life to do what is right. I am a person against violence," he said during our interview.
He was also a member of Club Libertad, Gardner Senior Center and Sociedad Guadalupana. © La Oferta Newspaper.