Leonard Ramirez nació el 12 de febrero de 1926 en Bailey Heights, un barrio del Este de Los Ángeles. Sus padres tuvieron siete hijos, pasando penurias durante los años de la depresión para proveer lo necesario a sus hijos.
A pesar de que sus padres tenían muy pocos recursos, el padre de Leonard deseaba que su hijo desarrollara su talento y sacrificaba un dólar por semana, para que recibiera lecciones de música. Durante sus años de secundaria, Leonard Ramírez estudió cursos vocacionales como tallado de madera y trabajo con metales.
La Segunda Guerra Mundial trajo cambios para Leonard, al enlistarse en las Fuerzas Armadas en 1945, en el Campamento Militar Roberts, en San Luis Obispo. En menos de dos años, Leonard ascendió al rango de Sargento, dejando el servicio militar con honorabilidad, en 1949.
De vuelta a casa se matriculó en al Visalia Junior College. Durante sus años de estudios ahí, Leonard dependió de su saxofón para sostenerse económicamente. Formó una banda de 12 personas usando el nombre de "Nardy Ramírez y su Orquesta".
Él completó sus estudios de Leyes en la Universidad Estatal de San José, en una época cuando solamente existían cinco estudiantes chicanos asistiendo a la Universidad. Vivió en un trailer durante sus años estudiantiles para de esa manera poder costear sus estudios en la Universidad. En 1951, contrajo matrimonio con Erma, su compañera de vida. Durante su último año en la Universidad de San José conoció a Fred Ross, un organizador comunitario. Leonard se reunió con otros estudiantes y ese día nació la Organización de Servicios Comunitarios (CSO) en San José, con la que se formularon metas específicas para los hispanos, incluyendo registro de votantes, mejoramiento de los barrios, etc. La directiva de la organización estableció una primera oficina para proveer servicios de consejería a los residentes hispanos.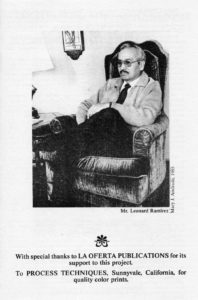 Al mismo tiempo, bajo el liderazgo de Leonard Ramírez, iniciaron un fuerte programa comunitario para establecer apoyo para la primera Feria de Legislación de Empleo de California.
Bajo el liderazgo de Leonard Ramírez, el Capítulo del CSO de San José inició el movimiento para abolir los requisitos del Seguro Social que requería que las personas tuvieran la nacionalidad estadounidense para ser elegibles de una pensión. Por lo tanto, el movimiento que Leonard Ramírez inició aquí en San José ganó apoyo en las representaciones de CSO en California, y eventualmente, en 1960, la ley fue revisada y abolido el requisito de la ciudadanía para obtener la pensión de jubilación. Lerner lo valoraba como una de sus más valiosas consecuciones.
Durante el periodo que CSO estaba envuelto en la revisión de la Ley para Personas Mayores, Lerner Ramírez también colaboraba por las noches como maestro en Educación de Adultos, dando clases de ciudadanía en español, a personas cuyas edades fluctuaban de 65 a 92 años. Algunos estudiantes venían desde Gilroy, para asistir a sus clases. Durante el periodo de tres años que él dio clases hubo más de 250 graduados. Al mismo tiempo, él estaba representando la organización méxico-americana de la Comisión de Oportunidades Económicas del Condado de Santa Clara, creada para eliminar las causas de la pobreza.
El Sr. Ramírez estuvo envuelto por 18 años como voluntario para United Way, sirviendo en la Mesa de Directores en el Sur del Condado. Como jefe de la mesa, fue responsable de realizar la campaña anual de recolección de fondos. Tuvo éxito, sobrepasando las metas de recolección por un 25 por ciento. Fue también Presidente del Club Rotario de Morgan Hill y sirvió como Gobernador del Distrito, representando el Área 9.
Se jubiló del Departamento de Corrección, administrando la Institución del Departamento Juvenil, a la vez que los servicios de Libertad Condicional y la División de los Servicios Comunitarios.
Después de su jubilación, trabajó con Oficial Ejecutivo de la Asociación de Locutores del Condado de Santa Clara, administrando un grupo de 10 radioemisoras y cinco estaciones de televisión que servían al Condado de Santa Clara.
El Sr. Ramírez y su esposa Erma tuvieron tres hijos y una hija, cuando él no estaba envuelto en actividades de la comunidad, disfrutaba trabajar en proyectos de carpintería. Cuando los hijos estuvieron mayores, su esposa Erma, regresó a trabajar como maestra en las escuelas públicas. © La Oferta Newspaper.
<English version>
Leonard Ramirez was born February 12, 1926 in Bailey Heights, a neighborhood of East Los Angeles. His parents had seven children and they struggle through the depression years to provide for their children.
Although his parents had few resources, Leonard's father wanted his son to develop a talent and sacrificed one dollar a week for music lessons. During his high school years, Leonard Ramirez studied vocational courses such as wood-shop and metal shop. World War II brought changes for Leonard. He enlisted in the Army in 1945 at Camp Roberts in San Luis Obispo. In less than two years, Leonard moved up for ranks to Sergeant and was honorably discharged in 1949.
He attended Visalia Junior College. During his College years, Leonard relied on his Saxophone to support himself. He formed a twelve piece band using his nickname, "Nardy Ramirez and His Orchestra."
He completed his Law Enforcement degree at San Jose State University, at a that time he was one of only five Chicano students at this university, living in a trailer during his student years so he could afford to attend the State University. In 1951, Leonard married Erma. During his senior year, 1952, at San Jose State he met Fred Ross, a community organizer. Leonard met with other students and the Community Service Organization (C.S.O.) was born, which formulated some specific goals for Hispanics, including: voter registration, neighborhood improvement, etc. The directive of the organization established the first office to provide outreach-counseling services to Hispanic residents. At the same time, under Mr. Ramirez' leadership, they initiated a strong community program to establish support for the first Fair Employment Practice Legislation in California.
Also, the San Jose Chapter of C.S.O. led, under Mr. Ramirez's leadership, the initial movement to abolish the Social Security requirement of citizenship for the Old Age Pension eligibility for Seniors. So, the movement that Mr. Ramirez started here in San Jose, gained support of all the CSO chapters in California and eventually, in 1960, the Law was revised and abolished the citizenship requirement for Old Age Pension. Mr. Ramirez regarded this as his greatest accomplishment.
During the period that CSO was attending the revision of the Law for Old Age Pension, Mr. Ramirez was an evening Adult Education Teacher, teaching citizenship classes in Spanish to people from ages 65 to 92 at Roosevelt High School. Some students came as far as from Gilroy. During the 3-year period that he taught there were over 250 graduates.
At the same time he was representing the Mexican-American organization in the Economic Opportunity Commissions of Santa Clara County (a poverty agency), created to eliminate the causes of poverty.
Mr. Ramirez was involved for 18 years as a volunteer for United Way, serving on the Board of Directors as Chairman of the South County. As Chairman, he was responsible to run the annual fund raising campaign. He was successful, exceeding the fund raising goal by 25%. He was also President of the Morgan Hill Rotary Club and served as District Governor Representative for Area 9.
He retired from Probation Department, where he held a position comparable to Deputy Chief Probation Officer, administering the Department Institution Juvenile, as well the Probation Services and the Community Services Divisions.
After his retirement, Mr. Ramirez worked as Chief Executive Officer of the Santa Clara County Broadcaster Association, a management group of 10 Radio and 5 TV stations, serving the Santa Clara County.
Mr. Ramirez and his wife Erma had three sons and one daughter, and when Leonard wasn't involved in community activities, he enjoyed working on carpentry projects. When their children were grown, his wife, Erma, went back into public school teaching. © La Oferta Newspaper.