Paula Barbosa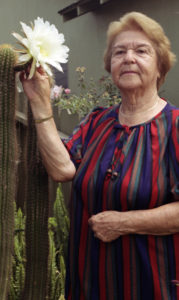 Paula Barbosa nació en Arizona, en su juventud vino a vivir a San José, donde trabajó por muchos años en la fábrica enlatadora Contadina, hasta que cerró sus puertas en 1983.
Aunque vivía con sus hijos, ella sentía mucha satisfacción siendo útil y ayudando en el programa de nutrición del Centro Eastside, al preparar el comedor para las comidas diarias que se servían en el lugar. En ese sitio, Paula encontraba personas con quienes conversar y ayudar.
<English version>
Paula Barbosa was born in Arizona and eventually moved to San Jose where she worked for Contadina Cannery for many years until it closed in 1983.
Even though she lived with her children, she found satisfaction and felt useful by helping out in the nutrition program at the Eastside Center, preparing the dining room for meals. There she found people to talk with and help. © La Oferta Newspaper.
Humberto de la Rosa Mattig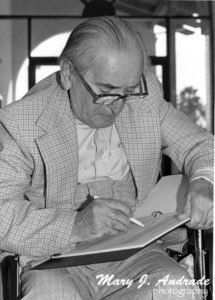 Humberto de la Rosa Mattig se jubiló del servicio del gobierno. Él nació en Taucahuano, Chile. Vivió con su segunda esposa en San José, hasta una edad muy avanzada. Asistía al Centro Eastside para Personas Mayores, y escribía poesía. Una muestra a continuación:
Chile es el suelo
donde he nacido.
Mi hogar querido
mi patria sin fin.
De tantos ríos
está surcado,
Y es mi adorado
Chile un jardín.
Humberto de la Rosa Mattig was a retired government worker, who was born in Taucahuano, Chile. He lived with his second wife in San Jose, attending the Eastside Senior Citizens Center, and use to write poetry.
Ramona García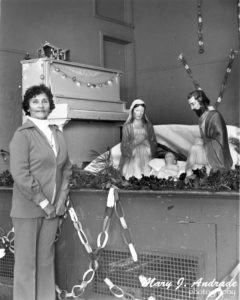 Ramona García fue miembro de la mesa directiva y voluntaria en Martha's Kitchen, la cual fue fundada por la Iglesia del Sagrado Corazón, en 1980.
Ray Laborde, opinó sobre la labor de la señora García: "Ella siempre está aquí, no importa si llueve o brilla el sol. No sabemos si ella alguna vez ha estado enferma, porque nunca lo comenta. No ha dejado de venir ningún día como voluntaria, durante estos cinco años pasados".
El número de personas que llegaron en 1984 a comer en Martha's Kitchen, mostraba una cantidad de 36,000 asistentes.
<English version>
Ramona García was a board member and volunteer at Martha's Kitchen, which was founded at the Sacred Heart Church in 1980.
Said Ray Laborde of Mrs. Garcia, "She's always here; it doesn't matter if it rains or shines. We don't ever know if she's sick because she never says so. She has never missed a day as a volunteer during these past fine years.
Her tallies of people showed that during 1984, 36,000 people ate at Martha's Kitchen. © La Oferta Newspaper.