November 22, 1989
By Yolanda Reynolds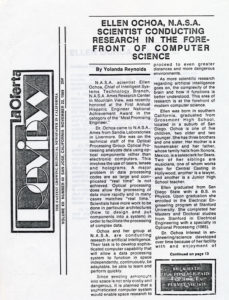 N.A.S.A. scientist Ellen Ochoa, Chief of Intelligent Systems Technology Branch, N.A.S.A. Ames Research Center in Mountain View, was recently honored at the First Annual Hispanic Engineer National Achievement Award in the category of the "Most Promising Engineer."
Dr. Ochoa came to N.A.S.A., Ames from Sandia Laboratories in Livermore. She was on the technical staff of the Optical Processing Group. Optical Processing analyzes data using optical components rather than electronic computers. This involves the use of lasers, lenses and holograms. A major problem in data processing codes are so large and complicated that "real time" is not achieved. Optical processing does allow the processing of data more rapidly and in many cases matches "real time." Scientists have more work to be done in particular architectures (how to design and put components into a system) in order to facilitate the processing of complex data.
Ochoa and her group at N.A.S.A. are conducting research in artificial intelligence. Their task is to develop sophisticated computer capability that will allow a data processing system to function in space independently, continuously, be adaptable, be able to learn and perform quickly.
Since sending astronauts into space is not only costly and dangerous, it is planned that a sophisticated computer system would enable space research to proceed to even greater distances and more dangerous environments.
As more scientific research regarding artificial intelligence goes on, the complexity of the brain and how it functions is better understood. This area of research is at the forefront of modern computer science.
Ellen was born in southern California, graduated from Grossmont High School, located in a suburb of San Diego. Ochoa is one of five children, two older and two younger. She has three brothers and one sister. Her mother is a homemaker and her father, whose family hails from Sonora, Mexico, is a salesclerk for Sears. Two of her siblings are musicians, one of whom works also for Central Casting in Hollywood, another is a lawyer, and another is a Junior High School teacher.
Ellen graduated from San Diego State with a B.S. in Physics. Upon graduation she enrolled in the Electrical Engineering program at Stanford University. She completed her Masters and Doctoral studies from Stanford in Electrical Engineering with a specialty in Optional Processing (1985).
Dr. Ochoa interest in engineering/science developed over time because of her facility with and enjoyment of mathematics. She credits her mother with providing the encouragement to pursue a career in the sciences.
It was after completing her degree in Physics that she realized that an advanced degree would enable her to do the things she wanted to do in science. Without more study and a doctorate she would be very limited in the choice of projects she could work on and would function in a subordinate, supportive role.
Dr. Ochoa says that there is a great need for young people to consider pursuing a career in engineering and the sciences. Her advice to young people is to study math and to continue their studies in mathematics as far as possible. It is math, she says, that allows a person to perform better and makes success in science and engineering easier.
As branch chief, Ochoa is very busy. Her work involves frequent travel. The Branch Chief's administrative duties are demanding. These are 35 scientists/engineers in the Branch; there is a research to be done, proposals to be prepared for the funding of research projects, seminars to attend and host Ochoa's own research to pursue.
Dr. Ochoa enjoys the challenge and research opportunities that her work offers. When there is spare time from her long work schedule, which extends well beyond the normal 40 hours week, Ochoa plays the flute and enjoys flying. She is a licensed private pilot. It is no wonder that Ochoa, at the recent Hispanic Engineers National Achievement Conference in Houston, was singled out for honor as one of those "persons whose contributions best exemplify hard work, innovation and achievement."
Dr. Ellen Ochoa is very interested in encouraging youth particularly women and minorities to the great opportunities and the enjoyment to be with a career in engineering or science.