"I thank Francisco Jimenez for honoring all brave children who grow up poor in America." – Sandra Cisneros, author of The House on Mango Street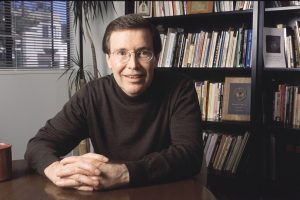 San José, CA – Educator, author, and advocate for social justice Francisco Jiménez will receive the John Steinbeck Award at 7:30pm (doors open at 7pm) on Wednesday, September 28, in the Student Union Theater at San José State University. A highlight of the university's celebration of Hispanic Heritage Month, the event will feature a conversation between Jiménez and Chicano political cartoonist Lalo Alcaraz.
Proceeds from the event benefit SJSU's Cesar Chavez Center for Community Action. Tickets ($20 general / $10 student) are available at the Event Center Box Office (408-924-6333) or at ticketmaster.com. Camino Arts, a non-profit arts initiative, is a pro bono co-producer of this event.
Like the Joad family in Steinbeck's novel The Grapes of Wrath, the Jiménez family came to California looking for a better life but found mostly hardship and struggle. Born in Mexico in 1943, Jiménez spent much of his childhood moving around California with no permanent home or regular schooling. Against incredible odds he went on to earn a Ph.D. and become a professor at his alma mater, Santa Clara University. His accolades include the CASE/Carnegie Foundation Professor of the Year in 2002.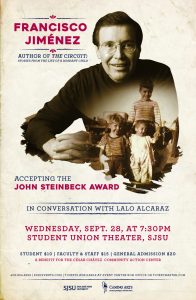 Jiménez first read Steinbeck as a sophomore in high school. "The Grapes of Wrath made a profound difference in my life and writing," he says. "I identified with the Joad family. Their experiences were like my own family's. For the first time I had read something in school to which I could relate."
Years later he decided to turn Steinbeck upside down, telling a migrant family's story from the perspective of the family itself. At his family's urging, he began working on a book about his childhood and in 1997 published The Circuit: Stories from the Life of a Migrant Child (Spanish title: Cajas de cartón). The Circuit won numerous awards, including the Americas Award for Children's and Young Adult Literature. Jiménez went on to publish three more books for young readers: Breaking Through (2002), Reaching Out (2008), and Taking Hold (2015), all with Spanish translations.
Widely read in schools, Jiménez's books have given voice to families like his and introduced a generation of American children to the plight of migrant laborers in our country. In vivid language, Jiménez highlights the humanity and strength that exist in the face of poverty and discrimination.
Explaining the selection, Nick Taylor, Director of the Cox Center for Steinbeck Studies said, "The story of the Jimenez family is timely, but it is also timeless. Steinbeck was calling our attention to migrant laborers eighty years ago. Jimenez reaches audiences even Steinbeck couldn't reach. In his life and his work, he embodies everything that Steinbeck hoped was possible in America."
The John Steinbeck Award is sanctioned by the Steinbeck estate and is offered by the Martha Heasley Cox Center for Steinbeck Studies at San Jose State University. The award is presented to artists and activists whose work exemplifies the spirit of Steinbeck's social engagement. Past recipients include musician Bruce Springsteen, MSNBC host Rachel Maddow, filmmaker Ken Burns, and United Farm Workers co-founder Dolores Huerta.
About San Jose State
The founding campus of the 23-campus California State University system, San Jose State provides a comprehensive university education, granting bachelor's, master's, and doctoral degrees in more than 140 areas of study and 100 concentrations – offered through its eight colleges.
With more than 33,000 students and nearly 4,370 employees, San Jose State continues to be an essential partner in the economic, cultural and social development of Silicon Valley and the state, annually contributing more than 7,000 graduates to the workforce.
The university is immensely proud of the accomplishments of its more than 220,000 alumni, 60 percent of whom live and work in the Bay Area.
About Camino Arts
Camino Arts is a non-profit Latino arts initiative with an international mission to illuminate the stories and communities of the historic road known as El Camino Real.