August 29, 1990
By Yolanda Reynolds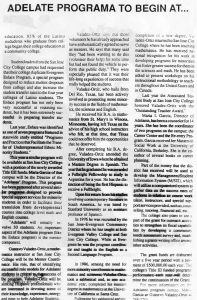 The San Jose Evergreen community College District announced last Wednesday that one of its colleges, San Jose City had been selected to receive a 2.5 million dollar federally funded Title III Grant, to be awarded over a five year period.
The grant monies were made available to help institutions of higher learning develop community support. The grant monies are awarded on a competitive basis. Eight other California Community colleges in California (of which there are 107) have been awarded Title III Grants. San Jose City College is the only community college in the Bay Area to receive this award this year.
Title III Grant funds are "intended to strength the institutions of higher education which have a comparatively high percentage of needy students and a fairly low level of expenditures on a per student basis."
College spokespersons say that that the Title III money will be spent on three major projects. One is to develop new curriculum and learning procedures for its remedial/development program. This program offers courses in precollege reading, writing, mathematics, study skills as well as counseling services for students enrolled in the program. The college has had a developmental program for many years. Approximately 50% of its entering students require some remedial instructions before they enroll in college level classes.
Until this fall, San Jose City College has declined in enrollment, with a 10% decline each year for the last three years. In contrast, this September the enrollment is up by 8%.
Community leaders and organizations, students and legislators have expressed increasing concern with the declining student enrollments and the lack of academic success for its many students.
The recent California Higher Education Master Plan points out that only 4 out of 1,000 community college students transfer to a four-year college.
Last year out of a total of 315 students from San Jose City College, 15 transferred to the University of California and the remaining 300 choose the State University System. The total student enrollment at San Jose City College is 13,000. Approximately 32% of that is minority enrollment with Latinos representing half of that percentage. Last year 46 Latinos transferred to four year institutions from San Jose City College.
This small number of transfer is particularly grim because Community Colleges serve as the point of entry for Latino students to higher education. 85% of the Latino students who graduate from college began their college education at a community college.
Student leaders from the San Jose City College campus had requested that their college duplicate Evergreen Enlace Program, a special program designed to reduce student dropouts front college and also increase the student transfer rates to the four-year colleges of Latino students. The Enlace program has not only been very successful at retaining students, but it has been extremely successful in preparing transfer students.
Last year, Enlace was identified as one of seven programs featured in statewide study entitled "Programs and Practices that facilitate the Transfer of Underrepresented Ethnic Minority Students."
This year a similar program will be available at San Jose City College with a portion of the newly awarded Title III funds. Maria Garcia of the campus will be Director of the "Adelante" Program. This program has been patterned after several similar programs designed to provide special support services for minority students in order to facilitate their transition from developmental courses into college level math and English courses.
"Adelante" will initially involve 30 students. An important aspect of the Adelante program (like the Enlace program) is the mentor component.
Gustavo Valadez-Ortiz, a mathematics instructor at San Jose City College will be the Mentor Coordinator. His role, that of identifying successful role models for Adelante students is critical to the success of the program. Valadez-Ortiz will be seeking Hispanic professionals who are interested in devoting some of their knowledge, experience, energy and time to help Adelante Students.
Valadez-Ortiz says that those volunteers he has already approached have enthusiastically agreed to serve as mentors. He says that many said they "had been wanting to do this (volunteer their help) for some time but had not found the vehicle to perform this public duty." They were especially pleased that it was their life-long experiences of success that rally helped the students.
Valadez-Ortiz, who hails from Del Rio, Texas, has been actively involved in promoting more minority success in the fields of mathematics, the sciences and English.
He received his B. A in mathematics from St. Mary's in Winona, Minnesota, having left Texas on the advice of his high school instructors who felt, at that time, that Texas could not offer him the opportunities that he deserved.
After completing his B.A. degree, Valadez-Ortiz attended the University of Iowa where he obtained a Masters Degree in Spanish. The year that he graduated he was awarded a Fulbright Fellowship to study in Argentina for a year. He has the distinction of being the first Hispanic to receive a Fulbright.
Upon his return from his studies involving contemporary literature in South America, he was hired by Stanford University as an assistant professor of Spanish.
In 1976 he was recruited by the San Jose-Evergreen Community District where he has taught at both Evergreen Valley College and San Jose City College. While at Evergreen he was the program coordinator and taught in the English as a Second Language Program.
In 1986, sensing the need for more minority enrollments in mathematics and sciences, Valadez-Ortiz took a sabbatical and, in one academic year, completed his masters degree in mathematics at the University of California at Santa Cruz.
Following his sabbatical and the completion of a new degree. Valadez-Ortiz returned to San Jose City College where he has been teaching mathematics. He has received national recognition for his work in developing programs for minorities that foster greater success for them in the sciences and math. He has been asked to present workshops on his instructional methodology to teachers throughout the United States and in Canada.
Last year the Associated Student Body at San Jose City College honored Valadez-Ortiz with the "Outstanding Teacher Award."
Maria I. Garcia. Director of Adelante, has been a counselor for 14 years. She has been the coordinator of two programs on the campus; the Career Center and the Re-entry Program. Garcia received her Masters in Social Work at the University of California, Berkeley. She is the co-author of several books on career planning.
Part of the money that the district has received will be used to develop the Management/Student Information System (M/SIS), which will utilize a computerized system to gather data on the success rates of students in relation to: course work taken, instructors, and special support services provided, such as, counseling, tutoring, financial aid, etc.
The college also plans to use part of the grant for outreach activities to strengthen its fiscal capabilities by developing a community needs assessment survey and, establishing a grants writing office among other services.
The grant funds are disbursed over a five-year period with a payment of $500,000.00 each year. The college's Title III funded programs performance each year will determine the continuation of the Grant.
For more information on the Adelante program contact Maria Garcia or Gustavo Valadez-Ortiz at 288-3708.