By Lina Broydo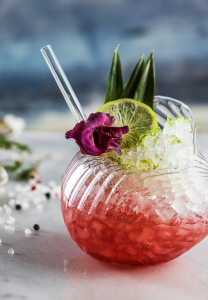 Jack London and Michael Mina Collaborate on "Wilt & Wisdom Tavern" Restaurant
Opening in September 2020
Michael Mina strikes again!
Champagne on ice is ready to pop as the famous writer Jack London, the author of  "Wilt & Wisdom Tavern" volumes  became an inspiration to Michael Mina, the prolific chef – entrepreneur who is celebrating the addition of "Wilt & Wisdom Tavern" his new gourmet restaurant in California's Wine Country.
Mina's restaurant empire which includes close to forty restaurants worldwide, stretches from Oahu to Dubai, from Levi's Stadium to Miami Beach and now to the Lodge at Sonoma.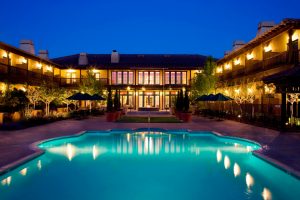 Featuring the hearth-oven cooking with seasonal artisanal Sonoma County and Napa Valley ingredients in partnership with the local wines, the new restaurant will showcase an architecturally  beautiful terrace with the picturesque vistas of the wine country.
The restaurant is located at the The Lodge at Sonoma Renaissance Resort & Spa.
Information
1-707-931-3405
"Wilt & Wisdom Tavern" Restaurant
Website: https://www.restaurantji.com/ca/sonoma/wit-and-wisdom-tavern-/
The Lodge at Sonoma Renaissance  Resort & Spa
1325 Broadway in Sonoma
Photo courtesy of Mina Group 
It's Crush Time… From Home!
September 24, 2020, at 6 p.m.
A much as we suffer and dislike the Covid-19 nightmare, we are benefiting from a number of virtual events, explorations and visits to the museums and theaters while being stuck at home for the past 6 months.
Here is a unique opportunity to experience and enjoy the Southern California's Temecula wine country's virtual Crush Festival events, including an evening of food and wine with South Coast Winery Resort & Spa winemakers Jon McPherson and Javier Flores and Vineyard Rose executive chef Jose Esparza – all via Zoom from your home. The $145 Tasting Package includes four bottles of wine (complementary shipping).
The Temecula culinary team will lead you through gourmet cooking demonstrations and guided tastings of hand-selected wines that can be picked up or sent to your door to sip along with your presenters and fellow participants.
Not as much fun as you would have stomping the grapes with your bare feet in the barrels of a Grgich Hills Winery Estate in Napa Valley, but this can also be enjoyable..
Information: temeculawines.org/event
Photo courtesy of Temecula Wines  
Up… Up… and Away in Vintage Biplanes
Time to soar away from your home confinement and enjoy panoramic views of the world famous Wine Country, the majesty of the Pacific coastline, San Francisco skyline and the Golden Gate Bridge!
The views are spectacular and a few hours away from home in the fresh air will do you good.
All the biplanes have the FAA approved front seat modifications.
Reserve: "The Wine Country" tour: Catch an Eagle's View of the world renowned vineyards of the Sonoma and Napa Valleys, heading east across the bucolic Carneros region to Napa, Turn north to St. Helena, West to Glen Ellen then back south through the lush Sonoma Valley.
"West to the Pacific": Aviate over rolling hills and open pastures of Sonoma, Novato and Petaluma; then head out to Tomales Bay and absorb the Majestic magnificence of the Pacific Ocean.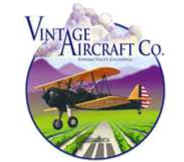 "Spires of The City": Drift south toward San Francisco.
A panoramic outlook of the Sausalito and Tiburon Harbors: outlying views of the Golden Gate Bridge and the Marin Headlands,  then circle Mt. Tamalpais en route to Point Reyes and your safe  Sonoma return.
Come Fly With Us!
Information
707-938-2444
vintageaircraft.com
Vintage Aircraft Company
23982 Arnold Drive in Sonoma
Photo courtesy of Vintage Aircraft Co.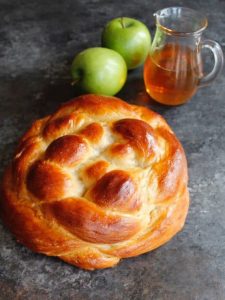 Last Minute Jewish New Year (Rosh Hashana) Dinners to go… 
September 18 through September 20, 2020
This year's Jewish New Year celebration is very unique and different from the years past. Somehow having your family, children and grandchildren via Zoom connection makes the distance not fondly.
The desire and the motivation to cook a huge meal has disappeared… But we have to eat, right? How about let the professional chef Beth Needelman who started "Schmaltz,' the modern Jewish food pop-up, prepare this year's Rosh Hashanah dinner for you and me??
For the month of September Schmaltz is celebrating the new year with a five-course meal for two ($80).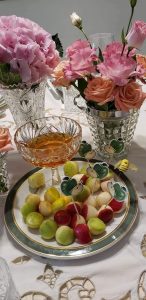 The meal is so delicious you may wish to eat it all year long.
Delivery can be arranged via Feastin.com to most of the Bay Area.
Dessert and the challah are included in the order… But I think I'll bake my own challah with the baked apple on top of the challah (my secret invention)… Well, the i-FaceTtime with my grandkids will be a fab sweet addition to my dessert!
Happy New Year!
Information
415-772-0922
Schmaltz
For pick up: 531 Jackson Street in San Francisco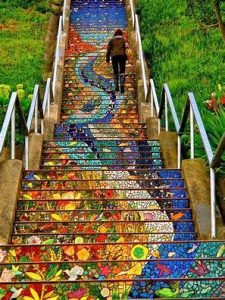 Beautiful and colorfully painted stairs on California Street in San Francisco, USA
September 18, 2020:
Each day from July 31, 2020 and for the duration of the Covid-19 nightmare I will post a different set of decorative stairs with hope we will reach the top when the brilliant minds will find and implement the miraculous vaccine.
Cheer up!
Stay safe!
You can see my previous daily posts on my Lina Broydo TravelLina on Facebook starting July 31, 2020)…