Mayor, City Team partner with WeHOPE to raise awareness during Hunger and Homelessness Awareness week with art display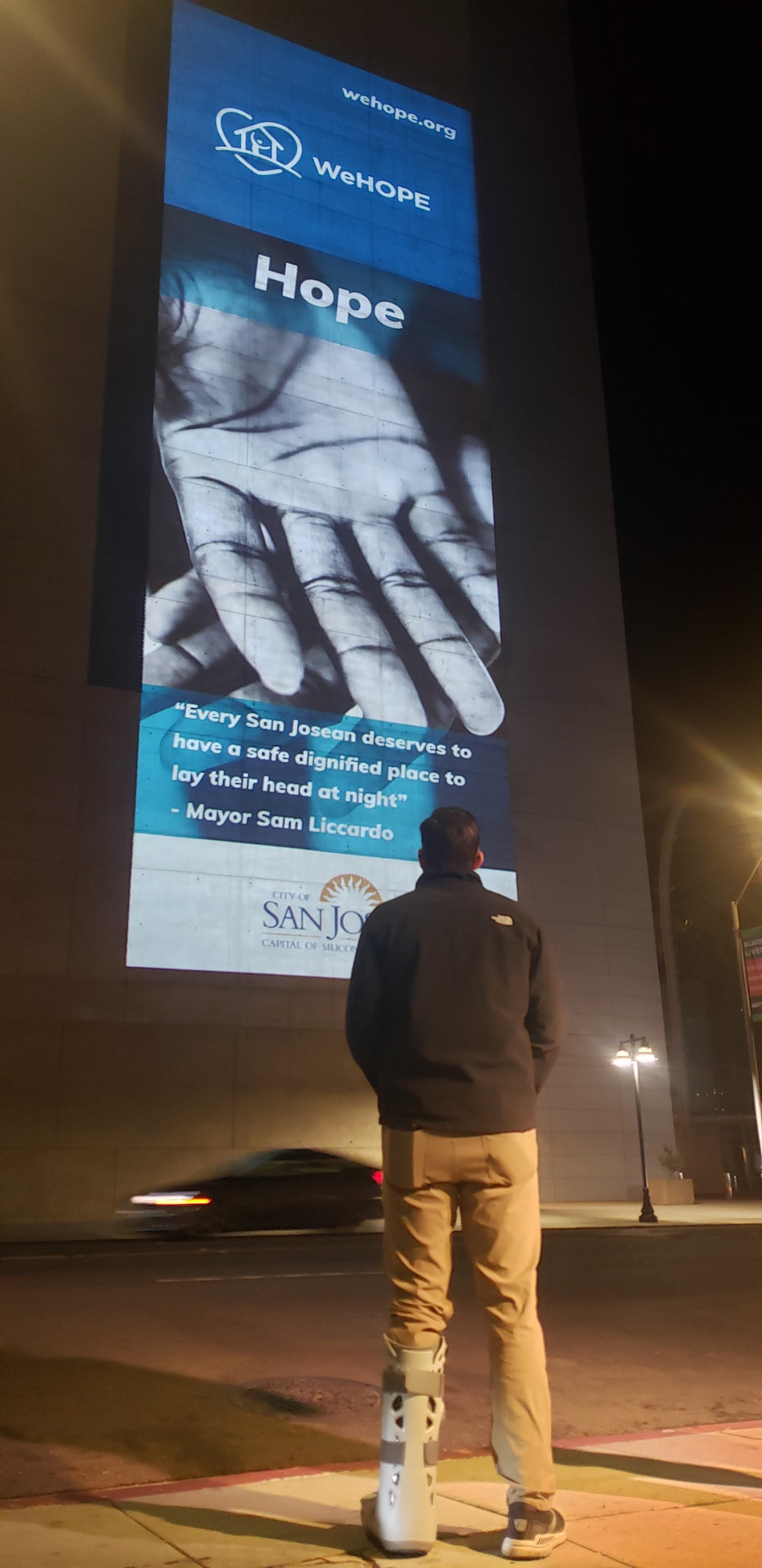 SAN JOSÉ, CA. 20 nov. 2020 – Today WeHOPE launched 'Projecting Hope', a project to commemorate Hunger and Homelessness Awareness Week in partnership with Mayor Liccardo, and San Jose's City Team. From November 18 -20, 'Projecting Hope' will display 150ft black and white portraits on the North Tower of City Hall featuring individuals whose lives have been impacted by hunger and homelessness.
"WeHope has been on the frontlines fighting the homelessness crisis with innovative and cost-effective solutions–but we still have a long road ahead," said Mayor Liccardo. "Every San Josean deserves to have a safe dignified place to lay their head at night, and I am thankful for the passion of community leaders like Pastor Paul Bains and the dedication of City employees as we work together to house our most vulnerable residents."
This project also kicks of WeHOPE's giving season, where they aim to raise $250,000 by December 31. These funds will go towards providing resources to homeless residents. With the ongoing COVID-19 pandemic and the rising housing costs affecting communities across the Bay Area, WeHOPE continues to tackle the ongoing hunger and homelessness crisis affecting the region. During Thanksgiving week, WeHOPE will be distributing 500 hot meals along with a week's worth of non-perishable groceries to unhoused residents in encampments. To learn more about how you can donate, visit here.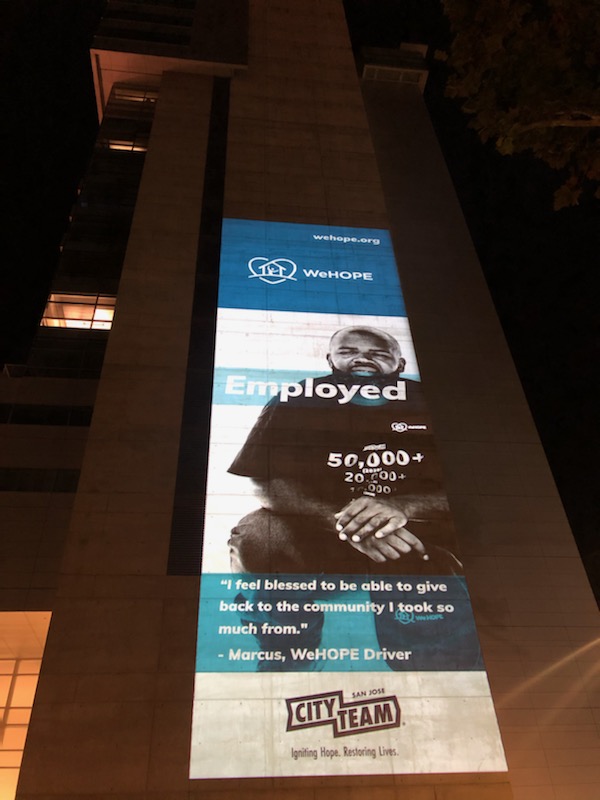 "The sun might go down every evening, but there are still people out there at night in need of hope and an actionable path to self-sustainability," said Pastor Paul Bains, founder of WeHOPE. "We'd like to thank the Office of Mayor Liccardo, City of San Jose, and our community strategic partners for their support on the homelessness crisis facing our cities. We are so proud to take a moment with our partners to share our success in getting people healthy, employed, and housed in San Jose. There are thousands more, real people fighting for their lives, fighting to be seen, and fighting for hope on a daily basis. This issue isn't going away unless we can work together as a community—we need your help."
"I feel blessed to be able to give back to a community I took so much from," said Marcus Lovelace, a formerly unhoused resident who received services from WeHOPE. Marcus's portrait will be featured in one of the projected images.
For more information on WeHope, visit here.
About the City of San José
With more than one million residents, San José is one of the most diverse large cities in the United States and is Northern California's largest city and the 10th largest city in the nation. San José's transformation into a global innovation center has resulted in one of the largest concentrations of technology companies and expertise in the world. In 2011, the City adopted Envision San José 2040, a long-term growth plan that sets forth a vision and a comprehensive road map to guide the City's anticipated growth through the year 2040.
About WeHOPE
The mission of WeHOPE is to help people become healthy, employed and housed using innovative solutions. WeHOPE's Mobile Homeless Services meets the needs of the homeless where they are through initiatives that include access to free showers, laundry, safe parking for vehicle dwellers, virtual medical assessments and comprehensive case management to assist in securing permanent housing. WeHOPE currently serves 4 counties and 17 cities throughout the San Francisco Bay Area, including San Jose, San Francisco and Oakland. To learn more about WeHOPE and how you can get involved, visit www.weHOPE.org