San Francisco Ballet Honors Artistic Director and Principal Choreographer Helgi Tomasson
By Lina Broydo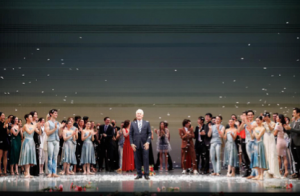 The splendor of the City by the Bay was definitely glowing and sparkling as the San Francisco Ballet and its devoted and admiring dancers and patrons celebrated Helgi Tomasson's 37th anniversary as its artistic director and principal choreographer. And as the shower of fluttering confetti dropped above Helgi and the guests on stage, his future post retirement looks light, beautiful and creative.
Chaired by Yurie Pascarella with Co-Chairs Sunnie Evers, Christopher Wheeldon, and Akiko Yamazaki, and Honorary Chair Diane B. Wilsey, the glamorous evening of Helgi Tomasson: A Celebration showcased hand picked selections from more than 50 ballets directed and choreographed by Tomasson throughout his career with the Company.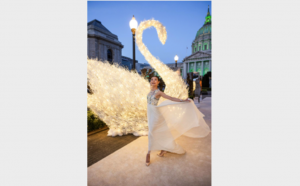 When passion meets brilliance, as in the case of Tomasson, the results are triumphant in his remarkable helm of one of the most famous and respected ballet companies in the world.
And now that he bids Adieu, where to next? No more Grand jeté, Pas de bourrée, Foueetté, Pirouette or Arabesque… as Helgi Tomasson, the brilliant principal choreographer and artistic director of the San Francisco Ballet for the past 37 years is trading this daily vocabulary for an Au Revoir, Bonjour, Bon Appetit and A Votre Sante as he is embarking on a new, exciting and stress-free life while traveling with his wife Marlene around the world, just for fun!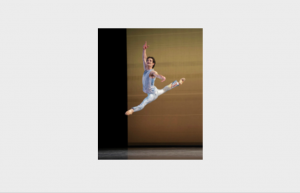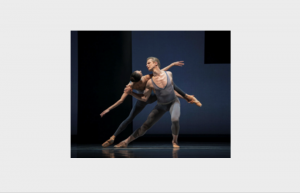 Or is he? Take it from someone who "retired", or as I call "graduated", from a hectic, fulfilling and 24/7 creative working schedule – there is no rest for the weary for too long.
With his impeccable and spectacular career as the world famous ballet master and choreographer Helgi will be in demand as a guest choreographer from the ballet stages around the globe! Is the phone ringing, Helgi?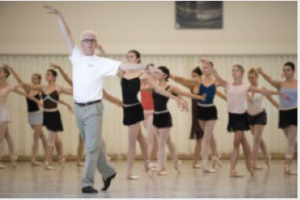 Praised for its unique repertoires, which showcase the dancers' extraordinary artistry and virtuosity, Tomasson's creative and innovative vision transforms the magic and the beauty of his spectacular presentations, stunning sets and costumes, musical orchestration, and spellbinding ambiance. Tomasson created mesmerizing and memorable ballet performances admired widely on the stages of the national and international dance world, and most importantly by us, the Bay Area ballet lovers, on the grand stage of the iconic War Memorial Opera House in San Francisco.
Helgi Tomasson was born in Reykjavik, Iceland where he began his early ballet training and continued his education at the National Theatre's affiliated school. At 17, he received a scholarship to study at the prestigious School of American Ballet in New York City, with continued affiliation for his professional career with The Joffrey Ballet and later with The Harkness Ballet. Over the next six years, he became one of the company's most celebrated principal dancers.
In 1969, Tomasson entered the First International Ballet Competition in Moscow as a United States representative and returned with the Silver Medal, as the Gold Medal was awarded to the legendary Mikhail Baryshnikov.
Tomasson joined New York City Ballet as a principal dancer in 1970 and over the course of his career became one of the finest classical dancers of his era. Living in New Jersey, with only an hour drive from Manhattan's Lincoln Center, I was very fortunate to see the young, extremely talented and debonair Helgi Tomasson dance quite often.
Little did I know when I first saw Helgi Tomasson's awe inspiring debut with the New York City Ballet at the Lincoln Center in New York that our paths will cross again 30 years later in San Francisco.
In 1985, I followed my husband, a world renowned scientist, to the Bay Area's Silicon Valley, and discovered that Helgi Tomasson, my favorite ballet dancer, accepted the invitation from the San Francisco Ballet to become the Artistic Director of America's oldest professional ballet company, thus drawing to a close a glorious performing career.
Since assuming this role, Tomasson has choreographed over 50 ballets, including full-length productions of Don Quixote, Giselle, Romeo & Juliet, Sleeping Beauty, and two productions of Swan Lake (1988 and 2009), among many others.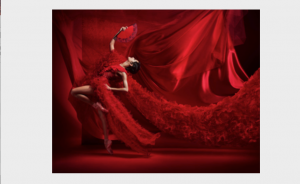 Although I never met him in person, and I hope I will in the next 10 years, I continued to be amazed by Tomasson's never-ending quest for perfection, his strive for excellence, and his continued dedication in keeping the San Francisco Ballet "on its toes" and on this phenomenal journey of cultural enrichment that we got so accustomed to seeing.
In addition to his role as artistic director and principal choreographer of the San Francisco Ballet, Tomasson was the director of the San Francisco Ballet School, which is central to the life and development of the Company. Just as he expected the finest dancing and most meticulous attention to detail from his dancers, he demanded the highest standards for training for the students in the Ballet School. After all they become the soloists and continue the excellent tradition by dancing in the best ballet companies in the world.
Tomasson's outstanding achievements as a soloist dancer as well as an internationally respected and admired choreographer have led to him having numerous prestigious awards and honors bestowed upon him. He also participated and served as a judge for International Ballet Competitions in Italy, Russia, France, Finland, and Japan.
Helgi Tomasson lives in San Francisco with his wife, Marlene, who was dancing with The Joffrey Ballet when they met. They have two sons, Erik and Kris.
Enjoy your graduation, Helgi!
For additional information on the San Francisco Ballet programs and special events visit www.sfballet.org.
Photos courtesy of Erik Tomasson and Drew Altizer