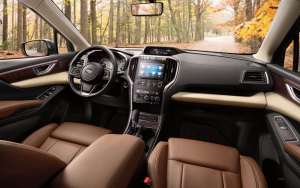 The Subaru Forester is expected to be a carryover model for the 2023 model year. With standard all-wheel drive, a roomy interior, and a reputation for reliability, the Forester is a perennial favorite among mid-sized SUV and crossover shoppers.
The Forester has a rugged-looking exterior that makes it look ready to tackle dirt trails, with black plastic cladding around the fenders and the bumpers. The interior is one of the best that Subaru has to offer, clad with durable materials and a nicely styled dashboard. Additionally, the Forester Sport gets some exciting orange accents inside and out, while the Wilderness model shows off its off-road prowess with a raised suspension, extra plastic cladding, a skid plate, and water-repellent upholstery.
The current Forester has a single engine choice, with a 2.5-liter BOXER engine that puts out 182 horsepower and 176 lb-ft of torque. That certainly isn't enough for those looking for sportiness, but it does just fine for most Subaru shoppers. All models are also outfitted with a Continuously Variable Transmission and Subaru's symmetrical all-wheel-drive.
Like all Subaru models, the Forester comes well equipped with standard active safety features as a part of what Subaru calls their Eyesight system. Standard features include adaptive cruise control, lane-keeping assist, and automatic emergency braking, while more advanced features like automatic emergency steering and blind-spot monitoring are available on higher trim levels.
Performance
How does the Forester drive? A largely gutless engine holds the Forester back. The four-cylinder engine and CVT automatic take their time getting up to speed. The Forester accelerated from 0 to 60 mph in a slow 9.3 seconds during Edmunds' testing. Its steering, handling and braking, on the other hand, are more respectable. While the Forester isn't sporty, especially not compared to top rivals, it feels planted and changes direction with speed and confidence.
The Forester does shine on dirt roads or easy to moderate off-road trails. It has 8.7 inches of ground clearance plus an available X-Mode drive setting that tailors the Forester's powertrain and traction control to driving on dirt. The Wilderness model is especially suited for getting out into nature thanks to its slightly higher ground clearance, upgraded suspension and all-terrain tires. In general, the Forester offers more off-road prowess than a typical small crossover SUV.
Comfort
How comfortable is the Forester? Whether you've got a long daily commute or a refreshing retreat on the horizon, the Forester will keep you riding in comfort. The front seats are well padded and have good bolstering and lumbar support, and the suspension easily smooths out bumps and ruts in the road.
Road noise is kept to a minimum. The Forester's tall profile does produce some wind noise, but it's a small price to pay for the commanding seat position and great visibility. Climate control knobs are right where they should be and easy to find without taking your eyes off the road. The available automatic climate control works well, and most Foresters come standard with heated seats.
Interior
How's the interior? All controls inside the Forester are clearly labeled and easy to reach. There's no fussing around or overdoing things. The available 8-inch center touchscreen is crisp and simple to navigate. Everything about the Forester seems to have been designed right. Getting in and out is aided by tall doors and an SUV-style ride height. There's enough room for four, and possibly five, seated adults. The driver's seat offers a wide range of adjustments, and the steering wheel has plenty of telescoping range.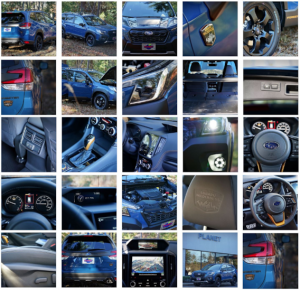 Technology
How's the tech? Subaru provides infotainment features that any owner, tech-savvy or not, can appreciate. The dual-screen center layout is attractive and easy to use. The navigation system is clear and takes voice commands well. If Apple CarPlay and Android Auto are more your flavor, Subaru has you covered by making both smartphone integration systems standard. Multiple USB ports are in both the front and rear.
We're especially fans of the driving aids included with Subaru EyeSight. The adaptive cruise control system works well, and lane keeping assist, now with lane centering, prevents the Forester from drifting out of its lane. Forward collision mitigation is also included and never activated when it wasn't needed in our test.
Storage
How's the storage? The Forester is slightly lower in total storage capacity than competitors such as the Honda CR-V, but a high roof and clever cargo layout make the space usable for large items. Parents will find the Forester a little disappointing when it comes to installing child safety seats, however. The car seat anchors are buried deep in the rear seats, and fitting large rear-facing seats will be a squeeze.
Towing isn't the Forester's strong suit with a maximum capacity of just 1,500 pounds, though the Wilderness improves things with its rating of 3,000 pounds.
Fuel Economy
How's the fuel economy? The EPA rates the Forester at 29 mpg combined, which is near the top of the class. In testing, however, we found that the weak engine had us pinning the throttle more, which can make real-world fuel economy suffer a bit.
Value 
Is the Forester a good value? The Forester gives buyers a lot of options depending on how much they want to spend and how fancy they like their cars. Interior build quality is high, and in general you'll feel like you got your money's worth. Subaru offers an average warranty for the class.
Wildcard 8.0/10
Acceleration is the Forester's only notable weak point. While it's a big one, it's certainly not enough to detract from all of the vehicle's standout areas. Everything else, from comfort to technology to driver aids to storage capacity to outdoor adventure credentials, is top-notch. Its upright style and rugged components lend the Forester a unique personality, and standard all-wheel drive with a strong ride height backs it up.