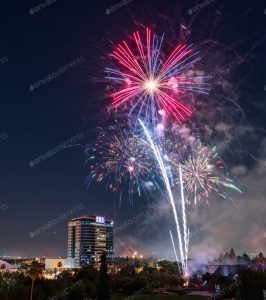 San Francisco Symphony Presents the 4th of July Fireworks Spectacular
July 4th at 8 p.m.
Let there be Summer! Celebrate the Fourth of July in Mountain View with a festive outdoor performance perfect for summer.
Led by conductor Edwin Outwater and vocalist Rosena Hill Jackson at Shoreline Amphitheatre, the San Francisco Symphony fills the night air with a crowd-pleasing lineup of exhilarating music, with a grand finale of spectacular fireworks! Featuring favorites from the Festival Overture on The Star-Spangled Banner, West Side Story, Beauty and the Beast, Hercules, Coco, Frozen, Encanto, Music of Ellington and Strayhorn,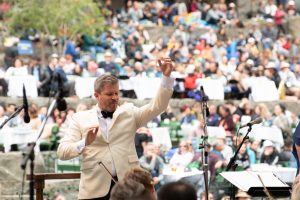 Leonard Bernstein, Beauty and the Beast Overture, Armed Forces Salute – are some of the famous tunes performed the the world class musicians.
Information
415-864-6000
sfsymphony.org
Shoreline Amphitheatre
1 Amphitheatre Parkway in Mountain View
Photos courtesy of SF Symphony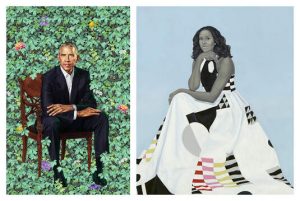 The Obama Portraits Tour de Young Museum in San Francisco 
Now on view through August 14, 2022
The Fine Arts Museum of San Francisco is presenting the portraits of former President Barack Obama and former First Lady Michelle Obama by artists Kehinde Wiley and Amy Sherald, as part of "The Obama Portraits Tour" organized by the Smithsonian's National Portrait Gallery.
The installation will also include an eight-minute-long video featuring the curator and artists discussing the historical and artistic significance of the portraits. The paintings were commissioned by the National Portrait Gallery and unveiled February 12, 2018, in the presence of the Obamas and the artists.
Wiley and Sherald are the first African American artists to have been selected for the Portrait Gallery's official portraits of a President or First Lady. The two artists worked independently from each other; however, in painting these two portraits Wiley and Sherald effectively re-envisioned the centuries-long tradition of representing political leaders.
Before photography, painted portraits often served as the primary image of a U.S. president. The Obama Portraits are part of the National Portrait Gallery's collection, which holds the nation's only complete collection of portraits of U.S. Presidents that is accessible to the public.
Information
deyoungmuseum.org
de Young museum is located in Golden Gate Park
50 Hagiwara Tea Garden Drive in San Francisco
Photo courtesy of de Young Museum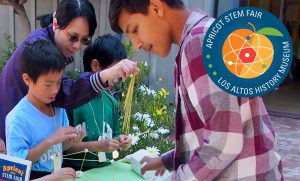 Apricot STEM Fair Returns to Los Altos History Museum
July 16, from 10 a.m. to 3 p.m.
Science, Technology, Engineering and Math are featured on the fascinating menu at the Los Altos History Museum's "Apricot STEM Fair: A Tale of Two Valleys" –  and all ages are invited, even us in the 50+..! Glad to hear the organizers promise for it to be fun for all! Held outdoors in the Museum's courtyard the fair will feature hands-on activities ranging from the time when this area was known as The Valley of Heart's Delight, to today's Silicon Valley.
STEM activities include robotics demonstrations, engineering a Mars landing with eggs, catapulting apricots, building marshmallow towers, creating photo sensitive art, drawing with fractal colors, making a sundial, games exploring the science and technology of early agriculture, and much more. Rounding out the festivities are workshops on crafting a binary code bracelet, and discovering Fibonacci patterns in nature. Lisa Prince Newman, Author of "For the Love of Apricots" will hold a book signing and conversation about all things apricots, and share her delicious recipes from 10:00-11:30am.
A truly fantastic event for the entire family.  Ahh.. summer in Los Altos… Don't forget to charge your i-phone in order to capture some wonderful photo moments.
Information
Admission is $7 per person, payable at the gate. Free for ages 12 and under.
Materials fee to participate in the workshops is $10 per person
Advance registration required at losaltoshistory.org
650-948-9427 x 14
Los Altos History Museum
51 S. San Antonio Rd. in Los Altos
Photo courtesy of Los Altos History Museum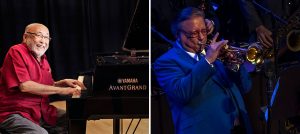 Stanford Live and SF Jazz Present: 
Eddie Palmieri and Arturo Sandoval at Frost Amphitheater
July 23 at 7:30 p.m.
This evening at Stanford University's Frost Amphitheater brings two Latin jazz legends together for an unforgettable double bill. Grammy-winning trumpet virtuoso Arturo Sandoval helped revolutionize Cuban music with the influential band Irakere.
He's recorded over 30 albums and worked with artists including Tito Puente, Frank Sinatra and Tony Bennett. In 2013 he was awarded the Presidential Medal of Freedom in recognition of his lifetime of cultural contributions. A beloved patriarch of Latin music, Nuyorican pianist and composer Eddie Palmieri has been at the cutting edge of Afro-Caribbean music since the early 1960s.
The iconic pianist, composer, and bandleader is an eight-time Grammy winner and was named an NEA Jazz Master in 2013. The magnificent setting of Stanford University's Frost Amphitheater is absolutely stunning and is a perfect place for a celebration of music. This is a must see concert not to be missed! I'll be there..
Information
Ticket prices start at $40
stanford.edu/live
Frost Amphitheater
351 Lasuen Street at Stanford University
Photo courtesy of Stanford Live