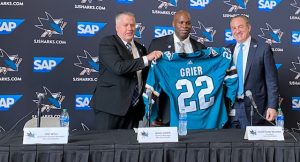 Hot News in The Ice Cold World of the National Hockey League (NHL) as the San Jose Sharks Make Historic General Manager Hire in Mike Grier, the First Black General Manager in the NHL League. 
July 5, 2022
Introduced at the press event by Jonathan Becher, the SJ Sharks team's President, Grier was officially hired as the Sharks General Manager ending the organization's nearly three-month search to find their next top hockey executive.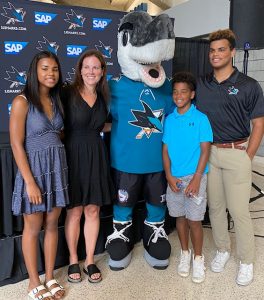 The beaming Becher was thrilled he and the team's owner Hasso Plattner recruited the perfect candidate by welcoming Mike Greer back to the SJ Sharks organization.
Grier played 221 games with San Jose Sharks tallying 35 goals over three years of him being on the team from 2006 to 2009, beginning with the 2006-2007 season.
Truly exciting news for the San Jose's hockey team! "Mike's resume speaks for itself," Sharks legend Patrick Marleau said at the press event.
"And I am excited to see what he can do here in San Jose."
But for me, an avid hockey fan, seeing the real and shiny Stanley Cup at the Hockey Hall of Fame Museum in Toronto is not enough..
All we need now is to welcome the long awaited Stanley Cup to San Jose!
Please Mike!
San Jose Sharks
SAP Center in San Jose, CA
Photos courtesy of Lina Broydo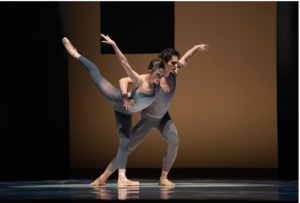 San Francisco Ballet Presents Starry Nights at Stanford Live's Frost Amphitheater 
August 5–6
Looking for a new way to experience your love of ballet? Starry Nights is the perfect way to spend a summer evening with your friends and family enjoying live ballet under the stars shining above the Frost Amphitheater at Stanford University.
The program for each night features three fan favorites: 7 for Eight, Composer: Johann Sebastian Bach; Choreographer: Helgi Tomasson; In the Night, Composer: Frédéric Chopin; Choreographer: Jerome Robbins; Blake Works I, Composer: James Blake; Choreographer: William Forsythe, Reserve seats in the Lower Bowl with great views of the stage or a VIP table located close to the stage and comes with priority seating and food and beverage table service.
Or, go for general admission and cozy up on a picnic blanket (no chairs) on the lawn. You're welcome to bring outside food, water, and snacks.
Information
Tickets starting at $40
650-724-2464
sfballet.org
Frost Amphitheater
Stanford University in Palo Alto
Photos courtesy of SF Ballet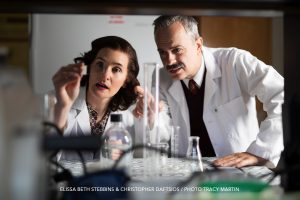 "Nan and the Lower Body" at Lucie Stern Theatre in Palo Alto
July 13 – August 7, 2022; World Premiere!
Time for some fun and laughter in the heart of Silicon Valley! And this play delivers…
The recipient of numerous awards for the mysteries of the heart..  this frank and funny play will definitely entertain you.. but you be the judge! A pioneering doctor wants a full-time successor…
A loving husband wants a full-time family.. And Nan wants it all! She is the brilliant lab assistant of good-humored Dr. Papanicolaou, inventor of the life-saving Pap smear ( you know all about it.. but maybe not!)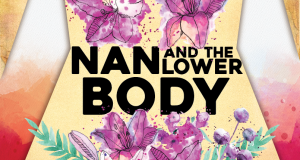 Well… I definitely plan to see this play. as I am a lab assistant by profession… and hope to unravel Nan's mysteries.. and help her with her life-changing choices to make… ha..ha…
Information
877-662-8978
theatreworks.org
TheatreWorks Silicon Valley
Lucie Stern Theatre
1305 Middlefield Road in Palo Alto
Photos courtesy of TheatreWorks Silicon Valley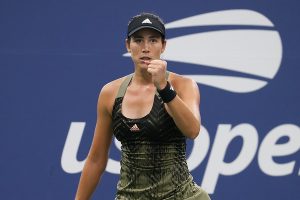 The 2022 Mubadala Silicon Valley Classic Tennis Returns to San Jose
August 1-7, 2022;  at San José State University
No need to travel to Wimbledon. The tennis champions are finding their way to San Jose for The Mubadala Silicon Valley Classic! The early entry list got even stronger today with the addition of two-time Grand Slam champion and former World No. 1 Garbiñe Muguruza. Muguruza joins Roland Garros finalist Coco Gauff, 2019 US Open champion Bianca Andreescu, 2017 Mubadala Silicon Valley Classic champion Madison Keys and World No. 25 Amanda Anisimova as tournament entries.
"Garbiñe is not only an incredibly talented tennis player but also a tremendous entrepreneur and businesswoman, and wonderful role model for young women everywhere." Gunnarsson added, "This event prides itself on bringing the best in women's tennis to the Bay Area and this year's player field is shaping up to be one of the most competitive of the summer hard court season."
Tickets for the 2022 Mubadala Silicon Valley Classic are available now.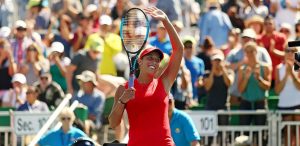 Get your tickets today for this historic Bay Area event and see many of the world's best tennis players as they return to San José State University, August 1-7, 2022. Co-founded by the legendary sportswoman, visionary, and activist Billie Jean King, the Mubadala Silicon Valley Classic was the first event of the historic 1971 women's professional tennis tour, a precursor to the WTA.
Its list of past champions reads like a who's who of women's tennis, including Serena Williams, Lindsay Davenport, Billie Jean King, Chris Evert, Martina Navratilova, Andrea Jaeger, Monica Seles, Martina Hingis, Venus Williams, and Kim Clijsters. For more information about Mubadala Investment Company, please visit: www.mubadala.com
Information 
Opening round tickets start at only $20.
www.MubadalaSVC.com
Weeklong and Finals Weekend ticket packages are also available at www.MubadalaSVC.com.
San Jose State University in San Jose
Photos courtesy of Mubadala