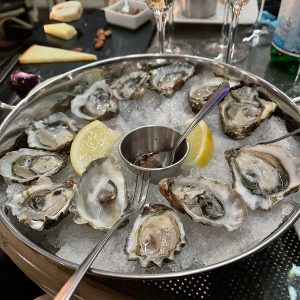 Bay Area Welcomes First Fizz Champagne Bar! 
And it is about time!
The well known and established in Sacramento, the Fizz Champagnes are finally on their way to Walnut Creek!!
The first in the East Bay bubbly-sipping bar of this fab champagne collection is planning a grand opening in the early fall! Surrounded by hundreds of award winning wineries and popular wine bars, the city of Walnut Creeks will be crowned as the first Champagne Capital of the Bay Area featuring more than 150 different Champagnes and sparkling wines by the glass.
An array of bubbly-friendly gourmet offerings such as caviar, oysters and duck-fries will accompany your visit to Fizz.

And if you love champagne like I love champagne, join the Fizz Members Club prior to the grand opening in Walnut Creek in order to be eligible for discounts, special announcements and invitations to private events and tastings, including the grand opening.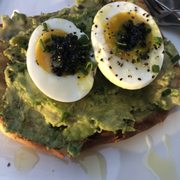 How about opening a bubbly Champagne bar in Palo Alto, closer to my home by adding a sparkling festivity without long distance driving for me to my celebrations!
Did I mention I love Champagne!
Cheers!
Information
fizzwalnutcreek.com
Photos courtesy of Fizz Champagne Bar
The Culinary Tour of Chinatown in San Francisco
Explore the history of the food of one of the largest and the most colorful and delicious Chinatowns in the United States.
Learn about its food culture, sample dishes offered by various restaurants, bakeries and the delicate tea houses and tea bars.
This culinary adventure includes the walking tour which lets you get to know Chinatown intimately by taking you off the beaten path and treating you to a traditional Chinese lunch, sipping and learning all about tea, making your own fortune cookies at the famous Golden Gate Fortune Cookies factory (where you may bump into Klay Thompson, the NBA Champion Warrior, who is a regular there..) and shopping to your heart's delight by stopping by a number of stores selling authentic Chinese crafts and pottery, as well as hard-to-find herbs and produce.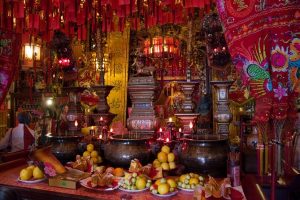 Tours include small group of just 15 people or fewer.
Information
Tickets: $73.90 per person
888-651-9785
viator.com
Tours start at Grant Street
Photo courtesy of Viator Tours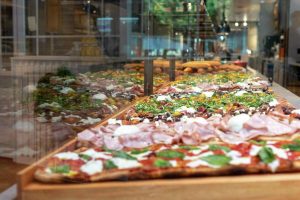 From Torino, Italy "Eataly" Finds Its Happy Way to San Jose
With food, wine, restaurants, cafes and shopping paradise of Italian produce,  the world largest food market extravaganza – Eataly is your new place to visit, dine, drink and be awestruck! All they need is to open a language school for you to learn Italian in order to pretend you are in Italy.
The more we talk about the diet  – the more we are infatuated with eating out! And why not? Have fun and enjoy everything delicious Italy has to offer at Eataly without flying to Italy!
Skip the lines at the airport, save the airfare and the hotel accommodations cost abroad and head to Eataly in San Jose/Santa Clara to enjoy the taste of Italy!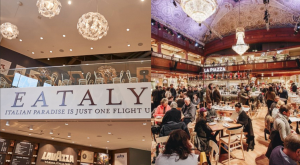 Inside this three-story, 45,000-square-foot culinary palace, shoppers and diners will find a marketplace featuring 10,000 fresh and packaged foods (pasta, cheese, salami, olive oil, sauces, gelato, wine, espresso and more); meat, seafood and produce counters; two restaurants, several cafes and bakeries; and a wine store with 1,200 bottles and a tasting room.
With 41 locations worldwide, this is the eighth in the United States and it's Northern California's first Eataly! Can you guess their next location?
Information
eataly.com
Eataly
2855 Stevens Creek Blvd., Santa Clara
Photos courtesy of Eataly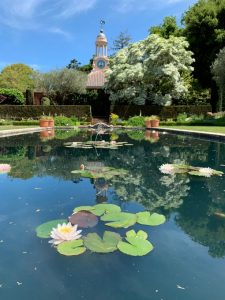 Summer Flowers and Lovely Delicacies at Filoli Estate
The magnificent FilolI Estate is an absolutely perfect place to visit, take a stroll and enjoy the acres of beautiful gardens of aromatic roses.
With a delightful cup of tea overlooking the stunning setting of this historic house in Northern California and the lavish gardens blooming all summer will make you dreams come true and encourage you to stop and smell the roses.
Many famous movie stars did just that while filming a number of award winning movies and TV shows such as "Dynasty" right  here.. Remember the scene when Joan Collins and Linda Evans have a fight and fall into the pool?
You can walk by this fall right here… One of my most favorite places to visit in the Bay Area with only 30 minutes drive from San Francisco and 25 minutes drive to Half Moon Bay, a picturesque small resort town by the ocean bay, makes you believe in miracles.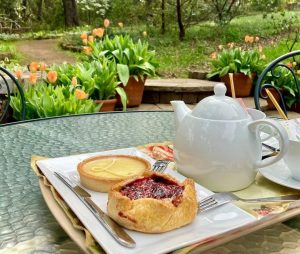 Visit often and visit with the love of your life.
Information
650-364-8300
filoli.org
Filoli Historic House and Gardens
86 Canada Road in Woodside
Photos courtesy of Filoli Estate