Built from all the passion of its iconic heritage, Mustang Mach-E is the new shape of freedom. Get in ready for 0–60 thrills, expansive range and zero tailpipe emissions. The Mustang Mach-E specs will add an eco-friendly thrill to every commute from Los Gatos to Santa Clara. Learn more about the all-electric Mustang with our team, or contact us for personalized guidance.
The impressive Mustang Mach-E is Ford's all-electric five-passenger crossover and rival to the Tesla Model Y. Available with all-wheel drive, the Mustang Mach E drives like a well-tuned performance machine, but also delivers the space and versatility you expect from a compact SUV. Its rear seat is spacious, and its cargo area is large enough for families.
It can't match the driving range of the Tesla, but offers enough miles per charge to forestall any range anxiety. Unlike its main competitor, the Mach-E qualifies for the $7,500 federal tax credit, which should be considered when you're shopping for any electric vehicle.
The Mach-E is quick, well-balanced, and agile, but its suspension is firm, and the ride can be choppy. Multiple trims with a variety of power packages are available, and the Mach-E costs considerably less than some luxury electric crossovers, including the Jaguar I-Pace and Audi e-tron.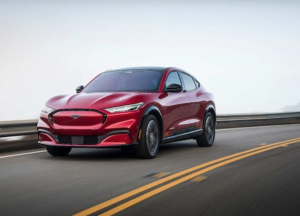 Battery and Performance
All 2022 Mustang Mach-E variants are equipped with two electric motors, one on each axle. But for rear-wheel-drive models, the front motor serves only as a generator. In either configuration, power is delivered through a single-speed transmission.
In Select trim, the 2022 Mach-E provides 266 horsepower, with 317 pound-feet of torque in the RWD variant and 428 lb-ft with eAWD. Ford estimates 0-60-mph acceleration will take 5.8 seconds in RWD, dropping to 5.2 seconds with eAWD. All Selects get a standard-range battery pack.
The Premium trim in RWD with the standard battery posts the same power and speed numbers as the Select rear-drive.
Move up to the RWD California Route 1 and Premium with extended battery, and output jumps to 290 hp. But torque remains at 317 lb-ft, and the 0-60-mph times only increase by a scant three-tenths of a second to 6.1 seconds. The weight of the added equipment, including the larger battery, dampens the performance.
In the Premium with extended battery and all-wheel drive, there's a nearly 20% gain to 346 hp. Torque is unchanged from the AWD Select at 428 lb-ft. But with the extra horsepower, the Premium extended battery and eAWD trim turns in a 4.8-second 0-60-mph time.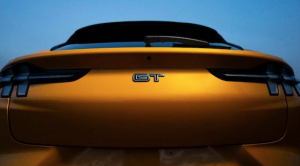 If speed is your main thing, the GT (with a larger front motor and a special battery power delivery strategy) boasts 480 hp and 600 lb-ft of head-snapping torque that's good for an elapsed time of 3.8 seconds in a 0-60-mph sprint. A GT Performance Edition variant boosts torque to 634 ft-lb and cuts that 0-60-mph time to 3.5 seconds.
We tested the Premium trim with all-wheel drive and the extended battery. And it proved to be a comfortable, well-mannered highway cruiser as well as an absolute kick to push around on twisty country and mountain roads. No off-roading, though. Despite its SUV designation, the Mach-E has the same 5.7-inch ground clearance as the V8-powered Ford Mustang GT coupe and is not designed for off-pavement use. The Audi e-tron, by comparison, has an off-road suspension and handling mode with 8.6 inches of ground clearance.
The Mach-E's steering wheel is satisfyingly meaty, and the electronic steering is responsive and nicely weighted. Handling overall is more like a well-set-up road car than a crossover. Contributing mightily to the Mach-E's sporty handling is a 117-inch wheelbase. That's 10 inches longer than the V8-powered Mustang GT coupe's wheelbase but on a body that's 2 inches shorter. There's some body movement in tight curves and turns, which is to be expected in a tall (63-inch) vehicle. But the Mach-E is stable, with a very low center of gravity thanks to its under-the-floor battery pack.
Acceleration is quick, linear, and almost noiseless unless the artificial engine-noise generator is switched on (as befits an EV). Then the Mach-E, especially in its Unbridled sport driving mode, sounds like there's a growly, snarling gas engine under the hood. Other driving modes are Whisper, which maximizes efficiency, and Engage, which would be "normal" in most EVs.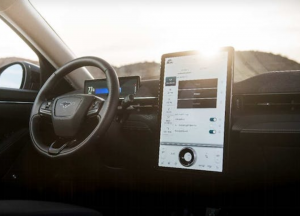 The Tesla Model Y Long Range and the Jaguar I-Pace are an eye-blink quicker in a 0-60-mph sprint. The Model Y Long Range boasts the segment's quickest elapsed time of 4.1 seconds.
The upcoming GT Performance Edition's claimed 3.5-second elapsed time matches the Model Y Performance trim and lays waste to everything else in the segment.
One nit is that the Mach-E's suspension is fairly stiff, leading to a bumpier ride than the Audi e-tron. Ford also could have spent a few more dollars on soundproofing. While noise levels aren't annoying, the higher-priced European rivals all offer quieter cabins.
The best-in-class turning radius and clear lines of sight that help make the Mach-E a treat on the road also facilitate parking. It becomes effortless with active parking assist, which is standard on the Premium and Route 1 trims and optional on the others.
Range and Charging Time
The Mach E's 75.7-kilowatt-hour standard-range battery (68 kWh usable) is EPA-rated at 227 miles per charge with rear-wheel drive and 224 miles with all-wheel drive. It is standard equipment on the Select and Premium trims.
Ford figures that with the average commute being less than 40 miles, even the 224-mile battery makes sense for many. The 98.8-kWh extended-range battery pack (88 kWh usable) on the GT trims boosts the estimated range to 270 miles with RWD and 260 miles with AWD. The AWD Tesla Model Y Long Range beats it at 316 miles.
The EPA range and fuel-efficiency estimates are great guides for EV shoppers. However, driver behavior, terrain, ambient temperature, and cargo and passenger load have far more impact on range in an EV than in an internal combustion vehicle. In our week driving an AWD extended-battery Mach-E Premium through a fairly equal mix of highways, country roads, and mountains, its range was consistently about 12% lower than the EPA number.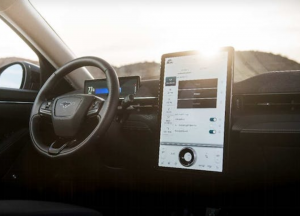 All Mach-Es come with a combo connector system charge port. It accepts the 120-volt and 240-volt charging systems typically found at home or in the workplace. It can also be hooked up to the direct current (or DC) fast chargers that typically can be found near major highways.
The Mach-E has a 10.5-kW charging capacity for home charging. That will recharge an empty extended-range battery in as little as 10 hours on properly sized (48 amp) 240-volt, or Level 2, equipment, adding approximately 30 miles of range per hour. With Level 1 or 120-volt household current charging, the job would take nearly four days.
The Mach-E's DC fast-charge capacity tops out at 150 kW (115 kWh for the Select trim), sufficient to take an extended-range battery pack from 10% to 80% in about 45 minutes. That's one of the slowest fast-charge rates in the segment. The Audi e-tron, with batteries almost as large as the Mach-E extended and rated at the same 150-kW charging capacity, will do the job in about 30 minutes. Tesla's Model Y Long Range, with 250 kW fast-charge capability, can get an 80% top-up in as little as 25 minutes.
There are more than 4,000 fast-charge stations in the US that the Mach-E can use, with more being added every month (Tesla has its own network of about 1,000 fast-charge stations across the country).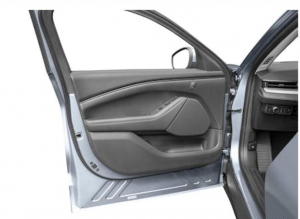 Interior
Ford's designers struck a nice balance between modern minimalist EV and nostalgic Ford Mustang in the Mach-E interiors. A double-hump dash and running pony embossed on the steering wheel evoke the classic car. But a 10.2-inch digital driver information screen and a vertically mounted 15.5-inch infotainment screen hovering above a floating center console make it clear this is a high-tech Mustang.
Seats are comfortable and supportive, and the GT Performance Edition is furnished with extra-grippy sport seats up front. Hewing to the EV's "green" image, all trims use Ford's ActiveX faux leather. There's no cowhide option from the factory. Standard interiors are black on black, except in the Premium trim, which has a light gray perforated upholstery option. All trims get eight-way power-adjustable driver's seats. The Premium and GT are also equipped with power front passenger seats, driver-seat memory systems, and heated front seats. There's plenty of headroom front and rear, and front legroom is best-in-class. Rear legroom, however, trails competitors from both Audi and Tesla, although the Mach-E's four-door layout and ample headroom make rear-seat access easy even for 6-footers.
The Mach-E's interior stands up well against pricier competitors, such as the Jaguar I-Pace and Audi e-tron. So does its cargo capacity. With all seats up, the Mach-E cargo hold measures 29.7 cubic feet — room for about 18 carry-on bags. Total cargo space swells to 59.7 cubic feet with the 60/40-split rear seats folded down, and there's an additional 4.7-cubic-foot storage well under the hood. Tesla takes the lead with a total of 68 cubic feet of cargo area in the Model Y, but the Mach-E is firmly in second place.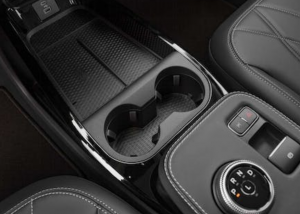 Infotainment and Connectivity
Every Mach-E has a Wi-Fi hotspot. A six-speaker unbranded audio system is standard on the Select and California Route 1 trims. Other trims include a 10-speaker Bang & Olufsen system that easily overpowers road and wind noise.
The Mach-E's 15.5-inch infotainment screen hosts a specially developed version of Ford's most recent Sync 4A system and is the largest screen in the class. The Tesla Model Y uses a 15-inch screen while everyone else is in the 10- to 11-inch range. Sync 4A, unlike some early Sync versions, works very well. It even has voice control and allows for a lot of personalization.
The system supports both Apple CarPlay and Android Auto, wired or wirelessly. With the new Sync, all of the Mach-E's software updates will be over the air (as Tesla has been doing since Day 1). There are USB-A and USB-C ports front and rear, as well as a wireless charging pad on the center console.
But as is becoming the norm, Sync and that big touchscreen handle most of the Mach-E's functions. There are phone, audio, and cruise control buttons on the steering wheel, but the only physical knob on the dash is for the volume control. If you haven't mastered voice commands, the setup could be distracting.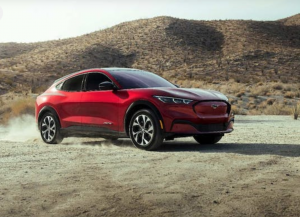 Safety
The 2022 Mustang Mach-E hasn't been crash-tested yet by the National Highway Traffic Safety Administration (NHTSA). But with its full suite of active safety and driver-assist systems and rigid safety cage surrounding the battery pack, it is ranked as one of the safest electric crossovers tested by the Insurance Institute for Highway Safety (IIHS).
The 2021 Mach-E aced every one of the institute's crash tests and won top ratings for its front crash prevention system in tests with another vehicle or a pedestrian. The Select trim got only a Marginal rating for the effectiveness of its LED headlights, but all other trims have LED projection beam headlights and won ratings as an IIHS Top Safety Pick.
Ford's Co-Pilot360 2.0 and 360 Assist 2.0 driver-assist packages are standard on all Mach-E trims. They provide lane-keeping and lane-centering, full-range cruise control with stop-and-go, and cross-traffic and blind-spot warning systems.
A hands-free Blue Cruise highway driving feature (on appropriately marked roads) is standard on the Premium and California Route 1 trims, optional on the Select and GT. It requires a $600 activation fee for a three-year subscription.