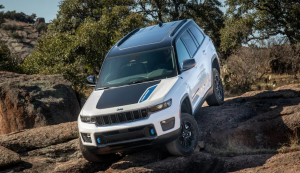 Jeep's Grand Cherokee has been around for decades, but the WL generation that debuted for 2021 brought features that had never been seen on this popular SUV.
One was an available third row of seats, found in the Grand Cherokee L model. But perhaps more indicative of Jeep's future-facing ambitions was the 4xe model, which sports a plug-in hybrid powertrain.
The Jeep Grand Cherokee 4xe is a pricier but more powerful alternative to a gasoline-only Grand Cherokee, and going all-electric off-road is pleasant. On-road, however, I longed for a V-8 Grand Cherokee.
The very first plug-in hybrid Jeep Grand Cherokee, dubbed the 4xe, makes its debut for the 2022 model year.
Although the 2022 Grand Cherokee 4xe can't tow as much as the standard model, it can operate in hybrid mode or all-electric mode to save gas. As with any Jeep, off-road performance is impressive, especially in Trailhawk guise. The 2022 Jeep Grand Cherokee 4xe will arrive in dealerships in early 2022.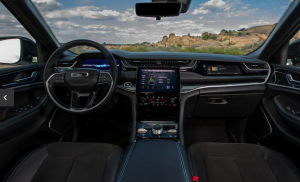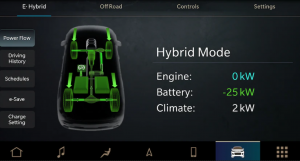 Interior
Not a lot differentiates the 4xe's interior from the conventional Grand Cherokee, but it does have unique charging-status indicator lights atop the dashboard, three PHEV-specific drive mode buttons to the left of the steering wheel, a button for controlling regenerative braking force and some PHEV-specific screens in the touchscreen display.
Beyond those, the differences are only cosmetic, with light blue accents on various buttons and surfaces (because light blue is apparently the official color of hybrids everywhere).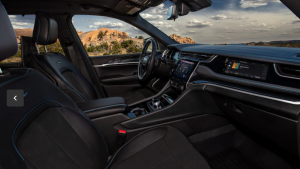 The 4xe enters the market at a fairly strong position because it's not very different from the gas-powered Grand Cherokee. Its control layout is intuitive, and its materials have a price-appropriate upscale feeling. The 10.1-inch touchscreen display running Uconnect 5 is clear and easy to use — provided it isn't glitching or lagging, which are issues that carry over from the 4xe's non-hybrid counterpart.
Other advantages include comfortable front and rear seating, plus high-tech goodies like a 10.25-inch touchscreen for the front passenger (it's not visible to the driver) that can control in-car entertainment, navigation, and available dual screens for backseat passengers with built-in Amazon Fire TV.
Besides tech issues with the main touchscreen, my biggest complaint regarding the interior transcends Grand Cherokee generations: From my driving position, visibility is hindered by the A-pillars and rearview mirror. This could just be a "me" issue, though, so be sure to sit in a Grand Cherokee before you buy to make sure it isn't a problem for you.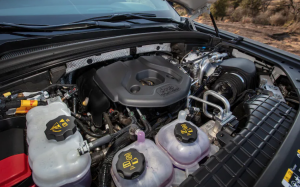 Technology
An 8.4-inch center touchscreen is standard fare on the base Grand Cherokee 4xe, and it features wireless Apple CarPlay and Android Auto.
A 10.1-inch touchscreen is available as an upgrade.
Other optional goodies include a 10.0-inch head-up display in front of the driver, a 10.3-inch front passenger display, and a rear-seat entertainment system featuring two 10.1-inch touchscreens and Amazon Fire TV compatibility.
Performance
Like the Jeep Wrangler 4xe, the Grand Cherokee 4xe packs a 2.0-liter turbocharged four-cylinder engine and two electric motors. One motor sits between the engine and the eight-speed automatic transmission, and the other acts as a starter-generator in the engine bay. Total output comes in at a healthy 375 hp and 470 lb-ft of torque. Thanks to a 17-kWh battery pack, the Jeep Grand Cherokee 4xe is expected to have an all-electric range of 25 miles. In our first drive, we found the Grand Cherokee 4xe to feel powerful, capable, and refined.
Towing
The Jeep Grand Cherokee 4xe can tow a maximum of 6,000 pounds. If you want more towing capacity, opt for the Grand Cherokee with the 5.7-liter V-8, as it's rated to tow 7,200 pounds.
Safety
Grand Cherokee 4xe buyers get a host of standard safety features, as do buyers of the gas-only version. These include forward collision warning with automatic emergency braking and pedestrian and cyclist detection; adaptive cruise control; a blind spot monitor with rear cross-traffic alert; and much more.
As of this writing, the Grand Cherokee 4xe has not been crash-tested by either the Insurance Institute for Highway Safety or the National Highway Traffic Safety Administration.