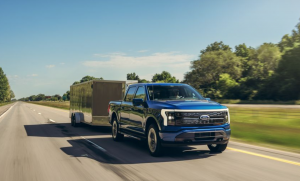 The F-150 Lightning makes the most out of an all-electric truck by combining impressive power and useful innovations with many of the characteristics that make the F-150 the bestselling vehicle in North America.
The F-150 Lightning doesn't have much competition now, but more is coming; its more traditional interior and exterior styling may make it more appealing than futuristic offerings from competitors.
The F-150 Lightning is currently available in four trim levels: Pro, XLT, Lariat and Platinum. All come with standard four-wheel drive and dual electric motors, and there are two battery choices: standard- (in Pro, XLT and Lariat) and extended-range (XLT, Lariat and Platinum). Standard-range models are EPA-rated at 230 miles of range, while the extended-range XLT and Lariat are rated at 320 miles. The loaded, extended-range-only Platinum has a rating of 300 miles.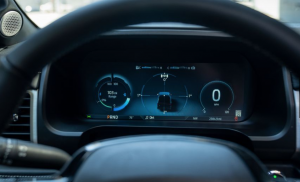 Interior, Comfort, and Cargo
Like the truck's exterior, the F-150 Lightning's cabin is much the same as the gasoline-powered F-150 with a few key differences such as an extra-large infotainment display and a voluminous front-trunk cargo bay.
The F-150 Lightning is offered only as a crew cab with a 5.5-foot bed. Speaking of roomy, the F-150 Lightning offers a large front trunk (frunk) that utilizes the space where the normal F-150's engine would sit to carry additional cargo weighing up to 400 pounds.
EV Motor, Power, and Performance
All F-150 Lightning models come standard with two electric motors and all-wheel drive. With the Standard-Range battery, the motors combine to make 452 horsepower but with the Extended-Range battery the horsepower rating rises to 580; peak torque is an impressive 775 pound-feet with either setup. Performance is impressive for a truck this heavy.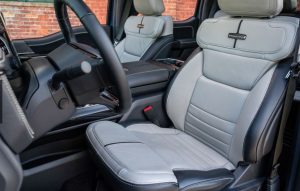 The Lightning Platinum we tested reached 60 mph in a scant 4.0 seconds and covered a quarter-mile in 12.7 seconds at 107 mph. Not only were we pleased with the Lightning's, ahem, lightning-quick acceleration but we were also pleasantly surprised that it managed to maintain the normal F-150's refined road manners.
If anything, the Lightning's ride-and-handling are slightly more agreeable, thanks to a lower center of gravity that helps keep body roll in check and independent rear suspension in place of the gas model's solid rear axle.
Towing and Payload Capacity
Ford staged an event in July 2019 to prove that a prototype of the EV pickup could tow a 1,000,000-pound line of train cars loaded with F-150s. The official maximum towing capacity of the production model is a mere 10,000 pounds, but only trucks with the optional Extended-Range battery are capable of such feats. Standard-Range battery models are limited to a 7700-pound capacity. Payload capacity is as high as 2000 pounds for the Standard-Range model and as low as 1800 pounds for the Extended-Range. During our tow test pulling a 6100-pound double-axle camping trailer, the range of our Lightning Platinum dropped to just 100 miles at 70 mph.
Range, Charging, and Battery Life
With the smaller 98.0-kWh battery, Ford claims a driving range of 230 miles per charge; upgrading to the larger 131.0-kWh pack boosts the driving range to 320 miles. During our 75-mph highway range test, the Lightning Platinum managed 230 miles of range.
Buyers will be able to charge their F-150 Lightnings at home via 110- and 220-volt outlets but the truck is also capable of juicing at public DC fast-charging stations, and Ford says it can charge from 15 percent to 80 percent of battery capacity in 44 minutes.
Ford also engineered the F-150 Lightning to serve as a backup generator and says a fully-charged truck can supply up to three days of electricity for the average household in the event of a power outage.
Fuel Economy and Real-World MPGe
The EPA has rated the F-150 Lightning Extended-Range for up to 78 MPGe city and 63 MPGe highway; the Standard-Range models are slightly less efficient at 76 MPGe city and 61 MPGe highway. During our time with the Lightning Platinum, we observed just 54 MPGe. For more information about the F-150 Lightning's fuel economy, visit the EPA's website.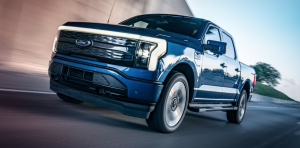 Infotainment and Connectivity
A 12.0- inch touchscreen infotainment system with Ford's latest Sync 4 software is standard, but Lariat and Platinum models come with an even larger 15.0-inch display. Apple CarPlay, Android Auto, in-dash navigation, and a Wi-Fi hotspot, are all standard. Ford will leverage its partnership with Bang & Olufsen to deliver two different optional premium stereo systems, one with eight speakers in the Lariat and one with 18 speakers in the Platinum.
Safety and Driver-Assistance Features
A host of driver-assistance features are standard, with Ford's new BlueCruise semi-autonomous driving mode offered as an option. For more information about the F-150 Lightning's crash-test results, visit the National Highway Traffic Safety Administration (NHTSA) and Insurance Institute for Highway Safety (IIHS) websites. Key safety features include:
Standard automated emergency braking with pedestrian detection
Standard lane-departure warning with lane-keeping assist
Available adaptive cruise control with hands-free driving mode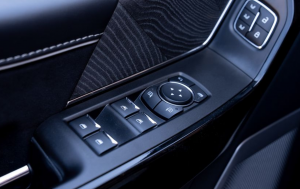 Warranty and Maintenance Coverage
The F-150 Lightning is protected by Ford's basic warranty package but also includes an eight-year/100,000-mile policy for electric vehicle components. This additional warranty matches that of other EV rivals.
Limited warranty covers 3 years or 36,000 miles
Powertrain warranty covers 5 years or 60,000 miles
Battery components warranty covers 8 years or 100,000 miles