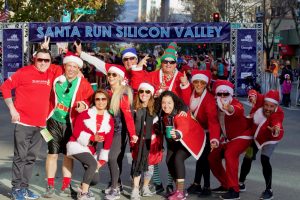 The Santa Run is Back in San Jose! 
December 11th, 2022
After a two-year pandemic hiatus, Santa Run Silicon Valley is back! Gather your family and friends and join your favorite Santa for a 5K run or walk (as in my case) with thousands of Santa-dressed runners through Downtown San José.
The highlights of the run include a Reindeer Run for the Kids; Milk & Cookies at the Christmas in the Park Finish and lots of photo opportunities with Santas everywhere. Bid farewell to Mayor Sam Liccardo and say Hi to the new Mayor. All proceeds benefit the San Jose Aspires youth scholarship program and Christmas in the Park.
The San Jose Aspires provide San Jose's students with the skills and knowledge needed to achieve their academic career goals.
Hey Santa, is my dog Kona invited?
Information
Register at santarunsv.com
Photos courtesy of Santa Run Silicon Valley
"Smuin's – The Christmas Ballet" is Here to Entertain You
November 19 through December 24, 2022
Locations: Walnut Creek; Mountain View; Carmel; San Francisco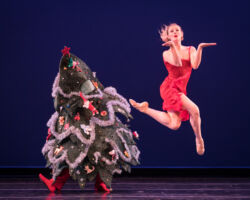 Move over, Nutcracker as Smuin's witty and whimsical holiday program is back! Enjoy the spirited tap, jazz, folk and many more dance styles featured in the iconic Christmas Ballet.
Along with a return to classic Michael Smuin pieces, the company unwraps two world premieres: Nicole Haskins Peaceful Prayer, set to music created from a prayer for Ukraine, plus a contemporary ballet from lauded choreographer Amy Seiwert.
One of the best ballet companies in the United States, do not miss their annual holiday presentation to start your festivities  on a happy and beautiful note.
Smuin's yuletide spectacular was declared "sheer joy…the finest toast to the season" by the San Francisco Chronicle.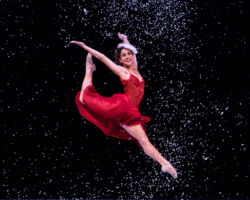 Do not miss it!!
Information  
smuinballet.org
Discounts available for students and groups of 10 or more
Photos courtesy of Smuin Ballet
The Marcus Shelby New Orchestra Performs Duke Ellington's Suite, a Brilliant Jazz Interpretation of Tchaikovsky's "Nutcracker" Music.
December 2, at 7:30 p.m.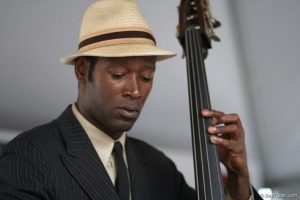 It's a short walk from the SFJAZZ Center to the War Memorial Opera House, which is where the evening-length ballet The Nutcracker made its North America premiere in the winter of 1944.
An immediate sensation, the production unleashed an army of Nutcrackers large and small that march across the country come the holidays, turning Tchaikovsky's spirited score into an enchanting soundtrack for the season. In 1960, at the urging of Billy Strayhorn, the Duke Ellington Orchestra recorded The Nutcracker Suite, a brilliant jazz interpretation of Tchaikovsky's music.
For bassist, composer, and arranger Marcus Shelby, Ellington's Nutcracker Suite arrangements offer an ideal vehicle for his talent-laden New Orchestra, an ensemble he modeled after Ellington's.
This is truly the best holiday gift you can offer to the young jazz musicians in the Bay Area.
Information
415-788-7353
SF Jazz Center Holiday Concerts
Miner Auditorium in San Francisco
Photo courtesy of SF Jazz
Virtuoso Pianist Katya Grineva Brings her Classical Holiday Concert to the Herbst Theater in San Francisco. 
December 7 at 7:30 p.m.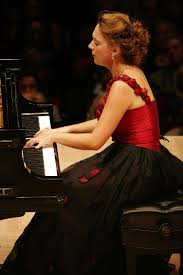 Proceeds will benefit: www.cancerCAREpoint.org  – CARE for Cancer Patients in Silicon Valley
The only woman pianist who holds an outstanding record of performing over 20 times in the world famous Carnegie Concert Hall in New York, Ms. Grineva will enrich our cultural life by presenting her selections of the Classical Holiday Concert Program at the historic Herbst Theater in San Francisco: J.S. Bach Jesu, Joy of Man's Desiring (arr. Myra Hess); Mozart Sonata in A major K.331; Schubert/Liszt Ave- Maria; Schubert/Liszt Swan Song; Rimsky-Korsakov Scheherazade (Sea and Sinbad's Ship); Tchaikovsky Dance of the Sugar Plum Fairies from Nutcracker Suite (arr.Pletnev); Tchaikovsky Pas de Deux from Nutcracker Suite (arr.Pletnev); Chopin Nocturne no.2 in E flat Major; Chopin Scherzo no.2; Gershwin/Wild Embraceable You; Debussy Clair de Lune; Ravel Bolero; Rogers/Duckwall My Favorite Things- Waltz Fantasia Duckwall;  I'll be Home for Christmas. A "noted exponent of Romantic repertoire (WNYC Radio)," Katya captures the heart of audiences with a rare combination of vulnerability, poignance and effortless virtuosity."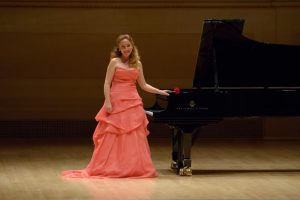 "Liquid…dreamlike…" NYTimes
See you at the concert!
Information
Cityboxoffice.com
Herbst Theater
401Van Ness Ave in San Francisco
Photos courtesy of Herbst Theater