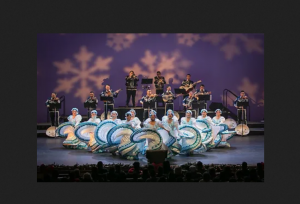 "Nochebuena: A Christmas Spectacular" in Livermore
December 20 at 7:30 p.m.
Enjoy a  lively holiday spectacular featuring an all-cast of music and dance, with the esteemed  Ballet Folklórico de Los Ángeles and Mariachi Garibaldi de Jaime Cuéllar, presenting traditions and customs that people in Mexico celebrate during the Christmas season.
This spectacular show focuses on Nochebuena (Christmas Eve), where Mexican families attend midnight mass before returning home to a late-night feast that includes foods like bacalao, ham, turkey, tamales, and mole, with ponche to drink and lots of music!
In Mexico, Christmas is a whole season of Christmas-related celebrations, representing a blend of indigenous culture, Spanish heritage, and influences from other cultures.
Ballet Folklórico de Los Ángeles catapulted to international fame when they danced at the 90th Annual Academy Awards in celebration of the Pixar movie, Coco, From their multi-styling videos with pop sensation Camila Cabello to the wonderful "Jacket Exchange" with Los Angeles Dodgers relief pitcher Joe Kelly, who proudly wore it to the White House to meet Joe Biden, Mariachi Garibaldi de Jaime Cuéllar has truly become an America's Mariachi.
Feliz Navidad!
Information
925-373-6800
Bankhead Theater
2400 First Theater in Livermore
Photo courtesy of the Bankhead Theater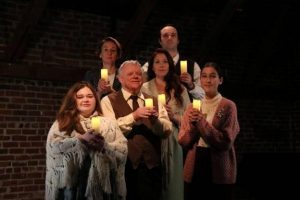 A Child's Christmas In Wales is Celebrated in San Jose
December 9-24, 2022
Rekindle the holiday spirit with the imaginatively poetic and playful story telling of the magical unexpected delights of Christmas from the view of a young child, brought to life in this new adaptation by Tabard Theater Company's Executive Artistic Director Jonathan Rhys Williams, inspired by the family traditions of his own Welsh upbringing.
After Thomas' story, the performance will continue with a "Noson Lawen"  which is a Welsh language-phrase for a party with music, and will feature a celebration of poetry and song inspired by the season. These will include more Welsh traditions such as the Mari Lwyd – a bedecked horse skull that is carried from house to house challenging occupants to a rhyme battle.
Originally emerging from a piece written for radio, A Child's Christmas in Wales was recorded by Thomas in 1952. The story is an anecdotal retelling of a Christmas from the view of a young child and is a romanticized version of Christmases past. It is one of Thomas' most popular works.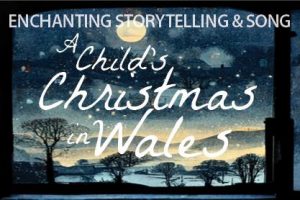 The Tabard Theatre Company's production features the acting talents of Megan Bowyer, D.J. Fernandes, Regina Kohl, Jenna Marvet, Bob Siegmann and Renée Turner. This play is suitable for all ages.
The recording of this play will be available to watch On-Demand through December 31. The non-profit partner for this production of A Child's Christmas in Wales is Welsh American Society of Northern California, an organization dedicated to celebrating the culture, history and friendship of the country of Wales.
Over the last 40 years, they have kept a "welcome by the Bay" for those who are of Welsh heritage
Information   
408-679-2330
Tabardtheatre.org
Tabard Theatre
29 N. San Pedro Street in San Jose
Photos courtesy of Tabard Theatre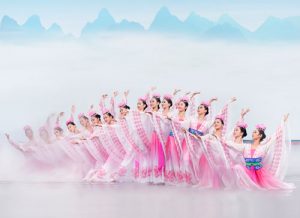 California Welcomes Shen Yun and 5,000 Years of History in All-New Program with Live Orchestra
San Jose: December 26 – January 1; San Francisco: January 4 -8; Berkeley: January 13-16; Folsom: January 24 -25; Fresno; January 28 -29; Modesto: January 31 – February 1; Sacramento: February 2 – 4.
Chinese legends come alive as the spectacular Shen Yun Performing Arts Company revives 5,000 years of ancient culture through dance and music on the grand stages of the Bay Area concert venues.
With visually stunning choreography, exquisitely graceful and energetic dancers, and breathtaking musical talent, Shen Yun is returning to California with this year's all-new production.
Shen Yun showcases the world's foremost classically-trained and award-winning dancers, accompanied by a unique orchestra that blends Chinese and Western musical traditions.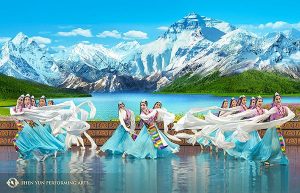 A colorful animated backdrop and gorgeous handmade costumes create an unforgettable magic for the mesmerized audiences. Performing in famous venues all over the world, Shen Yun has touched the hearts of millions. According to Shen Yun's website, "Classical Chinese dance has a long history of thousands of years, passed down continuously within the imperial palace and ancient Chinese theater and opera."
"With state-of-the-art graphics technology, Shen Yun's digital-backdrop team creates vividly animated settings, extending the stage and transporting the audience to a world where heaven and earth are one," the website states. Through music and dance, Shen Yun is bringing back this glorious culture to theatergoers.
In Chinese, Shen Yun means "the beauty of divine beings dancing."
Information
888-633-6999
shenYun.com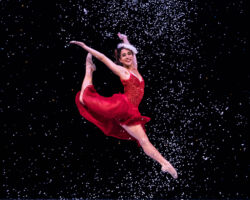 Smuin's "The Christmas Ballet" Dazzles!
Now through December 24, 2022
Locations: Walnut Creek; Mountain View; Carmel; San Francisco
Enrich your holiday season by the truly mesmerizing and the stunningly, whimsical and absolutely gorgeous production of the dazzling "Smuin's – The Christmas Ballet"! From the superb dancing, intricate scenery and the beautiful costumes it is truly one of the best ballet stagings you will ever see.
Enjoy the spirited tap, jazz, folk and many more dance styles featured in the iconic Christmas Ballet.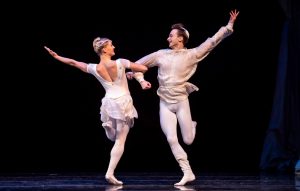 Along with a return to classic Michael Smuin pieces, the company unwraps two world premieres: Nicole Haskins Peaceful Prayer, set to music created from a prayer for Ukraine, plus a contemporary ballet from lauded choreographer Amy Seiwert.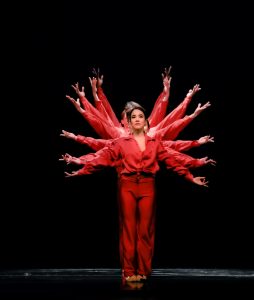 It is truly one of the best ballet companies in the United States! Do not miss their annual holiday presentation to start your festivities  on a happy note.
Smuin's yuletide spectacular was declared "sheer joy…the finest toast to the season" by the San Francisco Chronicle. Do not miss it!!
Happy Holidays!
Information  
smuinballet.org
Discounts available for students and groups of 10 or more
Photos courtesy of Smuin Ballet