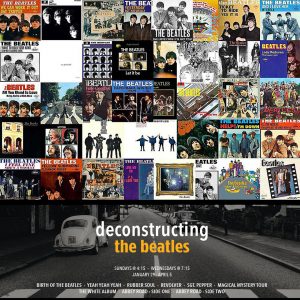 Deconstructing The Beatles
Now through April 5, 2023; Every Sunday and Wednesday
Film Fans Rejoice!  Ever heard of a lil' band called…The Beatles? Of course! Come together now as CA Film Institute dives deep into the albums, creative process, and rich history of one of the world's most beloved bands in their presentation of the "Deconstructing the Beatles."
On Sundays and Wednesdays, now through April 5, get ready for a nine-part educational journey with acclaimed "Beatleologist" Scott Freiman.
In thoroughly engaging (and often surprising) ways, acclaimed "Beatleologist" Freiman guides you, step by step, on an educational journey through each story and each album.
And for those of us (like me) who lived in England when the Beatles were discovered, this is a special treat!
I have not been so excited in quite a while!
Information
(415) 454.5813
rafaeltheater@cafilm.org
General admission to each program: $12.50;  $9. Senior • Youth • Matinée  |  $5  California Film Institute Members
Christopher B. Smith Rafael Film Center:
1118 Fourth Street in San Rafael
Image courtesy of CA Film Institute
Lang Lang and Esa-Pekka Salonen Play Grieg with the SF Symphony
February 20 at 7:30 p.m.
The dynamic trio of Lang Lang, Esa-Pekka Salonen and the SF Symphony Orchestra are treating us for a special one-night-only!! performance of Edvard Grieg's heroic Piano Concerto, one of the composer's most popular works, written when he was 24 years old.
Salonen also conducts Jean Sibelius's rich and triumphant Symphony No. 5.
Composed in 1915, Sibelius's Fifth Symphony was commissioned by the Finnish government to celebrate the composer's 50th birthday, which was declared a national holiday.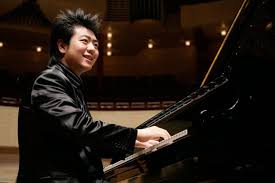 If you are a music aficionado and a music lover – this concert is definitely for you! See you there…..
Information
(415) 864-6000
Davies Symphony Hall
201 Van Ness Avenue in San Francisco
Photos courtesy of SF Symphony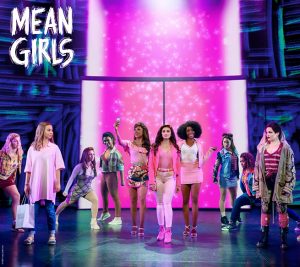 "MEAN GIRLS" Arrived to San Francisco
JAN. 31 – FEB. 26, 2023
They are here!!
Direct from Broadway, MEAN GIRLS is the hilarious hit musical from an award-winning creative team, including book writer TINA FEY ("30 Rock"), composer JEFF RICHMOND ("Unbreakable Kimmy Schmidt"), lyricist NELL BENJAMIN (Legally Blonde) and director CASEY NICHOLAW (The Book of Mormon).
Cady Heron may have grown up on an African savanna, but nothing prepared her for the vicious ways of her strange new home: suburban Illinois.
Soon, this naïve newbie falls prey to a trio of lionized frenemies led by the charming but ruthless Regina George.
But when Cady devises a plan to end Regina's reign, she learns the hard way that you can't cross a Queen Bee without getting stung. New York Magazine cheers, "MEAN GIRLS delivers with immense energy, a wicked sense of humor and joyful inside-jokery."
USA Today says, "We'll let you in on a little secret, because we're such good friends: GET YOUR TICKETS NOW!"
Information
(888) 746-1799
Golden Gate Theatre
1 Taylor St. in San Francisco
Photo courtesy of Golden Gate Theater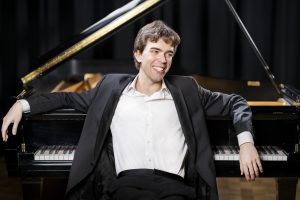 Albert Cano Smit is a Steinway Society's Artist to Watch in San Jose and Worldwide
February 11 at 7:30 p.m.Another talented pianist is coming to San Jose: don't miss Spanish/Dutch pianist Albert Cano Smit's performance!
Smit has been praised as "a moving young poet" and "a great romantic" (by Christophe Huss – Le Devoir).
His international career on the orchestral, recital, and chamber music stages is rapidly growing. In 2019, he won First Prize in the 2019 Young Artists International Auditions and made his Carnegie Hall debut.
He completed his Master's degree at the prestigious Juilliard School in 2020, where he received the Arthur Rubinstein Prize for Piano and completed his Artist Diploma in 2022.
HIs repertoire in San Jose will feature works by Bach, Brahms (Op.118), Mozart, Albeniz, Messiaen and Ginastera (Danzas argentinas).  Steinway Society – The Bay Area is a non-profit organization based in Silicon Valley which presents and promotes excellence in classical piano music.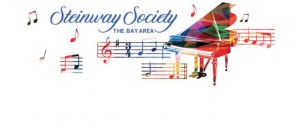 Now in its 25th season, this dedicated group of musicians, pianists, teachers and arts lovers presents a series of classical piano concerts featuring international award-winning pianists, as well as a community outreach and in-school program.
Information
Tickets: $50 to $70
Livestream online: $30 per household
(408) 300-5635
Historic Hoover Theatre at Old Hoover Middle School Campus
1635 Park Avenue in San Jose
Photo courtesy of Albert Cano Laurie Smith