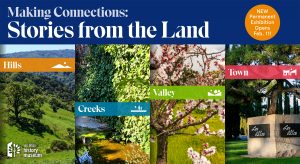 Our young generation is in for a fabulous awakening surprise as they will learn and be at awe of the remarkable history of the place they call their home in the heart of Silicon Valley. But it is not all about chips and technology, kids! The newly opened "Permanent Exhibition, "Making Connections: Stories from the Land," is simply amazing, educational and for us, the more seasoned citizens, is truly emotional, nostalgic and breathtaking.
Over two years in the making, the exhibition delivers an immersive experience through expansive video walls, interactive touch screens and listening stations in addition to the fascinating artifacts to tell the story of the people and events that shaped the area. And my favorite and I am sure it will delight children and adults alike, the popular train diorama as it returns with new augmented reality (AR) features that further delve into the history of the local area. Ahhh.. memories…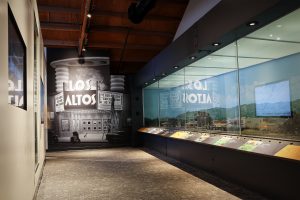 The history is laid out across four sections—the hills, creeks, valley, and town—and complemented by a community corner. The hills lured individuals, from indigenous dancers to modern-day thought leaders, who embraced and enjoyed living with nature. The creeks, the center of life for the Ohlone people, formed natural boundaries between ranches and towns and were later altered by people and events. The valley spawned industries from cinnabar mines to orchards to – oh yes: silicon chips. The town grew from a railroad stop to a bustling village as farms and orchards vanished to make way for retail businesses, homes, schools and housing developments.
"Our intention in organizing this exhibition geographically is to underscore that we all share the same place, and it's our collective responsibility to make it a community," said Executive Director Dr. Elisabeth Ward, who served as lead curator for the exhibition and the hills section. "Our environment is a primary concern for younger generations, and we expect this exhibition to resonate with youth as well as adults. We are excited to pioneer this unique and novel approach to conveying local history here at Los Altos History Museum."
Teams of curators researched and gathered content that reflected the transformation of the area through the centuries. In each section, visitors can hear people's reflected stories, see artifacts, and read historic timelines anchored to that landscape.
It takes more than a village to create this historic exhibit and how lucky for the current generation to learn all about it. "The creative team wanted to leverage modern technology to tell an evolving story in a dynamic way. The underlying digital format makes it possible to rapidly update the content to ensure that the information remains fresh and relevant for the next 10 to 20 years," said Nan Geschke, lead donor and exhibition team leader. "We're most grateful to the many donors who helped fund this cutting-edge technology."
To the delight of children and adults alike, the popular train diorama returns with new augmented reality (AR) features that further delve into the history of the local area.
GuidiGO designed the AR features into the existing train diorama. "For a small museum, I think this is an exquisite display with the large video screens," says Carol Gottleib of Los Altos Hills Historical Committee. "Los Altos Hills has a very prominent section in the exhibition, and will give old residents something to remember, and new residents something to discover about our history."
"There are so many fascinating and untold stories in our cities, our towns, our neighborhoods. That's certainly the case in Los Altos. I'm so glad our County could support this extraordinary new effort—21st-century technology connecting us to days gone by," adds Santa Clara County Supervisor Joe Simitian.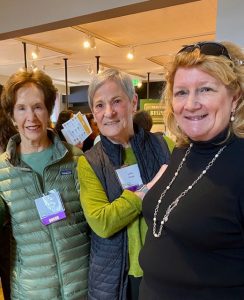 "The Past Shapes the Future: A Retrospective," running from February 11 through May 28, 2023, that looks back at some of the 50-plus exhibits presented since the Museum first opened its doors to the public in 2001.
"We have one of the best, if not THE best, local History Museums around, and it attracts those interested in the history of the Valley as well as those interested in experiencing a top-notch local Museum" – observes Sally Meadows, Mayor of Los Altos.
The Museum is open Thursday through Sunday, from noon-4pm. Admission is free. Tours of the J. Gilbert Smith House are available during open hours. The outdoor agricultural exhibit, gardens and picnic area are accessible beyond Museum hours.
For more information, visit: losaltoshistory.org, email hello@losaltoshistory.org, or phone 650.948.9427 x14.
And don't forget to visit the museum's awesome gift shop! And that's where I shop for gifts.
Photos courtesy of Los Altos History Museum