Featuring Power Chord, Generation Zedd and The Last Decade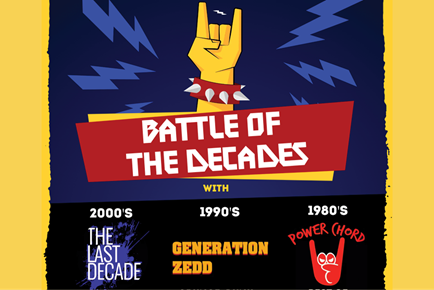 San Jose, CA  March 17, 2023—Tabard Theatre and The Gods of Rock present Battle of the Decades, a musical trip through three decades of rock featuring Power Chord (80s metal), Generation Zedd ('90s grunge, punk and alternative), and The Last Decade (alt-rock tribute to the '00s). Tickets for Battle of the Decades are available for in-person and livestream attendees on Saturday, March 25. Doors at 7pm, show starts at 8pm. General Admission is $20 in advance and $25 at the door. For those unable to enjoy the show live that night, the high-quality recording will be available as an on-demand purchase for one month following the show.
From the early days of an alternative to the mainstream, to the popular hits of the 90's and 2000's, The Last Decade represents the best of the wide-reaching genre.  Performing alt rock hits from bands like Blink-182, Foo Fighters, Green Day, Third Eye Blind, Weezer and many more.  The Last Decade is Matt Minter (Vocals ), Jonathan Carpenter (Guitar), James Connelly Guitar),  Wes 'Db' Cooper (Bass),  Kevin Kerlan (Drums).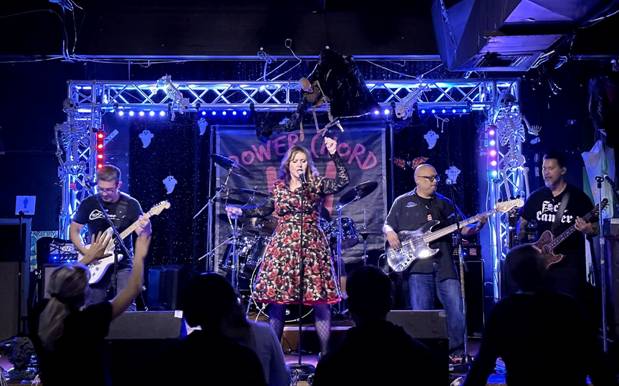 Power Chord is a 5-piece 80's hard rock cover band from the SF Bay Area. The band formed in 2013 from a menagerie of metalheads who just couldn't get enough Iron Maiden, Judas Priest, and Slayer. Their unique brand of entertainment incorporates the best of the genre: soaring vocals, distorted guitars, thundering double-bass drumming, and bass up the wahzoo. Power Chord delivers classics from the Golden Age of Metal with the dynamic range and energy to make you want to bang your head. Together, we're gonna party like it's 1989.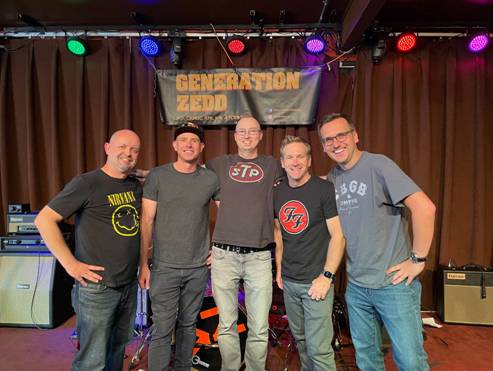 Generation Zedd plays your favorite 90s grunge, punk, and alternative rock. Revisit the heady days of rock's last great decade—all the fuzz guitars and moody lyrics, along with mosh-worthy pop-punk anthems. Based in San Jose, CA, Generation Zedd has brought their message of 90s rock to Bay Area venues since 2019. Who's Zedd? Zedd's dead, baby. Generation Zedd is Rob Bennett (drums), Todd Foreman,  (vocals), Graham Haworth (guitar), Paul Karazuba  (guitar), and Kevin Olson (bass).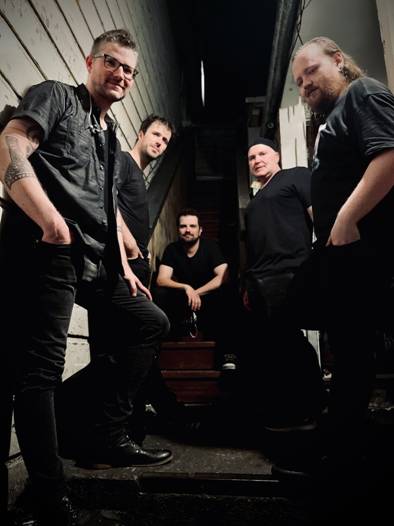 Tabard Theatre (formerly Theatre on San Pedro Square) — San Jose's "Hidden Gem" venue for the performing arts—  is located in the heart of historic San Pedro Square in downtown San Jose amid a bustling restaurant district.  This intimate and unique venue brings a touch of Manhattan to the South Bay with its rustic yet edgy feel. Old brick walls, plush leather seats, antique wood plank floors, sweeping red velvet drapes and a 35-foot mahogany bar create a casual cabaret atmosphere. The three-quarter round cabaret stage— described by artists as "a room that feels big and small at the same time" — is the perfect setting for live music and theatre.
When: Saturday, March 25, 2023,  Doors 7pm, Show 8pm PT In-Person and livestream.  On-demand March 26- April 25, 2023.
Who: All ages.
Where: Tabard Theatre (formerly Theatre on San Pedro Square) – Tabard Theatre in the heart of San Jose's historic San Pedro Square, 29 N. San Pedro Street, San Jose, CA 95110 Parking at the San Pedro Garage directly across the street.  The first 90 minutes are free.
Tickets:  $15-$35. www.tabardtheatre.org  or Call (408) 679-2330
Direct ticket link:  https://tabardtheatre.org/vbotickets/?eid=87753