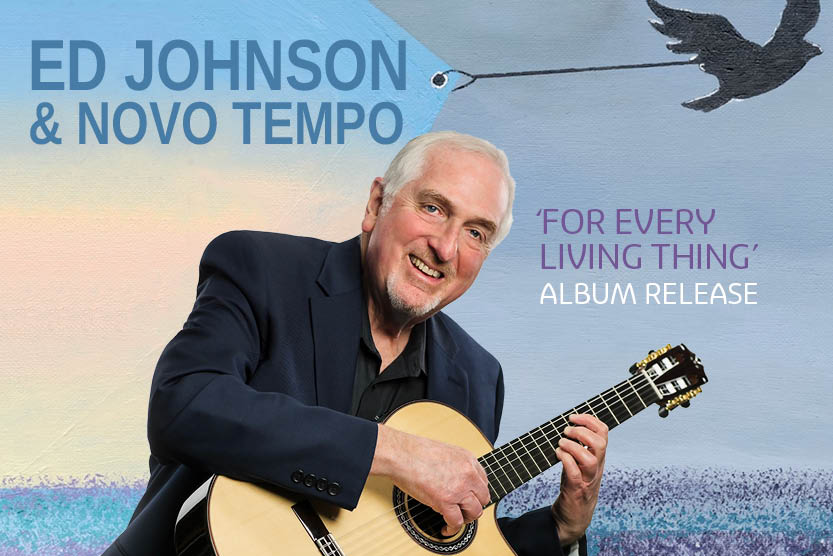 San Jose, CA September 8, 2023— Tabard Theatre announces Ed Johnson & Novo Tempo "For Every Living Thing" Album Release Concert  on Sunday, September 17, at 4pm. The show is available both to attend in-person and to stream from home live. For those unable to attend at the downtown San Jose venue or to tune in live, the high-quality multi-camera recording will also be available On-Demand for 30 days following the show. In-person single tickets are $25 for General Admission, and $35 for reserved Cabaret seating. Livestream or On-Demand tickets are choose your own pricing, $15, $25 or $35.
Ed Johnson and Novo Tempo started work on this album just before the pandemic hit in 2020, and through numerous delays persevered and finally completed it in the fall of 2022.  The ten tracks include seven original songs and three covers, and showcases the band's trademark Brazilian-inspired sound and lush instrumental and vocal arrangements. The songs explore themes of finding joy through hardship, caring for our planet, and how love transforms and sustains us all.
Ed Johnson holds a mastery of many different styles including classical, Brazilian, R&B, jazz, Afro-Cuban, pop and rock. His skills, coupled with a passion for harmony vocal and horn arrangements, all factor into a magical blend of vibrant, original contemporary jazz that is winning fans and airplay worldwide.
As a vocalist, Ed Johnson is frequently compared to Ivan Lins, Milton Nascimento, Kenny Rankin, and Michael Franks. As a guitarist and bandleader, critics often cite the lushly exotic, accessible sounds of Airto and Flora Purim. Ed has seven recording projects to his credit, in addition to producer's credits for other singer/songwriters
For this performance at Tabard Theatre, Novo Tempo will include Ed Johnson (guitar, vocals, cavaquinho),  Jennifer Scott (keyboards, vocals),  Kristen Strom (sax, flute, bass clarinet, vocals), John Worley Jr. (trumpet, flugelhorn), Scott Sorkin (guitars), Rene Worst, (bass), Jason Lewis (drums), and Michaelle Goerlitz (percussion)
Tabard Theatre (formerly Theatre on San Pedro Square) — The Destination for Arts Discovery —  is located in the heart of historic San Pedro Square in downtown San Jose amid a bustling restaurant district. This intimate and unique venue brings a touch of Manhattan to the South Bay with its rustic yet edgy feel. The three-quarter round cabaret stage nestled in an inviting room of antique wood floors and original brick walls is the perfect intimate setting for live music and comedy.
What:  Ed Johnson & Novo Tempo  "For Every Living Thing" Album Release Concert
When: Sunday, Sept. 17 at 4pm PT In-person and Livestream and On Demand Sept. 18 through Oct. 18
Who: All ages.
Where: In-person and Livestreamed. Tabard Theatre (formerly Theatre on San Pedro Square) – Tabard Theatre in the heart of San Jose's historic San Pedro Square, 29 N. San Pedro Street, San Jose, CA  95110 Parking at the San Pedro Garage directly across the street.  The first 90 minutes of parking are free, the hour after the free period is $2.
Tickets:  $15-$35.  www.tabardtheatre.org  or call (408) 679-2330.
Direct ticket link: 
https://tabard.vbotickets.com/event/Ed_Johnson_Novo_Tempo_Album_Release/104050