By Lina Broydo
The Bay Philharmonic is Kicking Off Its 23/24 Season 
With Broadway's Best  
October 1, 2023 at 3 p.m.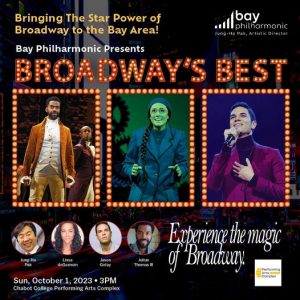 Featuring maestro Jung-Ho Pak, three of Broadway's top stars Julius Thomas III, Lissa deGuzman and Jason Gotay, and the 50-piece orchestra – the show promises to be energetic, theatrical, and upbeat. "The Bay Philharmonic is the only entirely professional orchestra in the region primarily dedicated to the popular repertoire of Broadway, Pops, Film, Rock, Pop, and mainstream classical music," announced renowned conductor Jung-Ho Pak.
"We present our generation's most familiar and beloved music in a more theatrical, interactive, and multimedia way than traditional orchestras."
Described by The New York Times as a conductor who "radiates enthusiasm" and the LA Times as "a real grabber," Jung-Ho Pak is known for his unique approach and vision for symphonic music.
The new Bay Philharmonic season also features: A Holiday Spectacular on Sunday, December 17;  Celtic Celebration on Sunday, March 17, 2014;  Tchaikovsky Gold on Sunday, June 23, 2014. The performances take place at their new premier venue of the Chabot College Performing Arts Complex in Hayward.
Information
Individual tickets are $25 to $67; Season subscriptions are $85 to $228
510-723-6976; bayphil.org
Chabot College Performing Arts Center
2555 Hesperian Blvd, Hayward; Photo courtesy of Bay Philharmonic
Fashion Community Extravaganza 
September 28, 29 and 30, 2023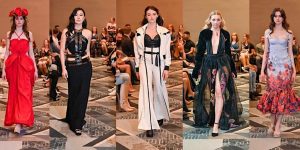 Bay Area fashionistas rejoice! Celebrate the 17th season of the Award-winning Fashion Community Week's opening Fashion Week party at the chic members only club, The Modernist. Enjoy delicious crafted cocktails, conversations and socializing with the local fashionistas! Wear your favorite cocktail attire to join in the creative photo sessions.
The week will kick off with a future of fashion conference and networking, followed by a fashion week opening party with live music.
The weekend will continue with an exquisite fashion show featuring local and global designers with a chance to shop designer pieces right from the runway.
A brief description of each day of the fashion week will happen on:  28th: Future of Fashion Conference; 29th: Fashion Week Opening Party; 30th: One of a Kind Fashion show. Fashion Week: One of a Kind Fashion show: Fun, Fashions and Fascination – is this year's exciting theme.
Information
Tickets: $100 – $250; 415-763-7466; fcwsf. org
The Clift Royal Sonesta Hotel in San Francisco;
Photo courtesy of the Fashion Community Week
IPAA's 6th International Performing Arts Festival 
October 8, 2023 at 7:30.p.m.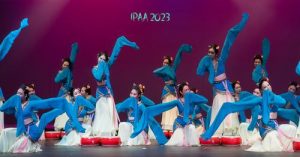 Step into the world of INSPIRE, as the IPAA's (International Performing Arts of America) enthralling journey presents the 6th Annual Cultural Exchange Event. As a tribute to the legendary founder Ann Wu they unite to bear witness to the power of the human spirit, the strength of perseverance, and the beauty of transformation.
This spectacular annual festival brings together dancers, choreographers, musicians, singers and renowned and brilliant guest choreographer Dennis Nahat in a magnificent celebration and stunning showcase of the art of dance and music.
This isn't just entertainment; it's a symphony of inspiration that elevates both heart and soul.
This event provides the opportunity to showcase the beauty of different cultures coming together through the universal language of art.
This is the true heart and spirit of Silicon Valley.
Bravo!!! to the extraordinary management team of Andy Jian, Yang Yang Lyon, Jun Yan, Lucy Lu, Yan Liu, the principal dancers Allie Dong, Jing Zhang, Xiaoming Wang and Jessica Wu and the entire team of talented performers, musicians, costume designers and scenery and lighting aficionados.
Information
408-605-3217; info@performingarts.org; at California Theater in Downtown San Jose
The Great Glass Pumpkin Patch in Palo Alto 
September 30/October 1, 2023 from 10 am to 5 pm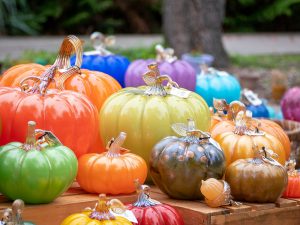 Join the festivities at Palo Alto's beloved Great Glass Pumpkin Patch where thousands of visitors from all over the world gather to explore more than 10,000 unique glass artworks created by local area professional artists.
Your attendance and support contributes to the thriving arts scene in Palo Alto.

This event is a fantastic opportunity for you to immerse yourself in the arts while supporting Bay Area Glass artisans and nonprofits.
It is truly a fantasy journey into creativity and admiration.
Yes my dear readers, there is more to Silicon Valley than just chips and technology.
Information 
Admission is Free!
Greatglasspumpkinpatch.org; 650-329-2366
Palo Altos Art Center
1313 Newell Road in Palo Alto
Photos courtesy of the Great Glass Pumpkin Patch Palo Alto