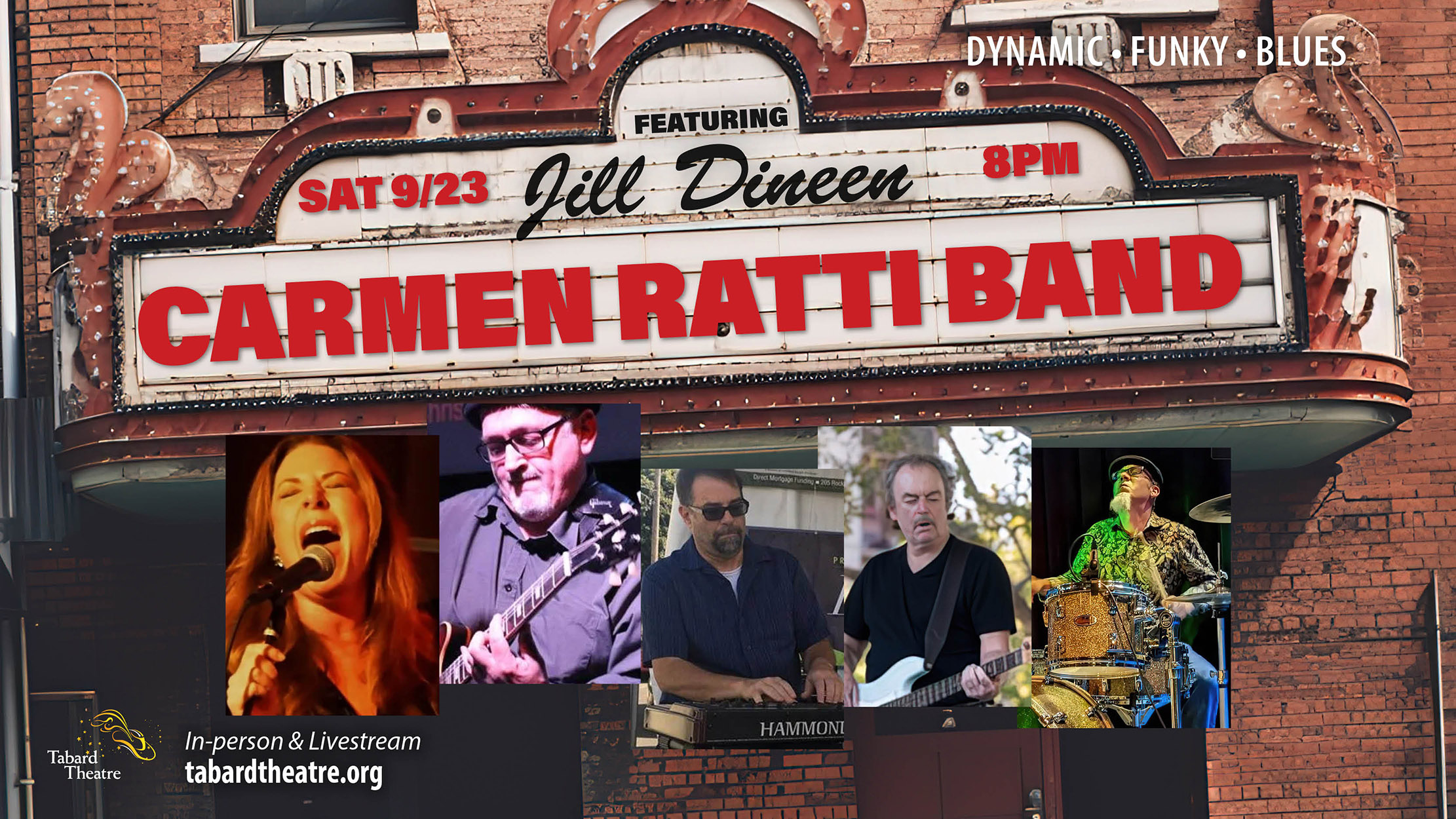 San Jose, CA September 20, 2023— Tabard Theatre announces Carmen Ratti Band featuring Jill Dineen live in concert on Saturday, September 23, at 8pm. With soulful melodies and electrifying rhythms, Carmen Ratti Band is a dynamic blues ensemble that brings powerful originals and steamy covers. The show is available both to attend in-person and to stream from home live. For those unable to attend at the downtown San Jose venue or to tune in live, the high-quality multi-camera recording will also be available On-Demand for 30 days following the show. In-person single tickets are $20 for General Admission, and $30 for reserved Cabaret seating. Livestream or On-Demand tickets are "choose your own pricing".
Carmen Ratti Band is Carmen Ratti on guitar, Steve Hazlewood on bass, Dave Mehrwein on keys, Sean Donoghue on drums, and Jill Dineen on vocals. Carmen Ratti has been involved in all aspects of the music scene. Music was his first love hitting the drums from ages 10-18, and sliding into the guitar work at age 20.  Recording, Mixing, Writing and producing WAS HIS NEXT ENDEAVOR OF THE MUSIC PASSION.  Carmen takes the front of the current project, and with his crew of all stars delivering a pallet of blues that keeps audiences listing for hours.  Look for a diverse feel of smoldering guitar work to mold the menu of originals, and covers.
The Carmen Ratti Band also, host the Longboard Pro Blues Jam 2 Thursdays a month, sharing stage with the best blues artists in the bay area.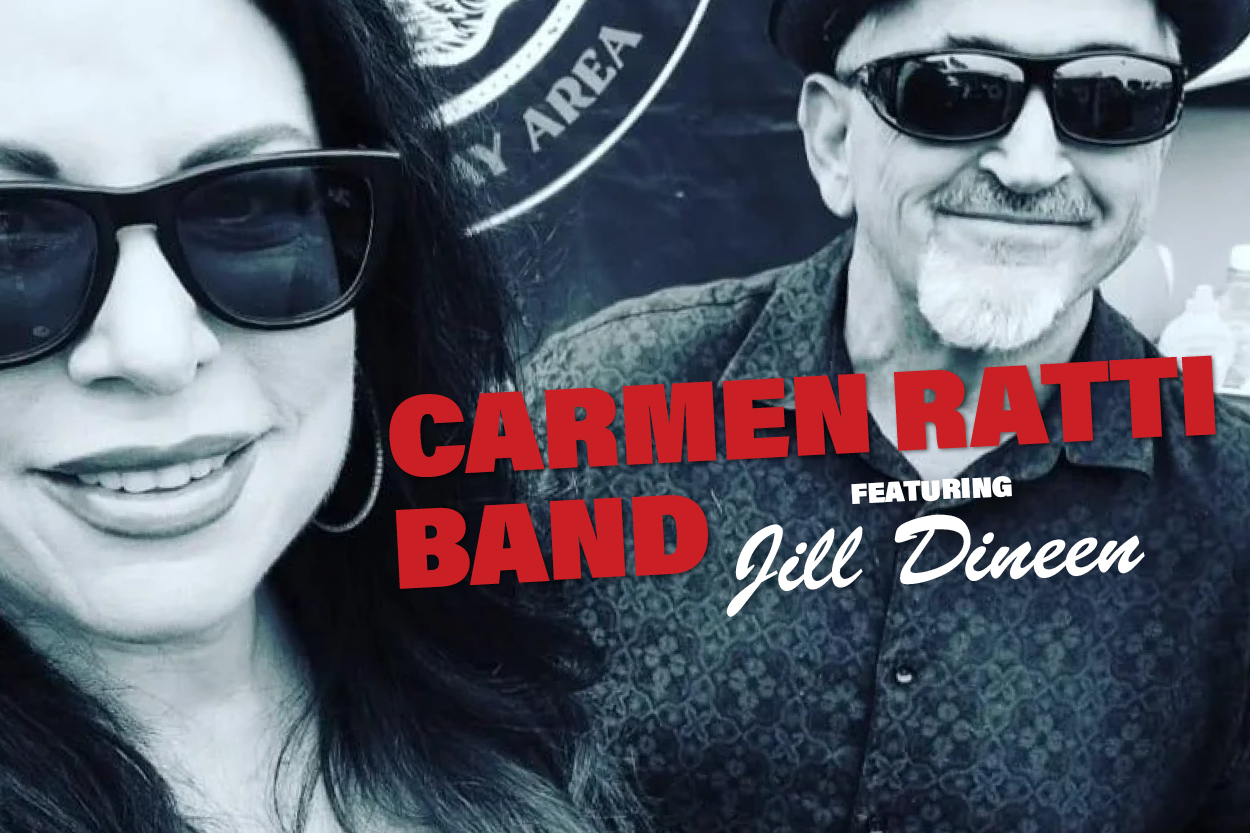 Carmen has performed throughout the bay area and shared the stage with Terry Hiatt, Daniel Castro, Alvon Johnson, Chris Cobb, Steve Freund, AJ Crawdaddy, AC Miles, Stan Erhart,  Aldwin London, gg amos, Walter Jebe, Vince Caminiti, Katie Knipp, Nancy Wright,  Marina Crouse, Fillmore Slim, Rockin Johnny Burgin, Otilia Donaire, Joe Lococo.
Jill Dineen spent most of her childhood in her bedroom absorbing her DJ-dad's vast record collection: big bands, soul, 60's/70's rock, Motown, R&B, and the blues. Inspired by the greats-Aretha Franklin, Otis Redding, Tina Turner, Nina Simone, Bessie Smith, and Janis Joplin-she learned that she possessed a rare talent. After fronting the Chicago blues rock band Nora Blue and touring to promote the album Wish You Were Mine, Jill landed in Charlotte, NC. Her emotive, edgy vocals ignited audiences throughout the Southeast as she formed and fronted the highly acclaimed Jill Dineen Band. There, Jill was honored by the Charlotte Music Awards Blues Showcase and in the Charlotte Blues Society's Blues Contest, and produced two albums. Jill has studied vocal performance with The San Francisco Girls Chorus and the California Jazz Conservatory, with gospel great Laura Davis, jazz greats Laurie Antonioli and Theo Bleckmann and with opera great Mary Beth Puton in Paris. Jill has shared the stage with: Robin Rogers, Bob Margolin, Marcus King, Mookie Brill, Bob Corritore, Matt Hill, Mac Arnold, Amy Hart, and many other blues artists. Regionally, Jill has performed at the Club Fox, Little Lou's, Woodham's, The Impulse Room, The Pioneer, Longboard Margarita Bar, Half Moon Bay Brewing Company, The Smoking Pig, The Poor House Bistro, The Great American Music Hall, The Saloon, Throckmorton, The Torch Club, The Warehouse Cafe, and multiple festivals and private events. Her distinctively powerful, soulful, and passionately raw vocals and authentic original music have moved audiences across the country, and now she has returned to her homeland of San Francisco, CA to re-emerge by the Bay.
Tabard Theatre (formerly Theatre on San Pedro Square) — The Destination for Arts Discovery —  is located in the heart of historic San Pedro Square in downtown San Jose amid a bustling restaurant district. This intimate and unique venue brings a touch of Manhattan to the South Bay with its rustic yet edgy feel. The three-quarter round cabaret stage nestled in an inviting room of antique wood floors and original brick walls is the perfect intimate setting for live music and comedy.
What:  Carmen Ratti Band featuring Jill Dineen
When: Saturday, Sept. 23 at 8pm PT In-person and Livestream and On Demand Sept. 24 through Oct. 24, 2023
Who: All ages.
Where: In-person and Livestreamed. Tabard Theatre (formerly Theatre on San Pedro Square) – Tabard Theatre in the heart of San Jose's historic San Pedro Square, 29 N. San Pedro Street, San Jose, CA  95110 Parking at the San Pedro Garage directly across the street.  The first 90 minutes of parking are free, the hour after the free period is $2.
Tickets:  $10-$30.  www.tabardtheatre.org  or call (408) 679-2330.
Direct ticket link: 
tabard.vbotickets.com/event/Carmen_Ratti_Band_featuring_Jill_Dineen/107459