Josephine Moreno Spittler se sentía orgullosa de los orígenes de su familia. Acompañada de fotografías y libros localizaba a sus antepasados seis generaciones atrás, era descendiente de José Castro, quien fue gobernador entre los años 1835-36 y más tarde comandante militar en Monterey. Josephine Spittler fue también descendiente del Gobernador Pío Pico, quien sirvió por un periodo corto en 1832, y luego entre 1845-46.
Ella trabajó como Jefe de Operaciones para la Compañía Pacific Telephone, y después de su juvilación dedicaba su tiempo a tocar el piano en eventos sociales, hasta la edad de 95 años. © La Oferta Newspaper.
<English version>
Josephine Moreno Spittler traced her family ties back six generations to the well-known Jose Castro, who was governor here in 1835-36 and later, a military commander in Monterey. Mrs. Spittler was also the great-grandniece of Governnor Pio Pico, who served a brief term in 1832, and later in 1845-46.
During her lifetime she was a chief operator for Pacific Telephone Company, and after her retirement, she spent many happy hours playing piano in social events, until she was 95. © La Oferta Newspaper.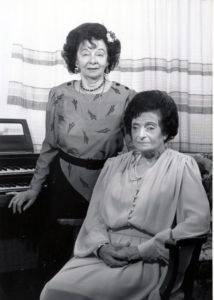 Lucille Zigler, séptima generación de descendientes españoles y mexicanos, quienes fueron los primeros en establecerse en lo que ahora es el estado de California, nación el 2 de octubre de 1911 en San Luis Obispo. Su madre, Josephine Spitller, fue biznieta de José Castro, quien fue governador de California entre 1835 y 1836 y más tarde comandante militar del mismo estado en Monterey.
Ziegler fue miembro de los "Californianos" organización originada en 1968 con interés histórico-genealógico, cuya meta es la de preservar la herencia hispana en Alta California. "Los Californianos"  en focan su interés en "investigar la historia genealógica, civil, religiosa, militar, social y cultural de Alta California y preservar los datos orales, escritos y visuales del estado durante el período México-Español."
Lucille fue miembro por más de 40 años de Rebecca's, una organización afiliada a Odd Fellows Lodge, sección femenina. También fue miembro auxiliadora de los Veteranos de Guerras Extranjeras por más de de 17 añbos, siendo en 1986 vice-presidenta del Auxiliar de Mujeres para Virgil Picchotti Post 9803, en Cupertino. © La Oferta Newspaper.
< English version>
Lucille Zigler, seventh generation of descendants from Spain and Mexico who first settled in what is now the state of California, was born on October 2, 1911, in San Luis Obispo. Her mother, Josephine Spittler, was the great-granddaughter of Jose Castro, who served as governor in 1835-1836 and later military commander of California, located in Monterey headquarters. Mrs. Ziegler was a member of "Los Californianos," a historical-genealogical non-profit organization which originated in 1968, whose main purpose is to preserve the heritage of Hispanic Alta California. "Los Californianos" implemens  this aim by "researching the geneological, civil, religious, military, social and cultural history of Alta California, and by preserving oral, written, and pictorial data of California during its Spanish and Mexican periods."
She was a member for more than 40 years of "Rebecca's" an affiliation of the Odd Fellows Lodge, women's section. She has been an auxiliary member of the Veterans of Foreign Wars for more than 17 years, serving in 1986 as Vice-President of the Ladies Auxiliary of Virgil Picchetii Post 9803, in Cupertino. © La Oferta Newspaper.