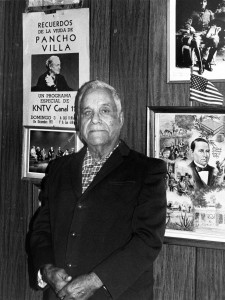 El señor Alberto Aguirre vino a los Estados Unidos cuando tenía 16 años de edad. Nació en Chihuahua, México en 1900. Durante su juventud, su héroe fue Francisco Villa, uno de los líderes revolucionario más importante del mismo pueblo donde nació Alberto. Cuando Pancho Villa regresaba de sus batallas se las relataba a Alberto, cimentando así una amistad muy especial. Más tarde, cuando la viuda de Pancho Villa, Lucita Villa, vino a San José en 1962, Alberto formó parte del comité de recepción que honró la visita de ella.
Alberto trabajó como supervisor de una fábrica empacadora de frutas y más tarde como ingeniero eléctrico. Su simpatía por la Revolución Mexicana lo llevó a inviter a estudiantes de la Universidad Estatal de San José para que pintaran un mural en la parte de afuera de una de las paredes de su casa, en la cual se narraba visualmente estas actividades. En inglés, español y portugués debajo del mural se podía leer lo siguiente: "Honor a los Inciadores del Movimiento de Liberación del Pueblo Mexicano".
<English version>
Alberto Aguirre came to the U.S. when he was 16, from Chihuahua, México, where he was born in 1900. As a youngster, his hero was Francisco Villa, one of the important revolutionary leaders from Alberto's home town. When Pancho Villa returned from battles, he would relate them to Alberto, thus cementing their friendship. Later, when Lucita Villa came to San Jose in 1962, Alberto was part of the reception committee which honored her visit.
Alberto worked as a cannery supervisor, and later as an electric engineer. His sympathy for the Mexican Revolution prompted him to invite art students from San Jose State University to paint a mural on the wall of his home which depicts those earlier activities. In English, Spanish and Portuguese below the mural are the words, "Honor a los Iniciadores del Movimiento de Liberación del Pueblo Mexicano".