Manuel Barrera trabajó como coordinador en el Centro Mayfair de San José. Él nació el 13 de septiembre de 1913, en Del Río, Texas Fue miembro de la mesa directiva del Centro Mayfair desde su fundación, en 1968, a la vez que uno de los fundadores del Centro para Personas Mayores Eastside.
En 1955, mientras trabajaba para la Oficina de Desempleados, realizaba también trabajo voluntario con el Padre MacDonald para la comunidad de Guadalupe, visitando familias e investigando sus necesidades. Comentaba: "Encontré personas de todos los grupo étnicos que tenían hambre". Manuel Barrera también trabajó en St. Vincent de Paul por 25 años, donde sirvió a la comunidad en general y a la hispana en particular. © La Oferta Newspaper.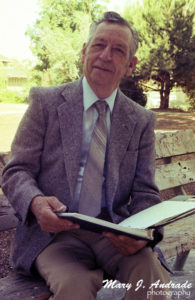 <English version>
Was a Coordinator of the Mayfair Center in San José, but originally came from Del Río, Texas, where he was born on September 13, 1913. He was member of the Board of Directors at Mayfair Center since its foundation in 1968, and was of the founders of the original Eastside Senior Citizens Center.
Back in 1955, while he was an employee for the Unemployment Office, he also did volunteer work with Father MacDonald for the Guadalupe Community, visiting families researching for their needs. He said, "I found people from all ethnic groups who were hungry." He also worked with St. Vincent de Paul for 25 years. © La Oferta Newspaper.