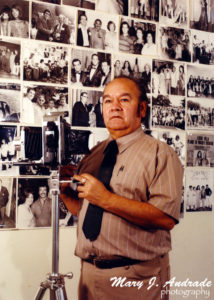 Richard Díaz, conocido localmente como "El Fotógrafo de las Estrellas", nació en Calipatria, California, pero fue en Stockton, California, donde comenzó su carrera fotográfica en la década de los cuarenta, tomando foto de estrellas famosas del "firmamento mexicano", como Jorge Negrete y Pedro Infante, cuando ellos hacían sus presentaciones por los Estados Unidos.
Y aunque su fama nació de sus fotografías de estrellas del cine, músicos, compositores, comediantes, cantantes y otras figuras conocidas del mundo del espectáculo, Díaz era el fotógrafo a quien se llamaba para fotografiar a candidatos políticos como Nixon y Kennedy, quienes visitaron San José y participaron en actividades políticas de la comunidad hispana. Es así como durante todos esos años, Díaz registró en sus fotografías los eventos sociales, políticos y de entretenimiento en nuestra ciudad. Richard se jubiló después de 32 años de trabajar como plomero, sin embargo continuó con su trabajo fotográfico dedicándole todo su tiempo libre.
Díaz atribuía el comienzo de su carrera fotográfica en el área de San José a Humberto García, ex-director de la revista El Excéntrico, quien le dio su primera oportunidad para publicar sus trabajos. García siempre confió en el sentido de responsbilidad de Díaz, cuando le asignaba trabajos fotográficos. Richard trabajó para El Excéntrico desde 1949 hasta 1981, año en que la revista dejó de publicarse.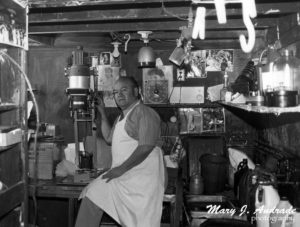 Díaz con algunos amigos formaron el "Club de Admiradores de Lucha Villa", en reconocimiento a una de las cantantes más queridas de México. El objetivo de este club era proveer refrescos y comida a los artistas visitantes que se presentaban en los terrenos de la feria del condado. Los miembros del club solían donar dinero para los costos de la comida, sin embargo Díaz recuerda haber tenido que afrontar el mismo muchos otros gastos.
La placa de licencia de su carro, un Pontiac 1972, se identificaba como LUCHA V y las placas de su Cadillac 1983 tenían las iniciales "PP", que significaban Fotógrafo de Prensa, lo que le facilitaba mucho su ingreso a determinados lugares para realizar su trabajo con la cámara.
Con el transcurso del tiempo hizo muy buenas amistades con muchos personajes. Su trabajo se publicó en varios periódicos de la región y en El Universal de México.
Richard Díaz tenía en mente concentrarse en tomar fotografías en estudio, con el objetivo de crear cubiertas para álbumes musicales. © La Oferta Newspaper.
<English version>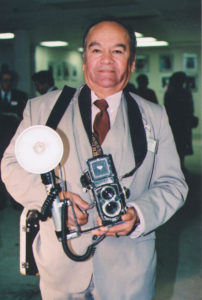 Richard Diaz known locally as "The Photographer of the Stars" was born in Calipatria, California, but began his photographic career in Stockton, California, in the early forties, taking pictures of such noted stars as Jorge Negrete and Pedro Infante during their U.S. tours.
And while he was known from his photographs of movie stars, musicians, composers, comedians, singers, and other well-known entertainment celebrities, Richard was the photographer who was always called to photograph political candidates such as Nixon and Kennedy who came to San Jose to participate in political activities within the Hispanic community. Thus, the social, political and entertainment events of the Hispanic community for over 30 years are represented in Richard's work, Richard retired from 32 years working as a plumber, but continued his photographic interests.
Richard attributed his photographic start, in this area, to Humberto Garcia, former publisher of "El Excéntrico" magazine, who gave Diaz his first chance to publish his photographs. Garcia always knew he could count on Richard fulfilling any photographic activity he was assigned, so Richard worked for "El Excéntrico" from 1949 to 1981, when this magazine ceased publication.
Richard and several others formed the "Lucha Villa Fan Club," named after one of Mexico's most popular female singer to provide food and refreshments to visiting performers, usually at the county fairgrounds. Members would donate for food costs, but Richard recalls he had many out-of-pocket expenses for himself.
His 1972 Pontiac license read LUCHA V, and his 1983 Cadillac license plate read "PP" for Press Photographer, which made it easier for him to quickly cover events.
Over the years, Richard developed good friendships with many individuals. His work was published in the San Francisco Chronicle, the San Jose Mercury News and El Universal in Mexico. © La Oferta Newspaper.