Nicolás Herrera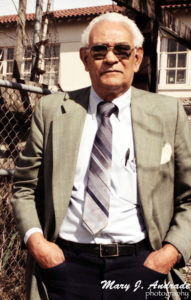 Nicolás Herrera, nacido en México pasó la mayor parte de su vida viajando constantemente entre México y los Estados Unidos, estableciendo residencia eventualmente en San José, donde permaneció los últimos años de su vida con su esposa y su hijo.
Durante su años de trabajo laboró como carnicero, en impuestos y fue Director de Censo. En su país fue Presidente de una Casilla Electoral para el partido politico del PRI.
Trabajó voluntariamentre, cuatro días a la semana en el Centro Eastside, donde tenía a su cargo los juegos de bingo mexicano, al igual que otras actividades.
<English version>
Nicolas Herrera, even tough born in Mexico, spent most of his life traveling back a forth between Mexico and the U.S. coming first to Los Angeles, and eventually settling in San Jose with his wife and son.
During his working years he was a butcher, a Mexican Income Tax worker, a Census Director and in his country was President of Casilla Electoral for the PRI political party.
He devoted four days a week as a volunteer at the Eastside Center in charge of the Mexican bingo games and other activities. © La Oferta Newspaper.
Jesucita Flores
Jesucita Flores, originalmente de Chihuahua, Mexico, vino a los Estados Unidos y trabajó por 25 años en una fábrica de enlatadoras de frutas y vegetales. Mas tarde, en 1960, ella se unió al ClubFemenilAzteca, donde desempeñaba las funciones de tesorera. Fue también miembro y presidenta del Club de Personas Mayores del Centro Gardner.
Una de sus mayores consecuciones para este Club fue el obtener, del Departamento de Parques y Recreación, el transporte para llevar a las personas mayores a que participaran de las reuniones semanales en el Centro
Gardner. El Club Auxiliar Femenil Azteca, entregaba canastas de comida a las personas mayores y a quienes necesitaban de este tipo de ayuda, a la vez que organizaba fiestas para los niños.
Los siete hijos de Jesucita Flores vivían cerca de ella en SanJose.
<English version>
Jesucita Flores, originally from Chihuahua, Mexico, came to the States and worked for 25 years in a cannery. She later joined Club Auxiliar Femenil Azteca in 1960, where she is currently treasurer. She was also a member and President of the Senior Club at Gardner Center.
One of her accomplishments for the Senior Club was obtaining transportation from the Parks and Recreation Department, in order to bring the seniors to the Gardner Center for their weekly meetings. Club Auxiliar Femenil Azteca use to give baskets of food to seniors and the needy, and arranges parties for children.
All of her seven children lived near her in San Jose. © La Oferta Newspaper.
Inocente Villanueva
Inocente Villanueva vivió los últimos años de su vida con una hija, aquí en San José. Nativo de San Antonio, Texas, participaba regularmente de las actividades que se realizaban en el Centro Eastside. Antes de jubilarse trabajó como pintor y decorador, él fue una de las personas que pintó algunas algunas de las iglesias del área.
<English version>
Inocente Villanueva lived his last years with a daughter, here in San Jose. He was born in An Antonio, Texas, and participated at the Eastside Senior Center. Before his retirement he was a decorator and was one of those who painted many of the churches in this area. © La Oferta Newspaper.