Julius O. Talamantez, el menor de nueve hermanos, nació en San Marcos, Texas, el 20 de abril   de 1925. Cinco de sus siete hermanos participaron en tres de las más importantes guerras de este siglo: la Segunda Guerra Mundial, la Guerra de Corea y la Guerra de Vietnam. Dos de sus hermanos fueron heridos durante el tiempo de servicio. Como resultado, su familia fue una de las tres en el estado de Texas, que recibió reconocimiento por sus contribuciones al servicio militar durante las guerras.
Conoció a su esposa, Verena, de ascendencia alemana, en 1951. Tuvieron una hija a quien llamaron Denise. Durante los años de servicio militar, Talamantez continuó su educación, aprendiendo a hablar alemán, japonés, coreano, además de español e inglés. Recibió su título de Artes Asociadas del Colegio de la Ciudad de San José. De la Universidad de California, Berkeley, recibió un diploma para dar instrucción bilingüe, una maestría en Educación y tuvo, a la vez, las credenciales para enseñar a nivel de Junior College en California.
Él fue uno de los fundadores del Centro de Entrenamiento para Carreras (CTC) y por cuatro años trabajó como director de instrucción y de empleados. Después colaboró con esta organización como Representante de Mercado, ayudando a encontrar empleo para los estudiantes. Desde 1976 ayudó a encontrar trabajo a varios miles de personas de bajos recursos económicos. Entre 1973 y 1976 fue Administrador de Servicios Médicos para la Corporación Lockheed, ubicada en Sunnyvale.
A partir de 1982 fue miembro activo de los Kiwanis Pueblo de San José, una organización de servicio no lucrativo, actuando como presidente del Comité de Becas, el que cada año elegía a cinco estudiantes de 35 escuelas secundarias del Condado de Santa Clara para recibir becas. Estas eran concedidas a estudiantes que calificaban y que eran recomendadas por los directores de las escuelas, por sus altas calificaciones académicas.
Talamantez también fue miembro de Adelante Toast Masters y sirvió en esa organización como presidente y gobernador del área. Fue, igualmente, miembro de la Legión Americana, los Veteranos Americanos y tenía el grado 32 de los Masones y Scottish Rite. Era un veterano incapacitado del servicio militar. Talamantez trabajó adicionalmente como instructor bilingüe, dando clases de Inglés como Segundo Idioma, en el Instituto Bilingüe de San José.
Él comentaba que su trabajo consistía en guiar y aconsejar, lo que da mayor motivación a la persona y confianza en ella misma, para poder hacer sus propias decisiones y mejorarse económicamente. "Mi meta personal es continuar trabajando con la comunidad, para ayudar a las personas menos afortunadas a triunfar en la vida. Siempre he pensado que no se consigue algo si no hay entusiasmo para hacerlo. En mi mente no existe la barrera del tiempo", nos dijo durante nuestra entrevista. © La Oferta Newspaper.
<English version>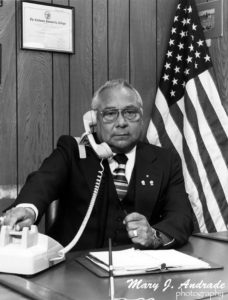 Julius O. Talamantez, the youngest of nine children was born in San Marcos, Texas, April 20, 1925. Five of his seven brothers were in all the major wars: World War II, the Korean War and the Vietnam War. Two of them were wounded, however. As a result, his family was one of the three families in the state of Texas given recognition for its contributions during the war.
Talamantez met his wife, Verena, in 1951; she was of German descent. They had a daughter they named Denise. During the years he was in service, Talamantez continued his education, learning to speak German, Japanese and Korean, in addition to Spanish and English. He received his AA degree from San Jose City College in Social Sciences, and a Bachelor of Science degree in sociology minoring in physiology from San Jose State University. At U.C. Berkeley he received a bilingual instructor's diploma, a Master degree in Education and California Junior College Teaching credentials.
He was one of the founders of the Center for Training Careers (CTC) and for four years was director of personnel and instructions. Thereafter, he assumed a marketing representative's position to help people find work. Since 1976 he placed thousands of people of low income in jobs. Between 1973 and 1976 he was a Medical Service Administrator for Lockheed Corporation in Sunnyvale.
In 1982 he joined as a member for the Kiwanis Pueblo de San José, a service organization, as chairperson of the Scholarship Committee, which every year used to select five students from 35 schools in Santa Clara County to receive scholarships. The scholarships were awarded to all qualified and recommended students by their high school principal or superintendent. Talamantez was an active member of the Adelante Toast Masters, and served as its president and area governor. He was active in the American Legion, the American Veterans, and was a 32nd degree Mason and Scottish Rite member. He was also a disabled veteran.
Talamantez had an additional job as a Bilingual Instructor in English as a Second Language with the Bilingual Institute in San Jose.
Julius O. Talamantez felt that his job was to advise, suggest, and give guidance counseling, which builds more spirit and confidence in people to help them be able to make their own decisions for better careers in life. He said, "My personal goals are to continue working with the community to help people that are less fortunate to succeed in life. I have always felt that nothing can be accomplished without enthusiasm. Time is not even on my mind." © La Oferta Newspaper.