February 19, 1994
By Yolanda Reynolds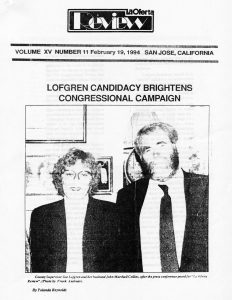 On Wednesday, February 16, Santa Clara County Board Supervisor Zoe Lofgren announced before an overflow gathering at her home in downtown San Jose that she was a candidate for the 16th Congressional District seat soon to be vacated by veteran Congressman Don Edwards.
Supervisor Lofgren has many years of experience in public service. She served on Edwards' staff from 1970 to 1979 in Washington D.C. Upon returning to San Jose, Lofgren was elected to the San Jose/Evergreen Community Board of Trustees (then known as the San Jose Community College District) where she served until she was elected to the Board of Supervisors in 1981.
She, along with fellow Supervisor Rod Diridon, is prevented from running again for the Board of Supervisors – because of term limitation. However, it was expected by many, that Zoe would be a likely candidate for Congress should her mentor, Don Edwards retire.
Last month, Congressman Edwards said that he would retire from public service at the end of this year. Since that announcement several people have declared themselves as congressional candidates in District 16. This District includes half of San Jose all of Gilroy and Morgan Hill.
Among the declared candidates are the former mayor of San Jose, Tom McEnery and San Josean Al Pinon. Several people, San Jose City Councilwoman Blanca Alvarado and South Bay TV correspondent, Rigo Chacon announced their interest in running for the seat only to quickly withdraw their names from the race.
Lofgren, who has two children told her many supporters and the press that one of her primary reasons for running for office was her concern for the future.
Lofgren describing herself as an "idealist" added that she believed that things could be changed. And she said that, "we shouldn't put up with the disintegration of society, whether at an economic, moral or spiritual level."
Lofgren said, "we must work forward without regard to vested interest… what we really need are families earning a living wage front honest work, we must have a vibrant economy with an educated workforce, we must have personal safety for all of us, and an affordable care system available to all."
Over the years, Lofgren has consistently made the welfare of children a high priority. She has been a leader in working the powers centers of Sacramento and Washington on behalf of those who have great need of the social services that the County provides.
Berryessa resident Victor Garza says of Lofgren, "she has a history of doing things for the community, for children and for seniors, compared to Tom (McEnery) who has only built buildings. McEnery has always shied away from meeting with the various communities Vietnamese American, African American and Mexican Americans."
With respect to Tom McEnery, who is reported to be a formidable candidate for this congressional seat; Garza further reflected on his feelings regarding the former mayor, adding, "how can he shut himself off in his office for eight years, Garza said, "it's hard to imagine how he treated others, when he treated me as he did while he was in office – I worked very hard for him in his first election – I walked my district (District4), which is very large, twice; but he never responded to one of my telephone calls until six months before he left office, 7 and 1/2 years later."
Garza, upon hearing that McEnery had held a press conference to plead for a non-negative campaign, an hour after Lofgren's conference announcing her candidacy, commented that McEnery's scheduling of a press conference on the same day "is evidence already or negative campaigning."
Garza, a long-time resident of San Jose has long been active in the San Jose Chapter of the American G.l. Forum and has served on many local committees and several national veteran commissions and committees. Garza was also a member of the Berryessa School Board and lost by only a slim margin to Shirley Lewis in a bid for a seat on the San Jose City Council.
Lisa Gibson' a long-time community activist and resident of the Garden Alameda area of San Jose, says of Lofgren, "she fits Don Edward's shoes better than Tom McEnery would." Gibson adds, "l have always that Zoe is an ethical person and isn't afraid to go against the tide and will vote the way she thinks is right. (Edwards is highly regarded for not compromising himself and his values even when his voice was in the minority. Edwards was a champion of civil rights and civil liberties for all Americans.)
Hank Rosendin, a lifelong San Josean, who is a former city employee and parks administrator observed that the residents of District 16 do have a choice of candidates.
Rosendin says, "we are fortunate to have two excellent candidates" (for the 16th congressional seat). Rosendin explains,"Tom McEnery was an effective leader in building up downtown San Jose and Zoe Lofgren has demonstrated leadership in working at a countywide level with the sixteen different municipalities in the County. She has shown her sensitivity to human needs – Zoe would be an outstanding Congresswoman her job has prepared her well for this (congressional) job."
Lofgren and her husband, John Marshall Collins are attorneys. Their children are daughter, Sheila, who is 12 years old and son, John, who is 9. Lofgren attended Stanford University and the Santa Clara University law school.
Lofgren's campaign headquarters are at 1401 Parkmoor. McEnery's headquarters are at 99 North First Street in downtown San Jose. Phone numbers for either headquarters were not available at the time La Oferta went to press.
Rose Amador, a San Josean and the Executive Director of CTC (Center for Training Careers), a training center located in East San Jose says that, "Lofgren will make an excellent congressperson… she has always been supportive of the community, especially as it relates to Latino such as employment training, she is also very sensitive to the needs of children and families."
Amador adds, "all we have to do is look to the past to assess the values of a person – McEnery deserted the Latino community once he was in office."
Whoever seeks to represent the 16th congressional district will have to win the support of the Latino community since in that District they make up more than 60 percent of the electorate.
Sofia Mendoza, who frequently crossed words with Tom McEnery when he was Mayor says that, "his contribution to the city was buildings – he built the new Convention Center and then had it named after him."
Mendoza a community advocate and mental health professional, arrested, as had others, says that Lofgren has been the foremost advocate for all county residents and added that, "Lofgren is accountable, she sends her children to school at their neighborhood school, Horace Mann, a downtown public elementary school – you can call her and she will return your call." © La Oferta Newspaper.