April 23, 1994
By Yolanda Reynolds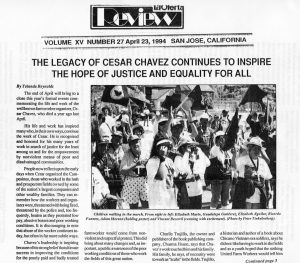 The end of April will bring to a close this year's formal events commemorating the life and work of the well-known farmworker organizer, Cesar Chavez, who died a year ago last April.
His life and work has inspired many who, in their own ways, continue the work of Cesar. He is recognized and honored for his many years of work in search of justice for the least among us and for the empowerment by nonviolent means of poor and disadvantaged communities.
People now reflect upon the early days when Cesar organized the Campesinos, those who worked in the lush and prosperous fields owned by some of the nation's largest companies and other wealthy families. They can remember how the workers and organizers were, threatened with being fired, threatened by the police and, too frequently, beaten as they protested low pay, abusive bosses and poor working conditions. It is discouraging to note that abuse of the worker continues today, but often in far more subtle ways.
Chavez's leadership is inspiring because of his strong belief that ultimate success in improving the conditions for the poorly paid and badly treated farm worker would come from non-violent and respectful protest. This did bring about many changes and, as important, a public awareness of the poor working conditions of those who work the fields of this great nation.
Charlie Trujillo, the owner and publisher of the book publishing company, Chusma House, says that Chavez's work touched him and his family. His family, he says, of necessity went to work as "scabs" in the fields. Trujillo, a historian and author of a book about Chicano Vietnam era soldiers, says he did not like having to work in the fields and as a youth hoped that the striking United Farm Workers would tell him and the other "scabs" to leave the field.
Trujillo says that, although, his family was not active in the movement in those early days, they soon realized that the work of Chavez and the United Farm Workers had improved conditions for all of the farm workers. Because of Chavez' farm labor movement, numerous improvements were made; such as improved pay for the farm workers, toilets provided for use in the fields and better farm worker housing became available, among other important changes.
Trujillo remembers that a contratista (contractor) who used to withhold drinking water from farmworkers working out in the hot sun, quit doing that because he feared that even the "scabs" would go on strike.
Trujillo said that it was difficult work. Especially for contratistas who would deny workers an expected 15 minute break (so that they could get a drink of water or have time to go to the bathroom), and would order the spraying of fields with pesticides, even though people were working in the field at the time.
Jose Antonio Burciaga, an artist, poet and writer based at Stanford University, says that, although he and his family lived in Texas and his father worked as a janitor instead of the fields, their life was similar to that of farm worker families in that the whole family helped his father do his janitorial work and suffered similar indignities and depravations.
Jose, like Charlie, decided that he did not want to work so hard and decided to study very hard in order to prepare himself for a better job.
Eventually Burciaga found work in Washington as an employee at the United Farm workers office; where Burciaga, as a young recruit, helped prepare the flyers needed for organizing support for the farm workers cause among US. Congressmen.
Burciaga says that Chavez's dedication and leadership has inspired him to write several poems related to farm working and the Mexican experience in the United States.
Burciaga did not get to meet Chavez until the mid-seventies. He says, however that knowing of him and his work inspired not only his poetry but was also the inspiration, in later years, for a mural he painted on the Stanford campus in which Cesar's image is included.
Olga Loya, a noted story teller now living in San Jose, said that, until she left East Los Angeles, she thought that all of the world was barrio.
She left Los Angeles for the first time when she moved to Humboldt County in order to attend Humboldt State University. It was there while completing her studies that she developed a deeper understanding and appreciation of her culture and realized the important contributions Raza had made to the nation and the significance of Chavez.
Priscilla Chacon of the Family Resource Center—Nuestra Casa says that Chavez's work had a major impact on her life. First, Chacon says, she has not eaten a grape for years since the Union has boycotted the purchase of grapes in protest of the use of carcinogenic pesticides to grow grapes.
Chacon says that she, like many other Mexican families who came to the United States, worked in the field, and, front that experience is well aware of abuses of the farmworker as well as the practices of large canning companies such as Dole, Del Monte, Campbell Soup and others, towards their workers and she has, for years, boycotted the purchase of their products because these companies have not changed their attitude and treatment of those workers who, she feels, have made these companies very wealthy.
One family, the Vicente Perez family, says that their decision to move to San Jose from Texas was a good decision for a number of reasons but, most of all, because they had been privileged to meet and know both Cesar and his wife Elena Chavez, Vicente Perez is a San Jose City Council candidate for District 7.
Raul, one of Perez' three sons, says that he remembers "Don" Cesar Chavez and how much they learned from him. Raul, now grown, says that he always remembers and draws great pride from a photo, taken of him with Chavez holding his hand. Raul was then eight years old.
Vicente Jr. says that, he too, has not eaten grapes for 20 years.
Raul said that, because of the farmworker organizing that Chavez did, his father, Vicente Perez Sr. never forgot those who still worked the fields. For the family vacation, Perez senior would take his family out to help relatives with their work in the cotton fields of Texas.
Raul says that this work was very hard and it developed in him an appreciation for the life and work of farm workers.
Raul says that the struggle for the farm workers is not over. He says, "The struggle lives in me." "And to whoever will listen," he says "working together we can succeed."
Kathy Chavez Napoli, a mayoral candidate for the City of San Jose and a community advocate, says that, as a child growing up in Sal Si Puedes near Chavez' home in San Jose, she remembers Chavez and his admonishment to the youth, telling them "to get an education." Napoli says that, as a child, she did not understand all that he did, but later realized that, she too, had benefited from his work.
Napoli has frequently said that Chavez has been an inspiration to her — he never gave up. Napoli says that the farm workers struggle, the struggle for justice, goes on not only in fields but in City Halls, education and the halls of Congress. Chavez, she says, is an example that one person can make a difference — Chavez made a difference.
Rita Medina, Chavez' sister, says that carrying on the work of the United Farmworkers has been difficult for her. She misses her brother at her side. Medina described how Chavez, even as a youngster in the first grade, acted as an organizer and challenged the status quo. Medina says even at that early age be displayed an ability to make demands, all the while never losing respect for the other person or getting angry.
Medina says that it was while her brother, Cesar was working with a local community based group the CSOO (Community Services Organization), that he became aware of the severe plight of the farm worker – of whom the majority were experiencing great hardship and exploitation.
Chavez was unsuccessful in convincing the Board of CSO to address the problems of the farm workers and decided to leave CS0 and set out to organize the farm workers of the Central Valley.
Workers every where look to Chavez' work for inspiration. In Santa Clara Valley, janitorial workers, electronic workers and landscapers for large companies have been following his organizing methods as a way to improve their working conditions and salaries.
There have been many successes. The low salaries and extremely difficult working conditions afforded these workers became such an embarrassment to some Valley companies, some of which are world famous whose CEO's are paid multi-million dollar salaries while, many of their workers, janitor, and assembly workers received even less than the minimum wage required by law, that they have now agreed to allow the workers to unionize, pay them better than the minimum wage and now provide benefits and vacation time as well.
Today, one of the leading organizers in the valley today is Mike Garcia, the Executive Director of local 1877 of the SEIU (Service Employees International Union).
Garcia says that his organizing tactics follow those developed by Cesar Chavez. Garcia was a student at San Jose State when he first heard of Cesar Chavez and became interested in his work. Garcia says that he has studied all that has been written about Chavez, especially from those early days, so that he could learn from Chavez' success in organizing workers.
Garcia invited Cesar Chavez to come to San Jose when he embarked on one of the most difficult phases of his negotiations over working conditions for janitors with companies like Apple Computer and several other large janitorial contract companies.
These negotiations were very difficult and Garcia, along with other members, went on a hunger strike in order to bring about discussions and concessions for improved salaries for the janitors and also for their right to form a union within those companies.
The struggle goes on. Currently, Garcia' union and others concerned about worker rights and the less fortunate workers and their families, are engaged in a "Campaign For Justice." The campaign, at this time, is very important since many companies are "downsizing" and looking for ways to cut costs. One of the simplest ways is to eliminate jobs and reduce salaries. These companies are bold in discarding people, they do not fear losing employees since, they feel, that there are twenty more without jobs standing in line and looking for work who will take their place —even at less pay and often without any benefits.
Asked if Chavez feared for the end of the United Farm workers were he to die, he is said to have responded, "If I thought the Union would die, I would not spend one more day on this project."
Rita Medina says of her brother, what would most please him is that the "people would unite to help the farm workers and all poor people."Felix Alvarez, the Director of El Teatro de los Pobres based in east San Jose, says that Chavez never left the campesino though he had many offers to do so. Alvarez says that that is what happens to too many – they forget and let other things get in the way.
Alvarez adds, "we need to remember those who need our help and where we came from. We need to reinstate that role of activism in all of us. Cesar's death made a call to each and every one of us to help our brothers and sisters who need our help."
Most of the previous stories were recounted the "5th Annual story telling Fiesta" at which the life of Cesar E. Chavez was honored. The Fiesta was held last month at El Teatro de los Pobres on Story Road in East San Jose at their headquarters.
This month, on Tuesday morning, April 19, well over sixty 6th Graders enrolled in Peter Tinkelenberg and Joe Tershay's Reading Language and Social Studies Core Class at Fisher Middle School left their campus in East San Jose to join the UFW (United Farm Workers) march near Stockton.
The students, wearing walking shoes and bearing gifts for the marchers joined the long march for five miles, they stopped for lunch and then regrouped with their classmates to come home by bus to San Jose.
The gifts for the marchers were banners that the students had designed and assembled for them to carry on their trek. The march is scheduled to end at the steps of the State Capitol in Sacramento April 24.
The students were very excited about the field trip but it was clear that, they too. were on a mission.
This writer asked a small group of students what most impressed them about Cesar Chavez. Without hesitation, one student, Luisa Alvarado, said, "he never gave up and said what he believed in."
Though many of the students' parents or relatives have left, he fields, most still have relatives who are field workers.
Another student, Carlos Castillo, explained with pride that Cesar Chavez had worked very hard for the farm workers and had succeeded in improving their working conditions and pay. He added Chavez had also fought for the end of the use of harmful pesticides in the production of crops, which he explained affect these who eat the foods as well as those who work in the field.
Castillo along with other students gathered around, Joseph Dominguez, Humberto Martinez, Luisa Alvarado and Ricardo Coronado said that, as a consequence, they hardly ever eat grapes.
La Oferta asked the students if there were problems in San Jose that they would like to solve after studying about Cesar Chavez.
"Yes, there is," Joseph Dominguez said, "it's gang violence." Asked how he would do this, he responded "by making the laws stricter." Luisa Alvarado added, "we need more activities for the youth." As if in a chorus the rest of the students shouted "Yes!" Someone said "we need more after school activities!"
Since the Stockton bus was quickly filling up and was almost ready to leave there was little time to ask any more questions of the students.
As this writer was leaving, Yolanda Vega, a labor organizer with Local SEIU 1877, could be heard demonstrating and explaining to the students the various chants and traditional hand claps used in UFW marches and protest demonstrations. Their youthful voices will enrich the voices of the adults on the march.
For the trip, the Fisher students also carried with them a photo of their two classes accompanied by the neatly autographed signatures of the 66 students, declaring their good will toward the cause of the UFW.
Indeed, Cesar Chavez' work and life has inspired many – people engaged in the fields, in academia, in the arts and his work has even touched the conscience of politicians.
Chavez' has long been recognized as a hero among many field workers of the nation, and now he is memorialized by the larger public as there have been schools and parks renamed in his honor. Such honors are nice but his greatest legacy is fulfilled by the life and work of Cesar E. Chavez to make changes that will result in a better life for themselves, their children and their community. © La Oferta Newspaper.