The 2022 Jeep Grand Cherokee has arrived. Slotting in alongside the three-row variant that was unveiled earlier this year, the standard two-row model gains essentially the same tech and new features as the larger "L." Highlights include a new 375-horsepower plug-in hybrid 4xe powertrain with 25 miles of electric range, updated 3.6-liter V6 and 5.7-liter V8 powertrains, a whole new interior, a comprehensive exterior redesign and all of the latest safety and convenience tech, plus the on- and off-road prowess people expect from Jeep's premium midsize SUV.
This Is the Height of Luxury
Being inside the Grand Cherokee Summit Reserve is mostly a delightful experience — as long as you're sitting up front. High-quality Palermo leather (none of that Capri or Nappa leather you'll find on the lower trims, no sir) wraps the seats, and there's real wood and metal everywhere. Maybe too much real metal, in fact: The metal rotary gear selector gets cold in the winter (and, presumably, hot in the summer). The Grand Cherokee also uses a number of faux touch-sensitive controls that are actually piano-black physical buttons with illuminated icons. While almost all of the controls feel high-quality, those faux ones trade some quality feel for the sake of being physical controls — mostly because they're plastic and other frequently used controls are real metal.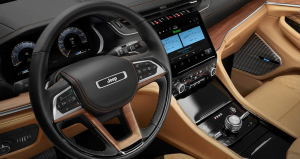 The massaging front seats were a nice luxurious touch. Another luxury touch in our test vehicle was an optional 10.25-inch front passenger display, which allows the passenger to control the audio, watch videos via Amazon Fire TV for Auto and control the navigation system (and even send navigation to the main center screen). The screen has a privacy filter to keep it from distracting the driver, as well.
The 19-speaker McIntosh stereo was also a delight to my ears even if its aesthetics don't quite scream luxury; gothic fonts just aren't where it's at. My chief complaint up front, though, is that the centrally located controls are occasionally at odd angles, and the piano-black background can make it difficult to see the button labels.
The backseat, however, is still not the place to be in the Grand Cherokee. The seat sits very low to the floor, leading to awkward knee positions for occupants. To make up for it, our test vehicle came with an almost $2,000 Rear Seat Video Group I Package that adds displays for rear passengers, also with Amazon Fire TV for Auto.
Overall, the interior of the Grand Cherokee Summit Reserve feels as impressive as anything a more established luxury manufacturer might produce. Are Audi, BMW and Mercedes-Benz shoppers really going to consider a Jeep? They certainly should.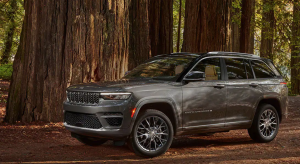 Positive Tech Updates, But Not an Entirely Positive Experience
Two more good things happened to the Grand Cherokee with this new generation: It gained Uconnect 5, which is the latest version of the Stellantis brands' infotainment system, and it got a host of now-standard advanced driver-assist technologies that were optional in the last generation.
UConnect 5 is intuitive, with clear and crisp graphics. For the most part, it was a delight to use on the Summit trim's larger 10.1-inch touchscreen (an 8.4-inch touchscreen is standard on lower trims). I did encounter some minor instances of lagginess, and at one point I couldn't get my phone to connect to Apple CarPlay, either wirelessly (wireless Apple CarPlay and Android Auto are standard) or via a USB cable, but it was an isolated incident.
As for the safety tech, making features like adaptive cruise control, blind spot detection, and forward collision warning with automatic emergency braking and pedestrian and cyclist detection standard is a big leap forward for Jeep. Previously, features like these were optional on the Grand Cherokee, and only on higher trims.
More minor driver-assistance features were aggravating, however. I quickly turned off a speed-limit warning that chimed for far too long when the vehicle's speed exceeded the limit by just a few mph. (You try driving in a city like Chicago and staying under the limit without antagonizing your fellow drivers.) And while warnings for things like school zones and red-light or speed cameras are helpful, the reason for those alerts' chimes was hidden while using Apple CarPlay. I didn't turn those warnings off, but I shouldn't have had to consider it.
Regarding actual safety ratings, neither the Insurance Institute for Highway Safety nor the National Highway Traffic Safety Administration has yet crash-tested the new Grand Cherokee.