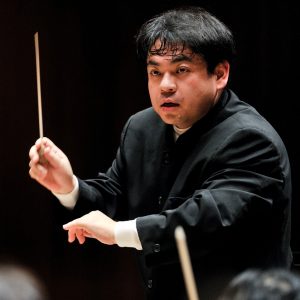 Symphony San Jose Presents Beethoven's Emperor Piano Concerto Conducted by Maestro Tatsuya Shimono with Soloist Jon Nakamatsu
May 7th at 8:00pm; May 8th at 2:30pm
Music aficionados rejoice as Symphony San Jose welcomes back virtuoso pianist Jon Nakamatsu, and Maestro Tatsuya Shimono as the music will fill the architecturally stunning California Theater in their performance of Beethoven's Piano Concerto No 5. Often considered the "most important piano concerto ever written" the Emperor was to be Beethoven's last.
The program opens in a mood of enchantment, with Ravel's elegance, delicacy, shimmering colors and expressive melodies on full display with his Mother Goose Suite and Pavane Pur Une Infante Défunte (Pavane for a Dead Princess).
The mood shifts dramatically with Stravinsky's brief and enchanting Symphony, written just after WWII, it has the intensity of a newsreel.
Tatsuya Shimono:, Born in Kagoshima in 1969, Tatsuya Shimono cemented his international reputation as a conductor by winning First Prize at the 47th Besançon International Competition in 2001. Since then he has guest conducted major orchestras in Japan and abroad. He received great acclaim for his debuts in subscription concerts with the Orchestra dell'Accademia Nazionale di Santa Cecilia and the Czech Philharmonic Orchestra in 2009, and then in March 2010, made his debut with the Stuttgart Radio Symphony Orchestra.
In 2006 he was appointed Resident Conductor of the Yomiuri Nippon Symphony Orchestra.
Jon Nakamatsu: A native of California, Jon Nakamatsu claimed a distinguished place on the international musical scene in June of 1997 when he was named the Gold Medal Winner of the Tenth Van Cliburn International Piano Competition, the only American to have achieved this distinction since 1981.
A former high school German teacher, he became a popular hero overnight in the highly traditional medium of classical music.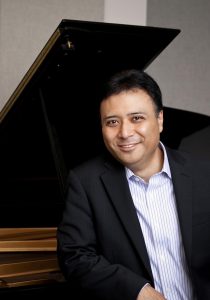 Performing in important venues in Asia, Europe, America and the Caribbean as soloist and composer, Nakamatsu's phenomenal virtuosity and brilliant technique with deep understanding of beautifully conveying the composers compositions by adding his own spectacular interpretations creates for us, his adoring audience, an additional understanding and pleasure of listening to the magical sounds of famous composers.
Cancel all your additional plans and dedicate this weekend to listening to the best performed music by the very best outstanding performers. Introduce your youngsters to the music the way it should be played by listening to Jon Nakamatsu and the musicians of the San Jose Symphony under the excellent baton of conductor Tatsuya Shimono.
Information
Ticket prices: $55 – $115
408-286-2600
symphonysanjose.org
The California Theatre
345 South First Street in San Jose
Photos courtesy of San Jose Symphony   
Bay Area Women's Sports Initiative Gala is Lifting Girls Up
May 6 at 6 p.m.
Hot off the press: The great news about the 2022 BAWSI Gala: the guest host Julie Foudy, the BAWSI co-founder and ESPN TV Analyst is flying to town to MC, inspire and greet the young women of the Bay Area!
The two-time FIFA Women's World Cup champion, two-time Olympic Gold Medalist, business woman and host of popular podcast "Laughter Permitted" is taking the time out of her hectic schedule to join the festivities and celebrations of the Bay Area women in sports. No need for fancy gowns and the Lady Gaga style shoes – wear your favorite sports jersey and have fun!
The gala event includes dinner and auction. You definitely do not want to miss this fabulous evening. BAWSI's founders wanted to harness the power of female athletes to impact society and give them an opportunity to connect through authentic, intentional service.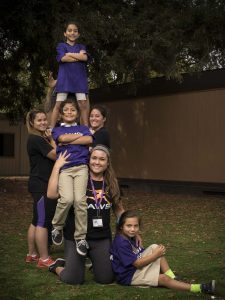 With its first initiative, BAWSI aimed to do this by providing opportunities to serve young girls who weren't being exposed to organized sports, or physical education classes, and to reach girls in communities where obesity and diabetes were prevalent.
Thanks BAWSI!
Information
Individual tickets: $200
408-247-2544
bawsi@bawsi.org
Community Center
Mitchell Park in Palo Alto
Photos courtesy of BAWSI   
San Francisco Opera Guild Stages a Fabulous Fashion Show by Carolina Herrera
May 11th at 11:00 A.M. 
Glamorous fashions by the renowned designer Carolina Herrera are on the menu for an exciting afternoon of spectacular fashions and a luncheon which will begin with an elegant champagne reception; guests will then enjoy a fabulous runway show accompanied by a luncheon prepared by acclaimed caterer McCalls Catering and décor by J. Riccardo Benavides, Guests at the Grand Benefactor level will also be invited to an intimate reception with a special appearance by Wes Gordon on May 10th, a day prior to the fashion show at Neiman Marcus elegant Department Store located at Union Square in San Francisco.
Will they surprise the attendees with a selection of some of the best arias in the area performed by the magnificent soloists of the SF Opera?
I hope so! After all it is a benefit for the SF Opera…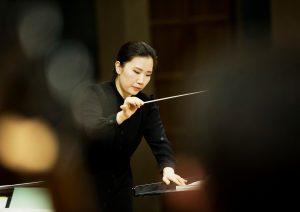 And while you are enjoying the mouth watering desserts check out the amazing repertoire of the special performances the SF Opera has in store for you: "Don Giovanni" June 4 – July 2; "Dream of Red Chamber" June 14 – July 3; and a very special "Verdi" concert on June 30th conducted by Eun Sun Kim.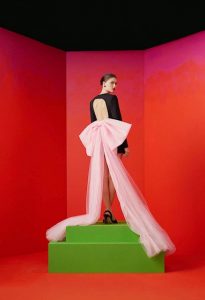 Bravissimo to all!
Information
415-565-3204
sfopera.com
Neiman Marcus
150 Stockton Street in San Francisco
Photos Courtesy of SF Opera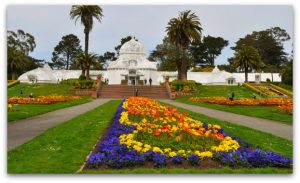 San Francisco's Golden Gate Park Gardens Now Free for Residents 
Starting April 22 the Conservatory of Flowers and Japanese Tea Garden are free, blooming and beautiful!
Say goodbye to your hibernation, pick up your kids and your pooches (on a leash!!) and head to the most beautiful parks in San Francisco.
Our generous Mayor Breed of San Francisco decided to wave the entry fee for all of the city's residents and veterans.
San Francisco Botanical Garden: 1199 9th Avenue
7:30 a.m. – 6 p.m.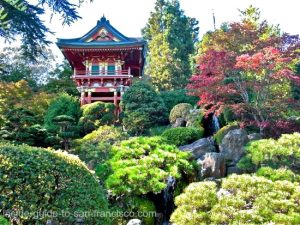 Conservatory of Flowers: 100 John F Kennedy Dr.
10 a.m. – 4:30 p.m.
Japanese Tea Garden
75 Hagiwara Tea Garden Drive
9 a.m. -5:45 p.m.
Information
Valid residence ID is required
Photos courtesy of Parks and Recreations Department