Hot day.. Summer in the City.. Escape to Napa Valley!
Festival Napa Valley 2022: Summer Season 16
July 15-24 in Napa
Enjoy the innovative programming featuring renowned artists and emerging talents. Celebrate the power of the arts to connect and inspire. Invite your friends for this outing of music, wine and food festival which blends the beauty and bounty of Napa Valley which we missed during the Covid invasion for the past two years. Some of the world famous performers to be featured are Trisha Yearwood; Carlo Ponti as he conducts Dvorak's New World Symphony; Ansel Adams: America with the Brubeck Brothers Quartet; A Night at the Ballet: From Tchaikovsky to the Rolling Stones; Voice and the Violin: Joshua Bell and Larisa Martinez. With only less than an hour drive from San Francisco, this is a fabulous and unique 20 best days of summer festival not to be missed. (Like all things in pandemic times double check details before you go.)
Information
Prices vary
707-346-5052
festivalnapavalley.org
Photos courtesy of Napa Valley Festival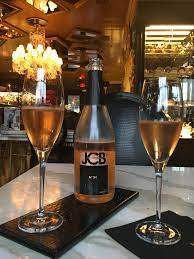 Destination Yountville with JCB (Jean-Charles-Boisset) Champagne, Caviar and Luxury Fashions Collections 
The JCB Tasting Salon experience is a one-of-a-kind tasting room and retail store that encompasses the unique JCB approach that unites exclusive Napa Valley wines, luxury style, curated and created by Jean-Charles Boisset. It is a destination that unites wine tasting with retail fashion and lifestyle.
The innovative JCB Collection brings together two worlds of winemaking—Old and New. With his collection, Jean-Charles celebrates his French heritage while embracing his passion for California. Each wine in the collection is a limited edition, and is "named" with a number.
These numbers signify a wine style that Jean-Charles strives to achieve vintage to vintage, while also symbolizing important ideas, passions and moments in his life and wine career.
The retail store features products such as JCB's custom-designed jewelry collection, JCB candles, JCB perfumes, and luxury home and wine accessories from Baccarat (glassware and jewelry), Lalique (glassware and jewelry), Christofle (jewelry), Bernardaud (home accessories), and lifestyle books from Taschen, Assouline, and Rizzoli.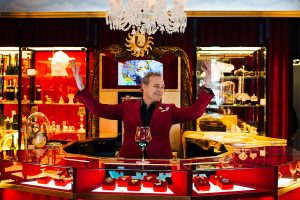 Make sure this place is on your Napa Valley itinerary.
Information
(707) 934-8237
JCB Tasting Room
6505 Washington Street in Yountville
Photos courtesy of JCB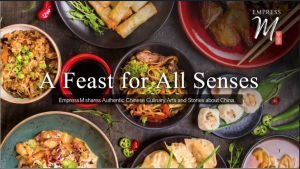 A Dining Treat at "Empress M" in Napa
Feel like a royalty while dining at "Empress M" on authentic Chinese cuisine while listening to the music by the amazing local artists. Embark upon an exciting journey across the Pacific Ocean to the heart of California's lush Napa Valley!
Situated on the iconic Silverado Trail, "Empress M" brings to life an immersive experience of China's regional cuisines while honoring the admirable work ethic and perseverance of women. You'll discover a wealth of classic dishes with innovative touches available at any time of day, awakening a sense of wanderlust: Cantonese Dim Sum, Northern-style Empress Roast Duck, Southwestern Sichuan Spicy Fish, and more.
An excellent selection of vegetarian and vegan-friendly offerings supports "Empress M's" commitment to providing an authentic experience of delicious Chinese cuisine to each and every guest.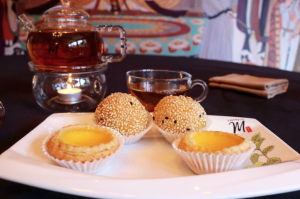 From beloved elders to the newest additions to the family, all are welcome for indoor dining in the vibrant dining room; private dining in a banquet room fit for an empress; and outdoor patio dining near beautifully decorated gardens. Come savor a true feast for all the senses!
Your friends will be grateful for introducing them to this epicurean jewel in the heart of Napa Valley.
Information
707-927-5485
"Empress M"
221 Silverado Trail in Napa
Photos courtesy of "Empress M"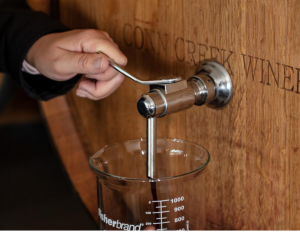 Craft Your Own Wine Blend at Conn Creek Winery
Now that you enjoyed your getaway to the beautiful Napa Valley, return home with your own blend of wine which you crafted under the watchful eye of the Conn Creek's award winning winemakers.
The Barrel Blending Experience® is the perfect setting for wine lovers of all levels to enjoy a one-of-a-kind Napa Valley wine tasting experience, providing guests a rare opportunity to learn about, taste, and blend wines from the many distinctive regions that make up Napa Valley.
Play a winemaker for a day and take home the fruit of your labors — literally.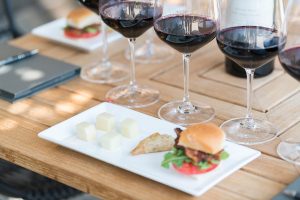 The $150 fee includes: A Napa Valley AVA overview led by a wine educator; a guided tasting through AVA Cabernet Sauvignon barrel samples; instructions on blending techniques and strategies and a bottle of your custom blend to take home and share it with your favorite friends.
Cheers!
Information
Cost: $150 pp
707-968-2669
Conn Creek Winery
8711 Silverado Trail in St. Helena
Photo courtesy of Conn Creek Winery