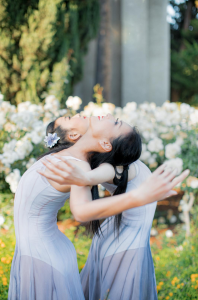 International Performing Arts of America Will Dazzle the Audiences in San Jose
October 15, 2022 at 7:30 p.m.  
Enrich your cultural life with beautiful music and spectacular dancers featured at the 2022 Gala presented in San Jose by the International Performing Arts of America (IPAA) while highlighting and celebrating diversity through the arts. Established in January of 2018, International Performing Arts of America is a professional dance group composed of professional dancers from the Beijing Dance Academy, San Jose Ballet, and Bay Area dance enthusiasts.
A non-profit charity organization, IPAA is comprised of professional dancers who have previously worked with the late Bay Area legendary cultural leader and attaché Ann Woo and who share and continue her mission to bring East Asian culture and art to America.
The award winning IPAA puts on an original dance showcase to perform their own pieces as well as invite Dennis Nahat, the brilliant guest choreographer and artistic director, who together with other performers of ethnic backgrounds join them providing a festive occasion in which they can all come together to celebrate their differences and contribute to creating a truly inclusive culture within the Bay Area community. Performances by artists from the United States, India, Portugal and China will include Chinese Classical Dance, Martial Arts, Peking Opera, Ballet, Chinese Pipa, Violin and Singing, to name a few.
It includes IPAA's local 30 professional dancers and various Bay Area artists that contribute their time and talents to produce this event under the direction of IPAA President Andy Jian, Artistic Director Yang Yang, Lighting designs by Kenneth Keith and stunning production by Dennis Nahat.
IPAA's Performance will include several World Premiere performances and will mark the 5th Anniversary of the founding of the "Newest Theater Company" in the Bay Area. The company was founded in commemoration of the Life and Legacy of the Bay Area's legendary arts advocate Ann Woo.
Information
Ticket prices start at $28
For tickets visit intperformingarts.org
408-605-3217
345 South First Street in San Jose
California Theater
Photos courtesy of IPAA
Design & Discovery: DEDICATED TO A CURE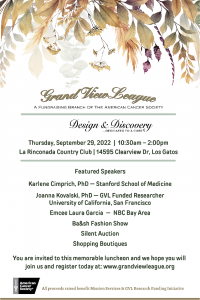 Guo Pei: Couture Fantasy, Extended Through November 27, 2022
The enthusiasm and excitement around Guo Pei: Couture Fantasy exhibit are growing exponentially into its final days. If you have not seen this amazingly spectacular exhibit yet – hurry!!! before it leaves the Legion of Honor Museum in San Francisco.
Drawing over 130,000 visitors in just 18 weeks, Guo Pei: Couture Fantasy is one of the Fine Arts Museums' most sought-after fashion exhibitions of the past decade.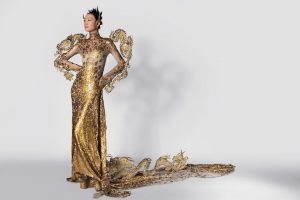 Over 80 exquisite ensembles by Guo Pei, China's leading couturier and accompanying programming have enticed new and returning visitors to the Legion of Honor throughout the run of the exhibition.
About ⅓ of the creations are displayed in the museum's permanent collection galleries, highlighting the historical and iconographical references displayed in the ensembles, enabling another 45,000 visitors to experience Guo Pei's vision.
"With enthusiasm and excitement around Guo Pei: Couture Fantasy growing exponentially into its final days, Guo Pei's designs encompass rich details both infused with references to a range of cultural traditions and executed over thousands of hours.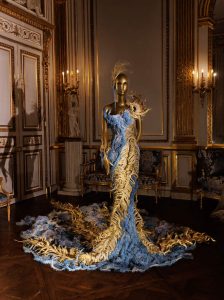 This presentation represents a singular opportunity to experience exquisite designs that invoke and encourage transcultural dialogue" – remarks  Thomas P. Campbell, Director and CEO of the Fine Arts Museums of San Francisco.
Bravo goes to the museum's exhibit designers!
One of my favorite exhibits this year and I am on my way to see it again…. for the third time.
Information
415-750-3600
Legion of Honor Museum in Lincoln Park
100 34th Avenue in San Francisco
Photos courtesy of Legion of Honor
"Red Hot Chili Peppers" Perform at a Benefit Concert for UCSF Benioff Children's Hospitals
September 21. 2022 at 6 p.m.
The spectacular Oracle Park in the City by the Bay, the home of the world champions SF Giants, turns to the biggest stage for a night with the sizzling hot and fabulous Red Hot Chili Peppers rock group at a benefit concert for the UCSF Benioff Children's Hospitals. At UCSF Benioff Children's Hospitals, a steadfast commitment drives everything the do: deliver world-class medicine to every child in need.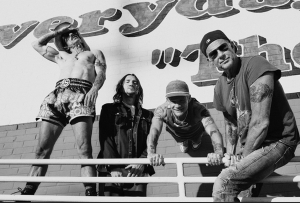 But it's not just what they do, it's who they are. It's clear in the doctors who expertly tailor care to each child's individual needs, the researchers who discover new cures previous generations could not have dreamed of, and the therapists who use the healing power of music and art to give children the power to hope, dream, and heal.
The spin art they've chosen for this year's design was created by a 6-year-old patient through donor-funded art therapy programming during their year-long hospital stay.
Join this very special concert by attending and supporting this event in one of the world's most beautiful baseball stadium.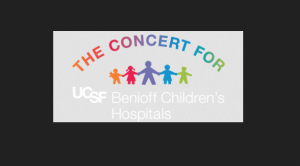 Each individual ticket includes entry to the concert, VIP Cocktail Reception and the After Party. See you there!
Information
Sponsorship starts at $1000 per person
415-476-3421
sponsorships@uscf.edu
Photo courtesy of USCF