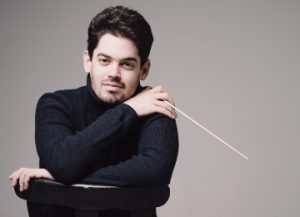 They are back! The Israel Philharmonic Orchestra (IPO) returned this week to the Bay Area's beautiful  concert venues of the spectacular Davies Symphony Hall in San Francisco and the architecturally stunning Bing Concert Hall at Stanford University in Palo Alto with the IPO's proud  introduction of the young (only 33 years old!) and superbly talented Maestro Lahav Shani. The Tel Aviv born pianist, double bass player and conductor who first performed as a soloist with the IPO while a teenager, was selected as Zubin Mehta's successor at the age of 29.
In Lahav Shani Maestro Zubin Mehta selected the perfect conductor to continue his well established tradition of leading this incredible orchestra for decades. Known and respected throughout the world, the IPO traces its origin to 1936 when Italian Maestro Arturo Toscanini conducted its first concert in Tel Aviv. Over the years legends such as Leonard Bernstein have led this orchestra and Zubin Mehta landed the position of its Music Director in 1977 and served as its Chief Conductor for many years.
And now it's Lahav Shani time! And aren't we lucky!!!       
Shani grew up in a musical family with a Father who was a choral conductor. Though he studied piano as a boy, his parents spotted him on videotape at the age of 3 picking up his Dad's  baton and conducting the music from Disney's "Fantasia."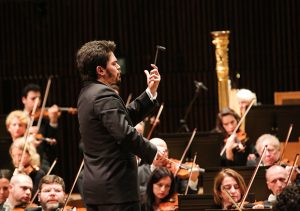 At the age of 24 he won the prestigious First Prize at the 2013 Gustav Mahler Conducting Competition in Germany and as they say: the rest is history in the making…
As the custom goes IPO always starts their performances by playing the national anthems of Israel as well as of the country which hosts their concerts. The standing ovation by the sold out to the capacity audience at Bing Concert Hall greeted the talented musicians and their 33 years old young, charming, debonair and superbly outstanding conductor.
The November 6th concert in San Francisco featured: Symphony No. 1 by Paul Ben-Haim and Symphony No. 1 by Gustav Mahler.
Written during the first years of World War II, Paul Ben-Haim's fiercely dramatic First Symphony intermingles the anguish of the composer's world with the joy and beauty of his hopes for peace.
Shani concluded the evening with Gustav Mahler's Symphony No. 1, reflecting on pastoral scenes and nods toward the composer's Jewish roots.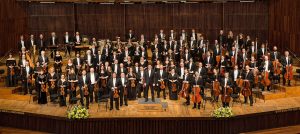 The November 7th concert on Stanford campus featured: Shani's  salute to the mesmerizing  sounds of Prokofiev's music performed with tremendous bravado by the phenomenal Israel Philharmonic Orchestra: Symphony No. 1 in D major, Op. 25 (Classical); Selected Movements from "Romeo and Juliet;" and Symphony No. 5 in B-flat major, Op. 100
"Romeo and Juliet" never sounded more romantic at times and more dramatic at other times. The couple in front of me selected romance…
 "For anyone who is curious about music and is afraid it is not their language, they don't have to understand it. If you have a piece of music and keep your ears open, you can enjoy it."
–  Lahav Shani
Photos courtesy of SF Symphony and Stanford Live